Primary, secondary schools and kindergartens in Shenzhen regained its usual vigor and vitality as the spring semester officially kicked off yesterday.
Students no longer need to prepare for health requirements such as negative COVID test results to enter schools. Instead, many schools in the city welcomed students with different little surprises on the first school day.
A school employee in a rabbit outfit high-fives a student at the entrance to a Longhua District school yesterday morning. Sznews.com

At Tianjian Primary School in Futian District yesterday morning, students were given a White Rabbit candy after making an elaborate salutation and saying a New Year's wish to their teachers. The candy, wrapped in its famous red, white and blue packaging, originated in the 1940s in Shanghai and is beloved by children, not just in China but in other countries too.
"Before I actual went back, I feel anxious and reluctant to face my assessments and academic work. However, it is always a happy moment to see all my friends again. The first day is tough, tough to wake up and pay attention, but I think we will get back to normal state very soon and be prepared to the upcoming challenges," said Yang Xinyue, 11-grade student with the international department of Shenzhen Foreign Languages School.
Liyuan Foreign Language Education Group organized lion dance performances to welcome students and celebrate the start of the new semester.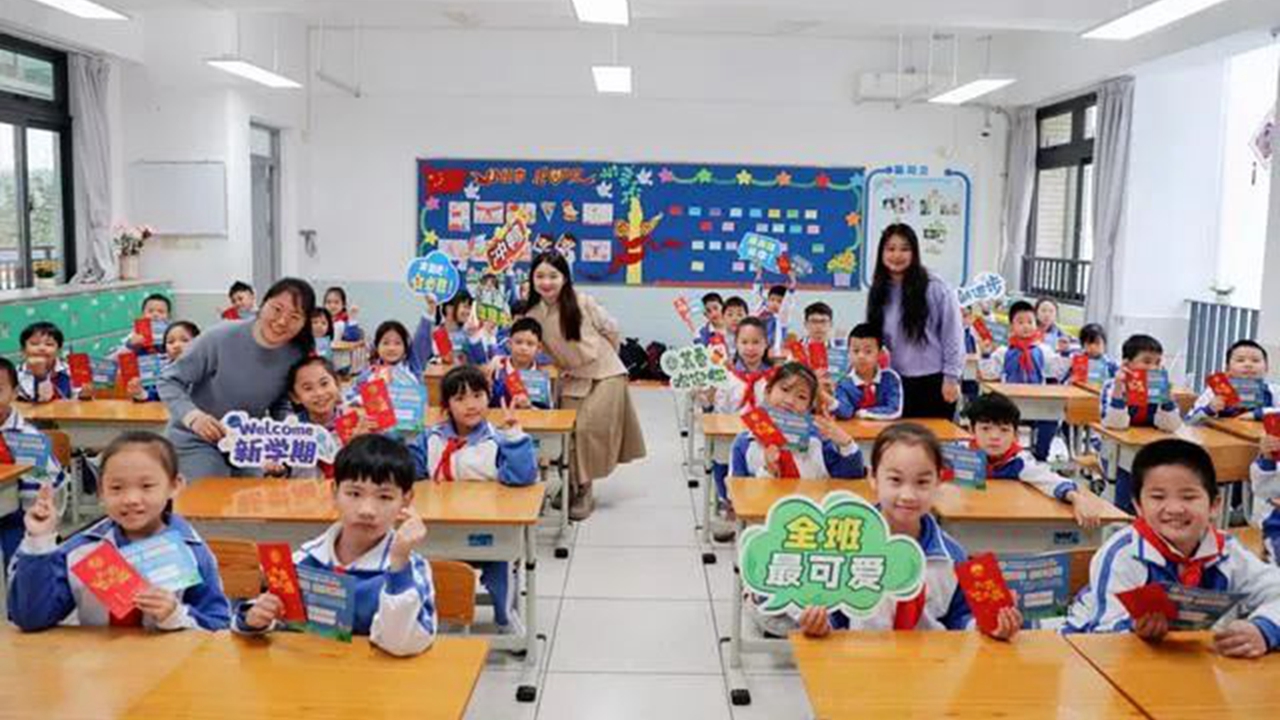 Students pose for a photo with gifts they received from Lixiang School in Nanshan District. Sznews.com

Most students were seen entering their school campuses full of joy and optimism on the first school day. "My two daughters woke up early this morning, and they seemed raring to return to school," said a mother surnamed Zhang.
Luca Baroli, a foreign teacher from Liyuan Foreign Language Education Group, told Shenzhen Daily that he is very excited for the new semester, and has planned new games and speaking activities according to school guidelines, especially during the first week of school. The students will be learning about Chinese festivals and play a lucky game involving red envelopes.
"In my lessons, the students will receive reward points and can exchange them with toys and surprises. This semester is not just a new semester, it is also the first semester we can teach and learn, and without worrying about COVID. So, I hope we can all take this as a great opportunity to learn and improve, and realize our New Year wishes and expectations," Baroli said.
Schools in many cities across the country also kickstarted the new semester yesterday. A mother surnamed Liu said on her WeChat moments after sending her child to school yesterday that much has changed in the new semester but a happy and unrelenting spirit never changes.