Entries for the first SZ-HK-MO Creative Design Competition for Young Talents are now open until March 20, according to information released at a news conference held at the Shenzhen Adolescent Activity Center in Futian District yesterday morning.
Han Wangxi, director of the Shenzhen Innovation and Creative Design Development Office, said at the conference that the competition is significant because it can contribute to cooperation in vocational education in Guangdong, Hong Kong and Macao, strengthen basic education exchange and cooperation, and promote exchanges and cooperation among young people in the Guangdong-Hong Kong-Macao Greater Bay Area.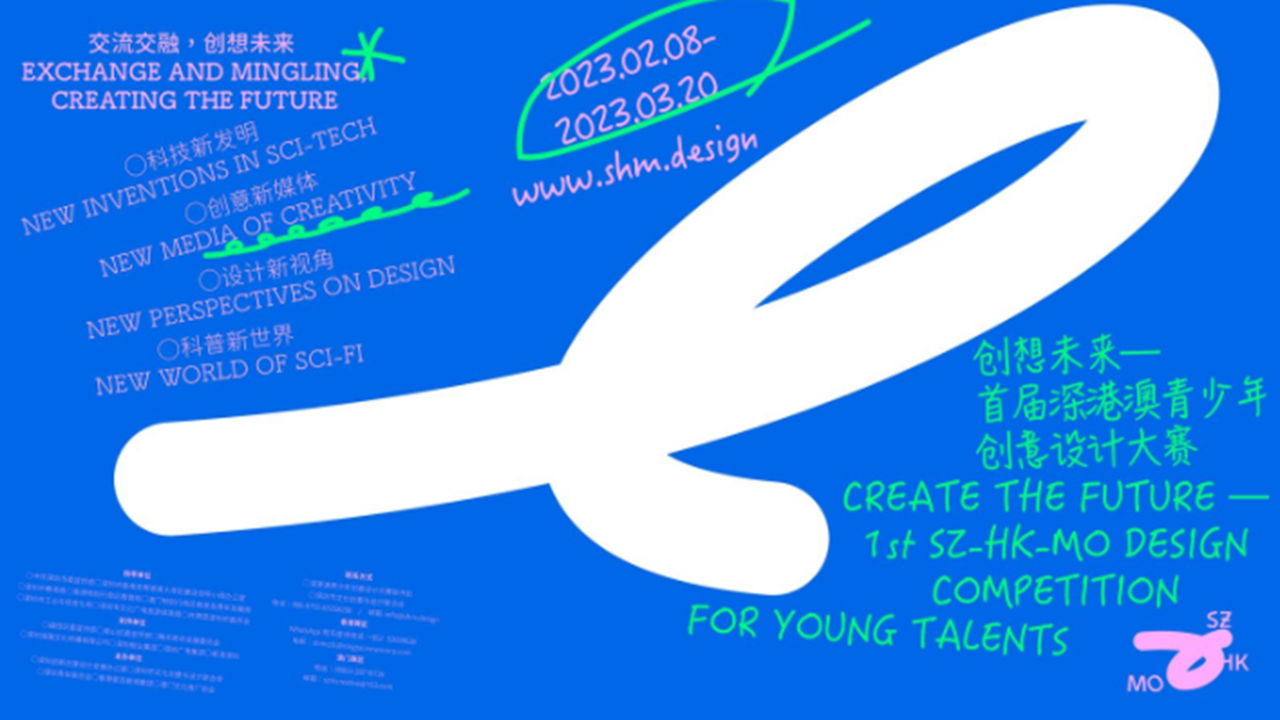 A poster of the first SZ-HK-MO Design Competition For Young Talents. Courtesy of the event organizer
The competition, themed "Exchange and Mingling, Creating the Future," calls for creative designs mainly in four aspects, namely new inventions in sci-tech, new media of creativity, new perspectives on design and the new world of science fiction.
The entrants must be students aged 19 and below who are in grades 4 to 12 or from vocational high schools or specialized secondary schools in Shenzhen, Hong Kong and Macao. Entrants can enter the competition either individually or in a group.
Each participating project is allowed to have one to three instructors providing the students guidance. Registration for the competition is available via the competition's official website at https://www.shm.design/. No participation fee is required but logistics, insurance and customs clearance fees incurred during the transportation of the works must be covered by entrants.
The competition will be divided into two groups — the primary school student group and high school student group. The judging panel is composed of seven experts from Shenzhen, Hong Kong and Macao. Supportive institutions in the three cities each will recommend two judges, while the remaining judge will be invited by the organizing committee. The panel members will be announced before the final review.
The organizing committee will also invite representative schools and institutions in the three cities to recommend excellent design works. Each recommending institution in the three cities is allowed to recommend a maximum of 20 entries.
The review process will be carried out in two stages — preliminary and final reviews that will be held by the end of March and April, respectively.
The awards set for the two groups each include four gold-prize winners, eight silver-prize winners, 12 bronze-prize winners, 20 excellent-award winners and 20 entry-prize winners. Entrants have a chance to win a gold prize worth as high as 8,000 yuan (US$1179.2).
The winners will also have opportunities to visit key design events, creative and cultural blocks and venues in the three cities and participate in exchange programs.
The competition's launch ceremony will be held Saturday morning at the Shenzhen Adolescent Activity Center in Futian District.