While everyone is obsessed with the hot new technology of the AI-powered chatbot ChatGPT, Gaetano Scintilla, design director of Milan-based design firm VALÈ Interiors, is showcasing the Shenzhen audience a natural and peaceful living space in the "post-technology" era.

His "WAD • Back to the Oasis" is a highlighted exhibition of Design Shenzhen in Hall 7 of the Shenzhen Convention and Exhibition Center in Futian District during the four-day event that will run through tomorrow.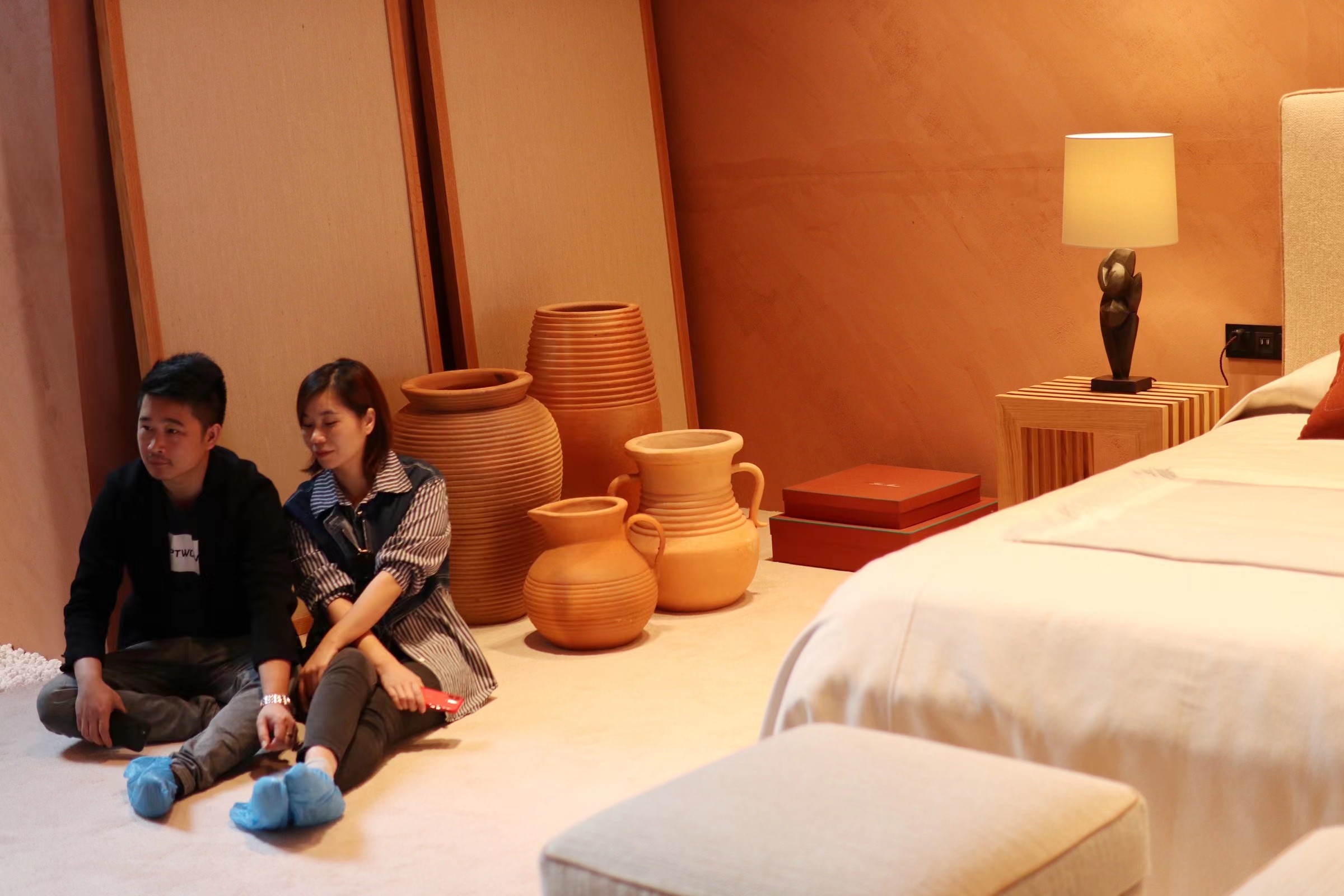 A corner of the "WAD • Back to the Oasis" exhibition. Visitors are welcome to sit on the soft carpet on the floors of the exhibition hall to enjoy the natural and comfortable feeling the designer expects to present. Photos by Yang Mei except otherwise stated
Scintilla, who is the curator of the "WAD • Back to the Oasis" exhibition and hails from Bari, a city in southern Italy endowed with beautiful beaches, draws inspiration from his hometown. Using Morandi colors such as earthy red, beige, champagne and pearl white, he creates a soft and sophisticated ambiance. The designer selects natural materials like gravel, wool, clay and linen that mirror the hues of plants and soil, urging individuals to connect with themselves, feel life and revisit that one-of-a-kind spiritual "oasis."
A corner of the "WAD • Back to the Oasis" exhibition. Courtesy of VALÈ Interiors

On site, visitors will also encounter the most typical dryland plants and climbing plants found in the oasis, serving as a reminder to remain in touch with the natural world and its vitality.
"As designers, we're always looking for something new and far from us. In fact, we should look at our surrounding environment and elements that we're familiar with to create comfortable living spaces," Scintilla explained.
Valentino Lin (L), general manager of VALÈ Interiors, and Gaetano Scintilla, design director of VALÈ Interiors.
According to Valentino Lin, general manager of VALÈ Interiors, the exhibition seeks to encourage individuals to appreciate the small joys that are often overlooked. "We can imagine that in the future with fewer resources, where simple pleasures like a delightful al fresco meal, a breath of fresh air, or a restful night's sleep could become luxuries, so we want to remind people to cherish what we have now," Lin said.
Apart from the "WAD • Back to the Oasis" exhibition, Design Shenzhen has also partnered with leading design and creative studios, luxury fashion brands and influential media entities to provide visitors with unique design experiences, featuring the trend forecasts, one-off installations and stand-out projects.
Design Shenzhen, a new addition to Design Shanghai's event portfolio, is presenting nearly 250 curated brands and design works from all over the world that are tailored to architects, interior designers, property developers and the design-savvy public.
Design Shanghai is said to be Asia's largest and most influential design fair, and Shenzhen has become the third city to host Asia's largest network of annual design shows after Design Shanghai and Design China Beijing.