Shenzhen's significant advancement in science and technology innovation has brought in many international cooperation projects, with some shared at the U.K.-China Workshop: Exchanges and Collaboration on AI for Global Goods held yesterday at the Shenzhen-Hong Kong International Science and Technology Park in Futian District.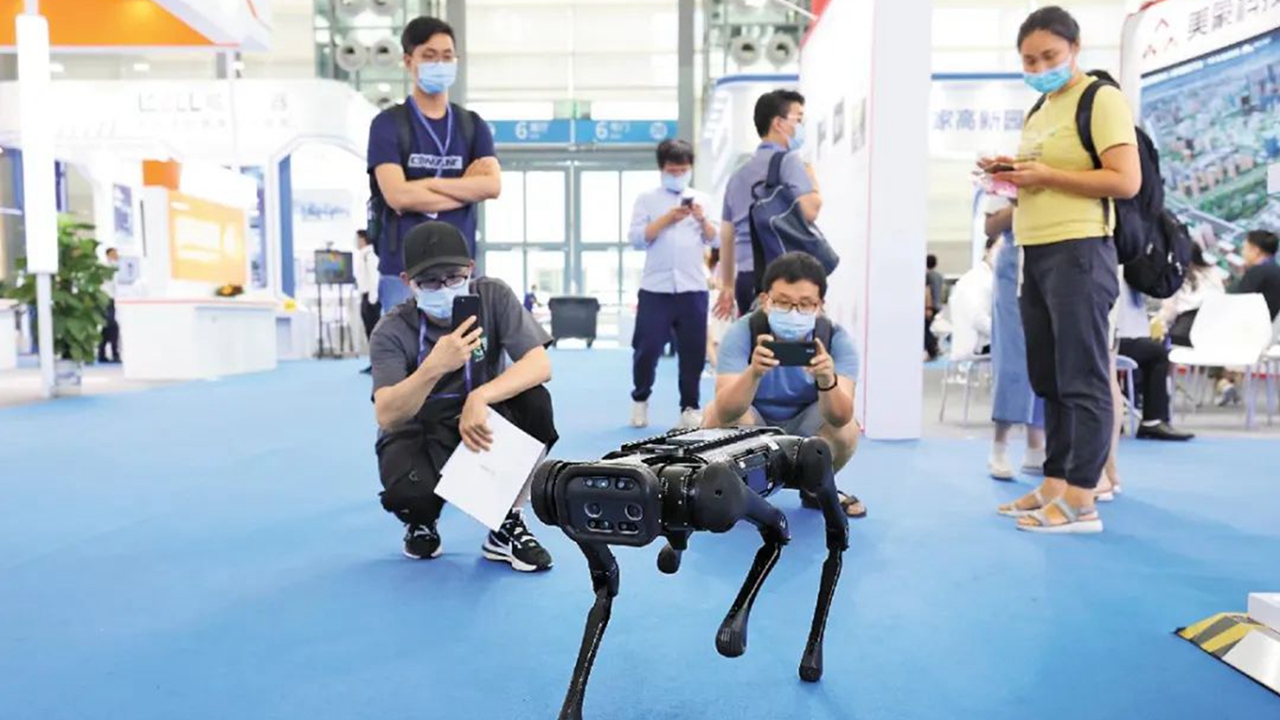 Visitors take an interest in a robotic dog on display at the second Shenzhen (International) Artificial Intelligence Exposition at Shenzhen Convention and Exhibition Center in Futian District on May 20, 2022. Yang Shaokun

Since 2020, the Shenzhen Institute of Artificial Intelligence and Robotics for Society (AIRS) has been cooperating with the University of Edinburgh on mobile robotics research.
"Under the cooperation, we applied human-computer interaction to design nucleic acid sampling robots during the pandemic. This type of robot was used at hospitals and for public use. Next, our focus will be on robots in logistics scenarios — for instance, transporting packages to help improve work efficiency," said Tin Lun Lam, director of the AIRS Research Center on Intelligent Robots.
Shenzhen University (SZU) also cooperated with the U.K.'s Teesside University and a British company between 2018 and 2021 to use the AI technology to help seniors monitor their health while sitting on wheelchairs.
"The elderly, while sitting on wheelchairs, can get their health information, which is similar when you are in a hospital," said Shen Linlin, a professor from the School of Computer Science of SZU.
Shenzhen is the first stop for the U.K.-China Workshop on AI.
Officials of the British Embassy in China told Shenzhen Daily at yesterday's workshop that both the U.K. and China have attached great importance to science and innovation in driving economic development and — crucially — tackling global challenges. They said Shenzhen has significantly improved its technological and industrial strengths, which makes it an exciting city for the U.K. Government to join hands with local universities and high-tech enterprises to address core challenges.
Yesterday's event, co-hosted by the British Embassy in China and the Shenzhen Foundation for International Exchange and Cooperation, and organized by China Britain Business Council, attracted over 100 participants online and offline.
Shenzhen issued the country's first legislation on the AI industry, which took effect Nov. 1 last year.
At present, Shenzhen is home to over 1,300 AI-related enterprises, ranking second in the country, as per official data.
The scale of China's core AI industry has exceeded 400 billion yuan (US$57.92billion), with nearly 4,000 AI-related companies, according to the Ministry of Industry and Information Technology in June last year.