Shenzhen has set targets to handle 31 million TEUs (twenty-foot equivalent units) of containers at its ports, 45 million passenger trips at its airport and realize a 350-billion-yuan (US$50.86 billion) added value to its logistics industry in 2023.
The city, on its way to become a globally influential logistics center, will set its sights on the development of supply chain industrial clusters by fostering three new 10-billion-yuan supply chain enterprises, helping one supply chain enterprise get listed and 130 key logistics companies accredited, it was announced at a meeting held by Shenzhen transport bureau Wednesday.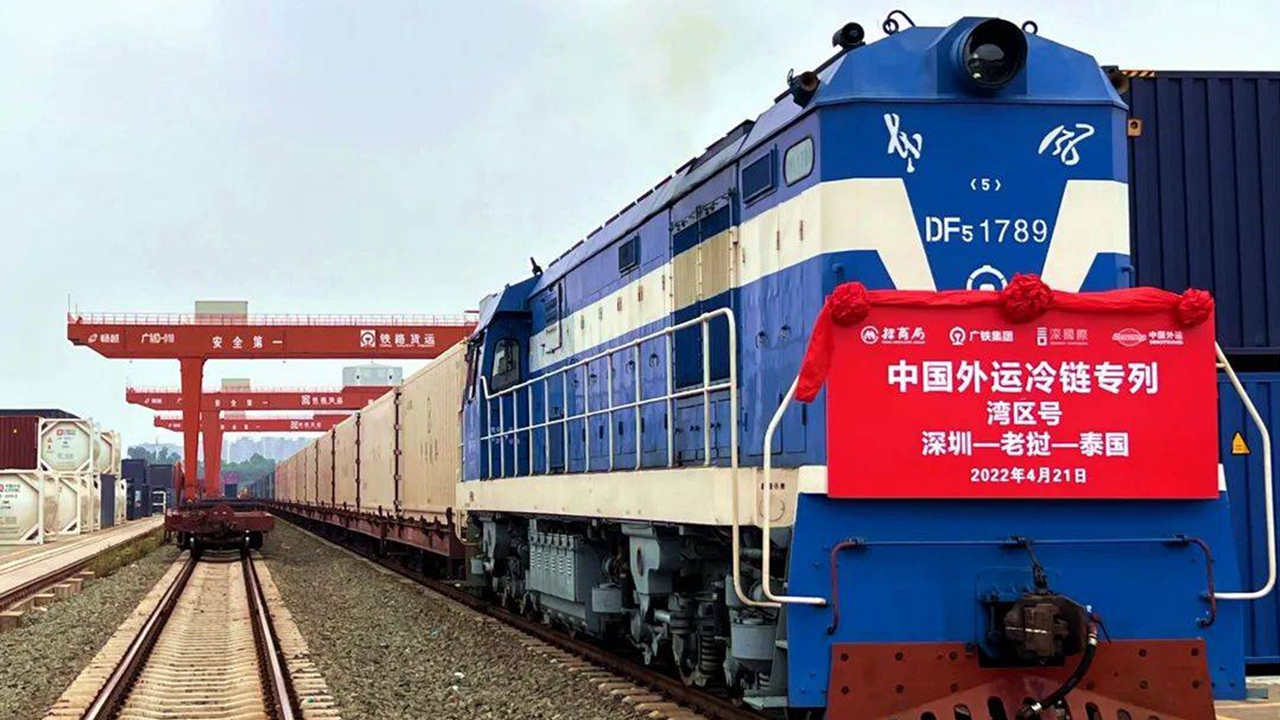 A cold-chain freight train loaded with 64 TEUs (twenty-foot equivalent units) of products from the Guangdong-Hong Kong-Macao Greater Bay Area departs from Shenzhen Pinghu South National Logistics Hub for Laos and Thailand in this file photo taken in April last year. China News Service

The city will push forward the construction of the national logistics centers in Pinghu, Yantian Port and Shenzhen airport logistics hubs, and encourage leading logistics companies to extend their logistics service network. The number of Sino-European freight trains will be kept at 30 trains a month, as per the meeting.
It will further expand its influence radius by adding four new combined ports in cooperation with Zhongshan and Jiangmen ports, adding six inland ports in Hunan, Chongqing and Guizhou to its sea shipping network and opening five marine express transportation routes for e-commerce trade.
In terms of air transportation, the bureau will support airline companies to open and intensify at least 15 international routes and support the Shenzhen airport to establish a friendly relationship with world air transport hubs. The flights operating between Shenzhen and the Beijing-Tianjin-Hebei region, the Yangtze River Delta cities and the Chengdu-Chongqing economic circle will be further increased.
In terms of international freight transport service, airline companies and air logistics companies are encouraged to intensify major cargo routes. The city will pilot air transportation for e-commerce products by increasing the e-commerce trade by 25% and imported cold-chain fresh and frozen products by 20%.
In 2023, the city will push forward the construction of 12 rail projects including the Shenzhen-Jiangmen High-speed Railway, Shenzhen-Daya Bay Intercity Railway and Metro Line 13, as well as the construction of Chunfeng Tunnel and the renovation of Jihe Expressway. It will also start the construction of Airport East Hub and renovation of Longda Expressway, according to the meeting.