The Shenzhen Consumer Council officially established its first college voluntary service team — the Shenzhen Polytechnic team, as well as its first batch of district-level volunteer service teams — the Bao'an, Futian and Yantian teams — at the Shenzhen Book City CBD Store in Futian District yesterday, World Consumer Rights Day.
The establishment of the volunteer teams is the council's important attempt to expand volunteer services and coordinate various forces to further create a safe and secure environment for consumers and boost consumer confidence, according to the council.
A Shenzhen Customs officer answers questions from residents during an event held by the Shenzhen Consumer Council to mark World Consumer Rights Day at the Shenzhen Book City CBD Store yesterday. Photos by Sun Yuchen

The newly established volunteer teams are also expected to inject new vitality into the city's consumer rights protection, as a part of the Shenzhen 315 Volunteer Service Team, which the council established in 2013. So far, the team has 6,500 registered members.
The volunteers have carried out 240 volunteer service activities in terms of consumer rights protection, consumption supervision, consumer investigations, consumption publicity, consumer education, and epidemic prevention and control, the council said.
An officer hands out a brochure on consumer rights protection to a senior resident at an event marking World Consumer Rights Day at the Shenzhen Book City CBD Store yesterday.

In the post-pandemic era, consumer confidence is deemed all the more important as a measurement capturing consumers' outlook on current and future economic conditions.
This year, the council has launched a series of activities focusing on the theme of "boosting consumer confidence."
It released the consumer evaluation index of a record number of nearly 30 auto brands and over 100 car dealers to provide reference for consumers yesterday.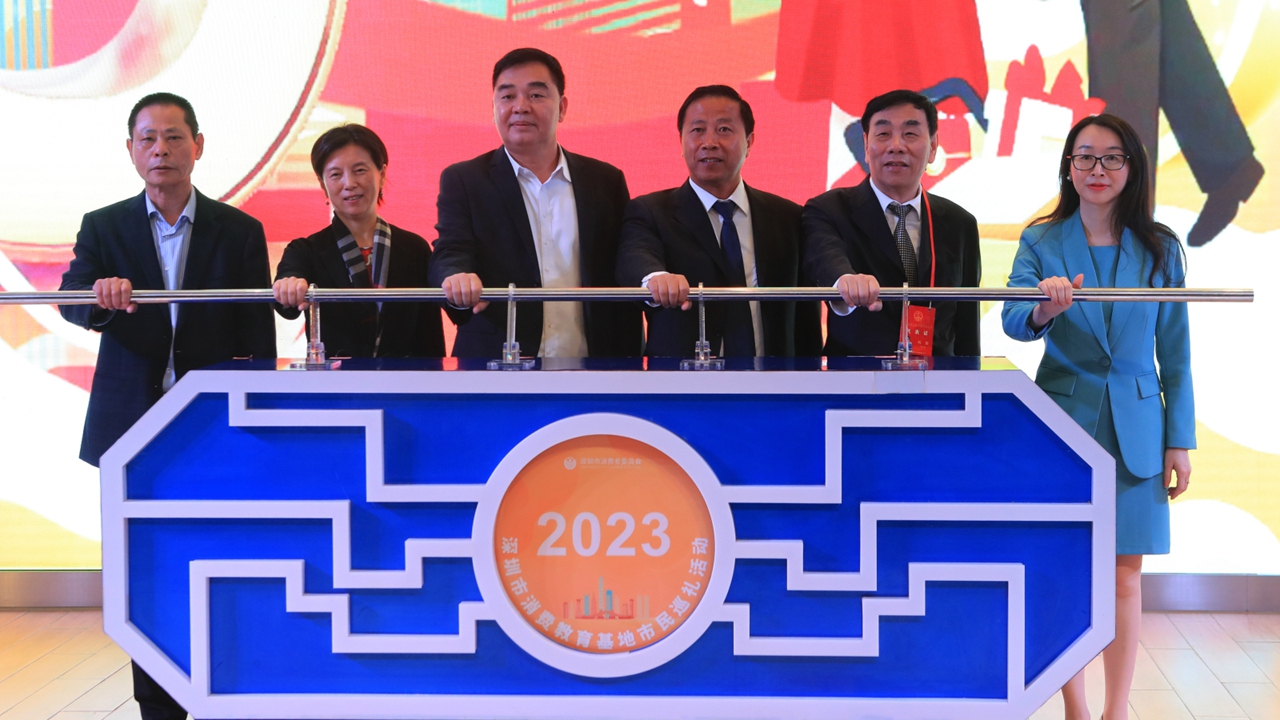 The inauguration of nine new consumer education bases at an event yesterday.

The city also issued the first local standards for consumer rights service stations in Guangdong Province, in a bid to improve the capacities of accepting and handling consumer complaints and improving the efficiency of consumer rights protection services.
The council said it would also strengthen supervision on goods and services, and send the credit information of 21 dishonest enterprises and owners of these businesses who had failed to return consumers' advance payments to the Shenzhen Public Credit Center for public disclosure.
From Tuesday to tonight, several landmark buildings in the city will be lit up to display slogans related to boosting consumer confidence.
This is also the first time that Shenzhen has lit up buildings for the World Consumer Rights Day, according to the council.
The city also inaugurated nine consumer education bases and commended a number of role models in consumer rights protection yesterday.