Despite the muggy, overcast weather on the first racing day of the 14th China Cup International Regatta (CCIR) 2022 on Friday, sailing enthusiasts from around the world, old and new friends to China Cup, were in high spirits and said they felt excited to be part of the CCIR community.
Due to the pandemic, the delayed regatta opened Friday off the waters of Daya Bay in Dapeng Peninsula, and concluded yesterday. Sailors from 100 teams competed in five categories, specifically Beneteau First 40.7, J80, Fareast 23R, IRC and Topper (youths).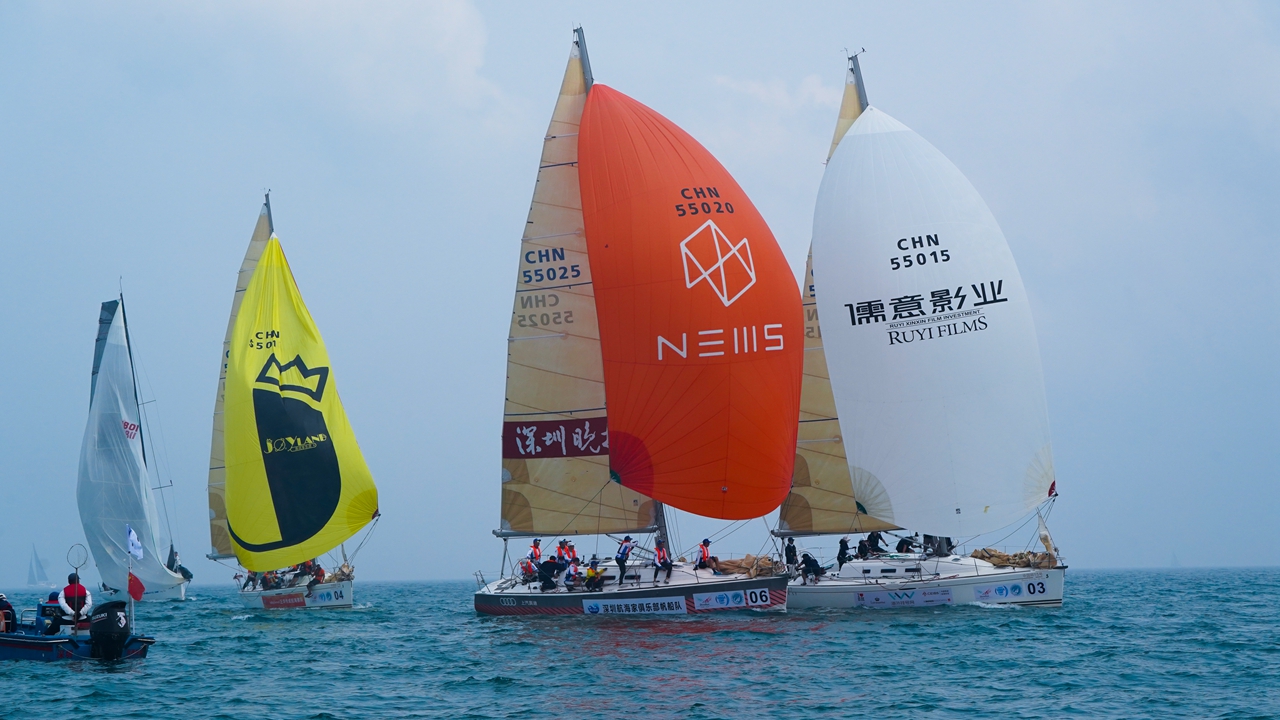 Sailing teams from home and abroad complete the 14th China Cup International Regatta 2022 held near the Daya Bay area in Dapeng New Area on Friday.

Vadim Kukushkin, a Russian sailor who had been a part of China Cup for several years, said he was thrilled to be back again after three years and reconnect with old and new acquaintances. "I feel so happy to be back again after three years of absence. We are very familiar with this place, so this is like real relief after several harsh years," he said. "The peers and everything is as flamboyant as before."
Kukushkin, a seasoned sailor who has taken part in many regattas across the globe, gave a thumbs-up to the organization of the 14th China Cup. "The organization here is top-notch. It's very nice and very well thought of and well prepared, which is why every year I just look forward to coming here again," Kukushkin shared with Shenzhen Daily on Friday, adding that he was happy to see more and more Chinese people getting involved in sailing and starting to enjoy the fun of the sport.
Claire Becq, a French expat who has been living and working in Hong Kong for 11 years, participated in the China Cup for the first time. She told Shenzhen Daily that she was excited to be a part of the regatta alongside her Hong Kong crew members. On the first day of the competition, Becq and her crew competed in three races in the IRC category, and to their delight, the weather was better than anticipated. "We were expecting rain today, but the weather turned out to be fine. The sea was good with the wind, and we managed to secure some good wins," Becq said.
According to the French sailor, emphasizing eco-friendly navigation in this year's China Cup is crucial in sending a strong message and raising people's awareness about the importance of ocean conservation. "It is essential and the right message to convey, and we need to continue in this direction. Everyone can contribute at their level," she stated.
Norwegian Iris Ioenning traveled from Beijing to cheer on her Chinese crew, and expressed her enthusiasm for the event, finding it fun and enjoyable. "My friends were here in 2019, and they really loved it. So, I really wanted to come this year," she shared. "People are very friendly, supportive and are rooting for each other."
On the first day of the competition, sailors from four categories competed in three rounds of races, resulting in Shanghai Puji Dashan Team taking the top spot in the Beneteau First 40.7 category, Hong Kong's Aegeansailing Team ranking first in the Fareast 23R category, Xiamen Ocean Vocational College Sailing Team emerging as the champion in the J80 category, and Zhongshan Team securing the first place in the IRC category.
Initiated in Shenzhen in 2007, the CCIR is the first international regatta event in Chinese history and the only event of its kind named "China Cup."