Video by Wang Haolan
As visitors enter the exhibition hall of "The Joy of Color," they're immediately enveloped in a kaleidoscope of colors and creativity. The theme of the exhibition is brought to life by the designers who have contributed their works to the event.
A collaboration between the Shenzhen Jewelry Museum and The Futurist, a creative intelligence agency based in Italy, the exhibition consists of four sections that showcase the works of 24 designers from eight countries.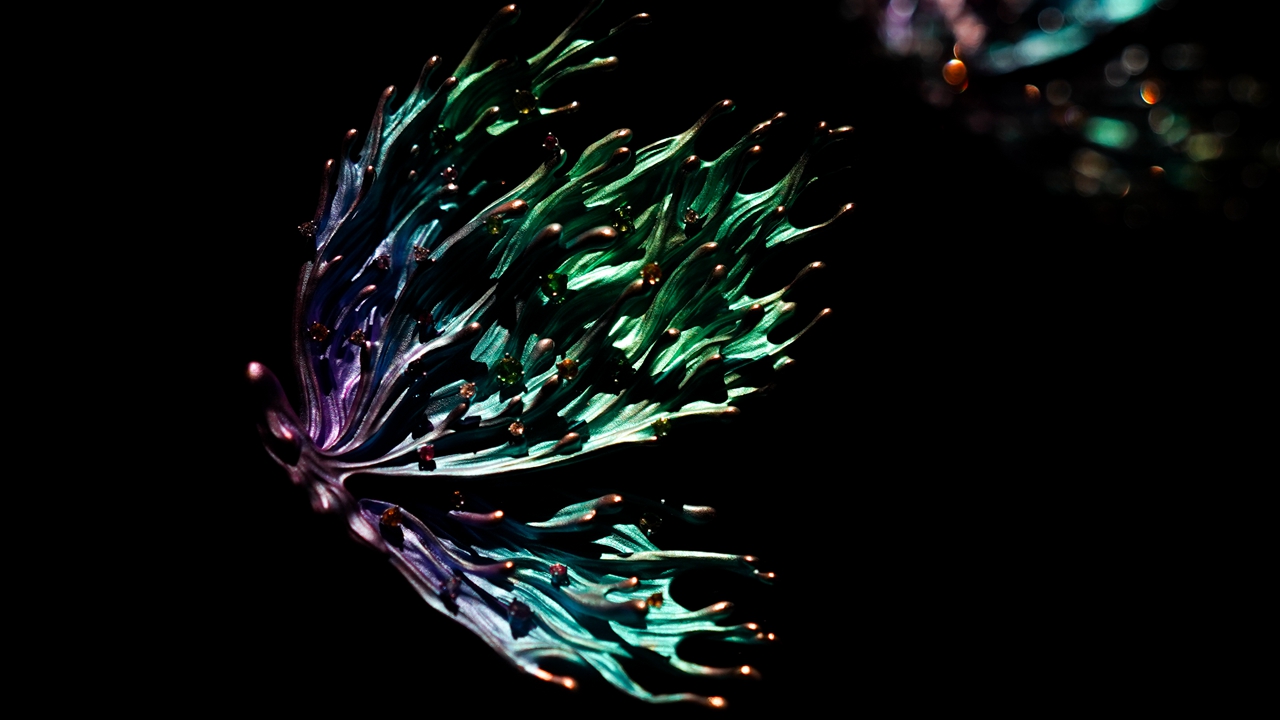 A butterfly-shaped brooch designed by Spain-based Wallis Hong. Photos by Wang Haolan

The first section goes under the theme of "Playful," featuring works with bright colors and whimsical elements, such as candy-shaped pins designed by Chinese designer A.win Siu, and jade bears created by Lin Shiao-tung, a jewelry artist based in China's Taiwan.
In the second section, titled "Modern Vintage," visitors will discover vintage elements and traditional crafts reimagined in a contemporary context. Among the many exhibits, they will find delicate and intriguing cameos created by Italian jewelry designer Amedeo and a sleek pin created by London-based Sarah Ho, who is known for creating unconventional designs with pearls and gems.
The third section, "Metamorphing," highlights works focusing on sustainability and the future of the planet. Visitors will marvel at the brightly colored artworks that seem to come out of James Cameron's fictional alien planet Pandora in "Avatar," such as a gem-dotted blue butterfly-shaped brooch created by Spain-based Wallis Hong, a blue poppy flower-shaped conch pearl brooch by Shenzhen-based jewelry brand Joywith Jewelry, and many others.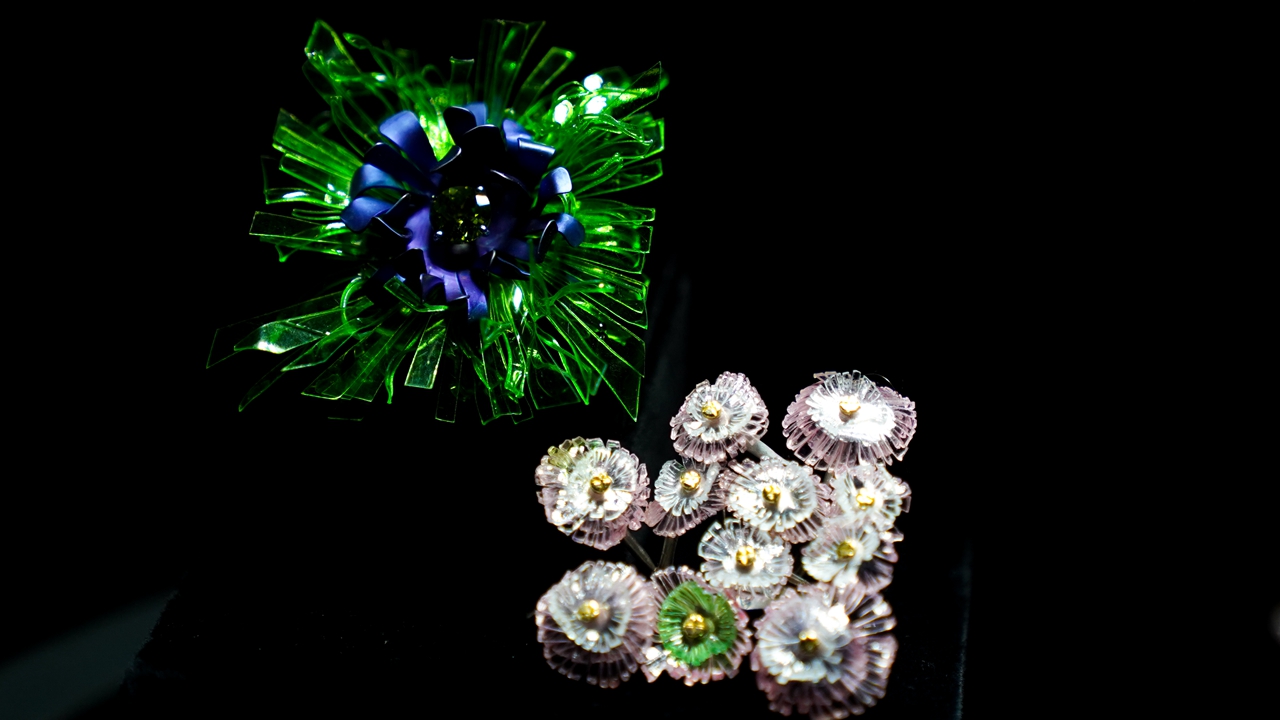 A jewelry piece on display.

The final section "Virtualism" presents works by artists who have been exploring rare materials, new technologies or cutting-edge philosophies, including Italian designers Antonia Ascolillo and Igor Quagliata and Hong Kong designer Austy Lee.
Lin Zheman, assistant curator of the jewelry museum, said that the idea of the exhibition originated in 2017 when the museum's team met Paola De Luca, one of the curators of the exhibition. As the founder of The Futurist, De Luca has been known for developing trend books on global jewelry design.
"Paola and we hit it off right away," Lin said. "We agreed that the Shenzhen Jewelry Museum should present some forward-thinking exhibitions. She has been doing a wonderful job in trend forecasting, so we also wanted to bring this kind of trend forecasting to the museum."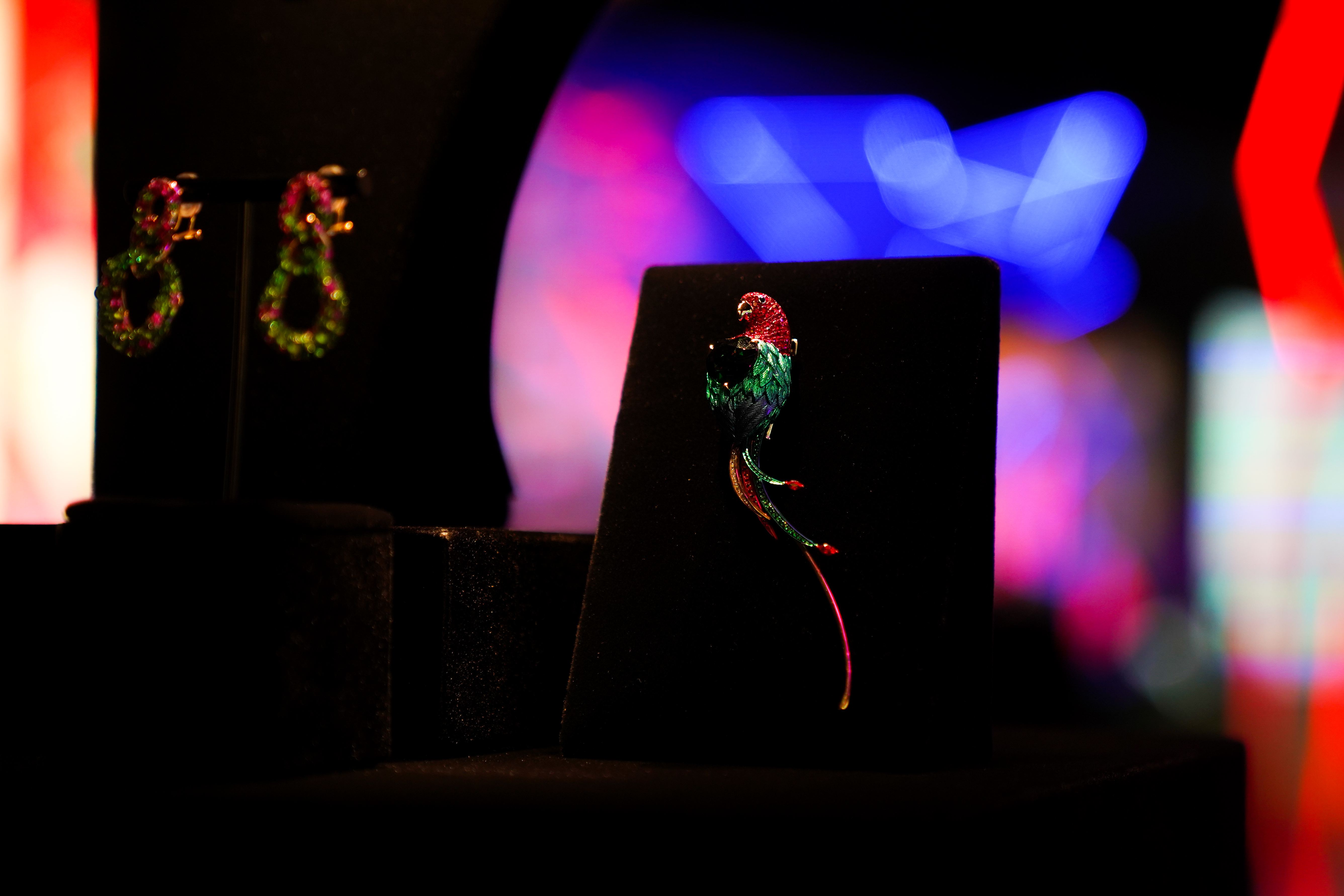 A parrot brooch by Kelly Xie Fine Jewelry.

In the "The Jewelry Trend Book 2024+" that De Luca's team published last September, the concept of "chromaverse," which means "the universe of colors," is highlighted. In De Luca's opinion, enthusiasm, hope and joy are a main topic of people's discussions in the post-pandemic era, so color is the theme that's most representative of the present time.
"I hope to bring enthusiasm. I hope to bring joy. I hope to bring collaboration," De Luca told Shenzhen Daily in an exclusive interview. "We hope to bring the playfulness that is necessary to let go and embrace diversity not only cross-culturally but also locally."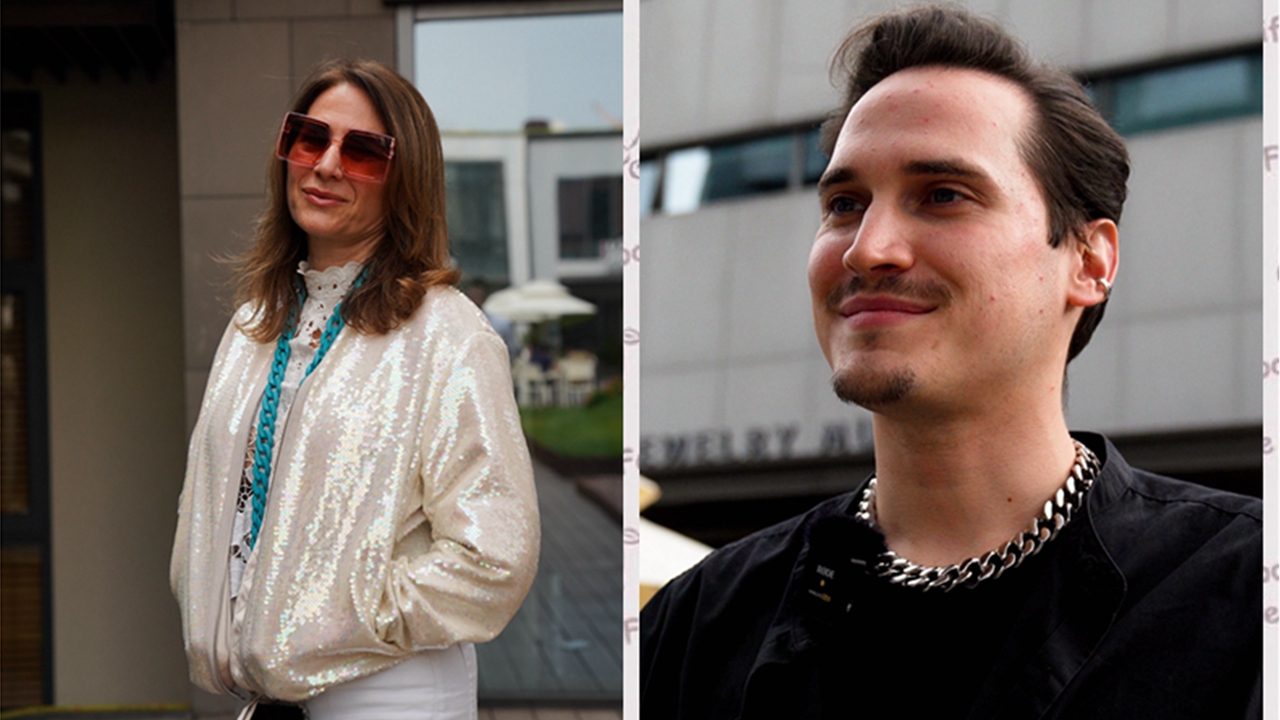 Paola De Luca (L) and Thomas Lazzarinia

De Luca's ideas are echoed by Thomas Lazzarini, project coordinator of the exhibition. "The theme is 'The Joy of Color.' We think that color is energy, and energy gives happiness, joy and great emotions. We hope that the visitors will feel empowered after they visit the exhibition."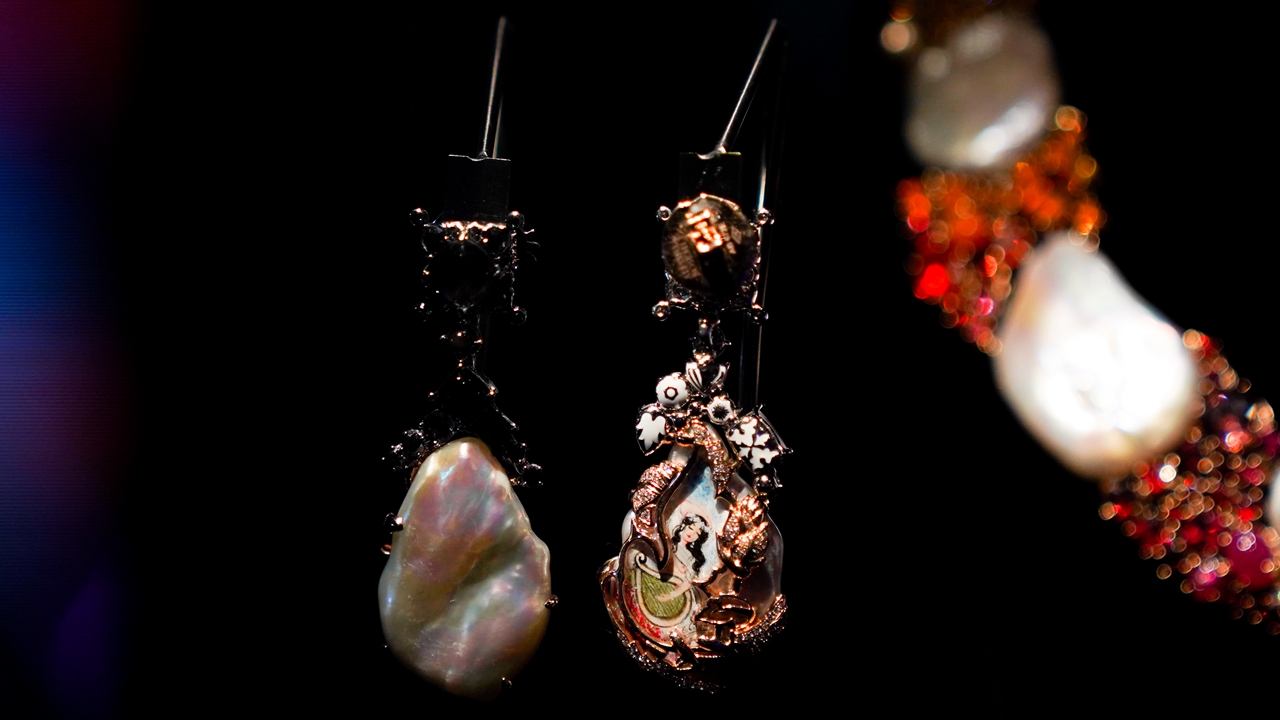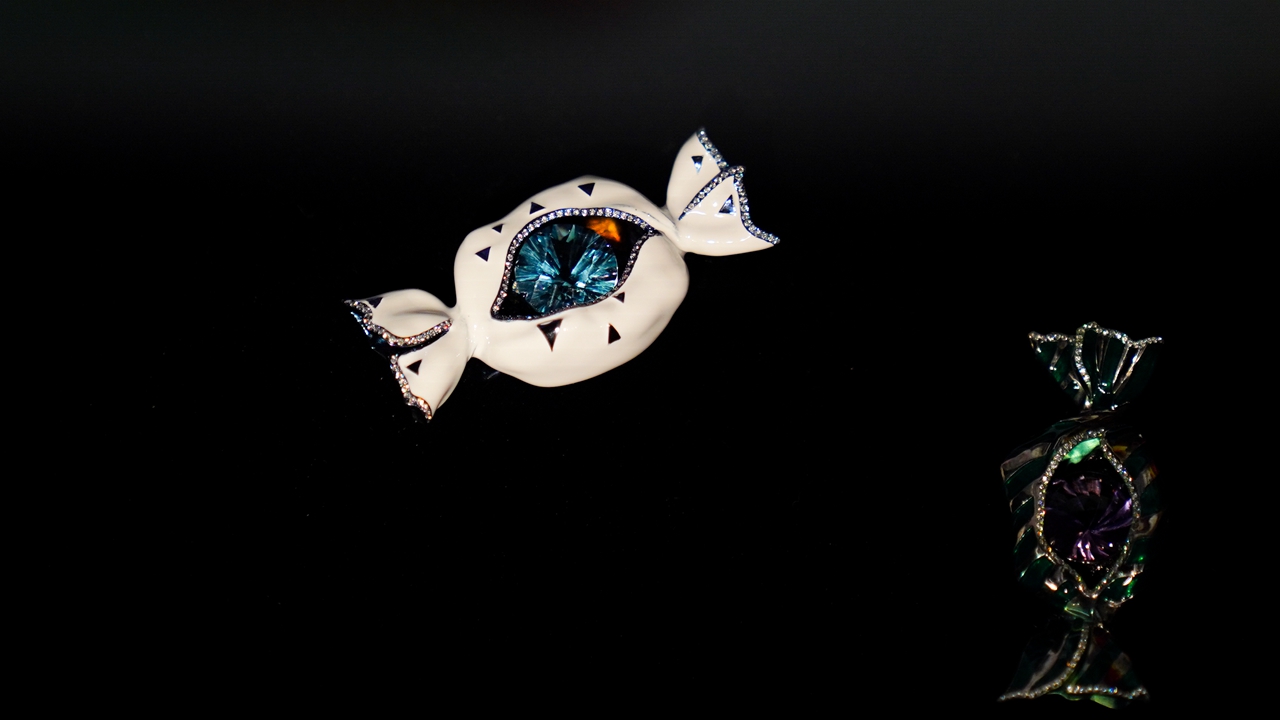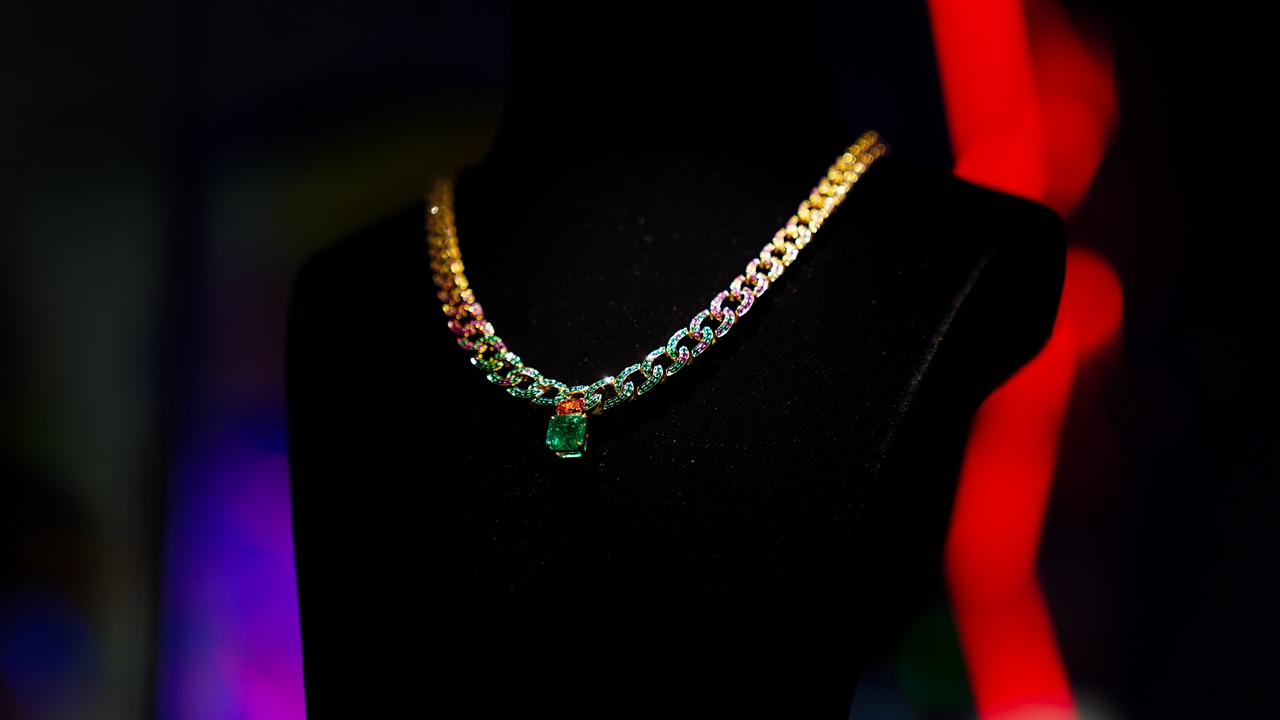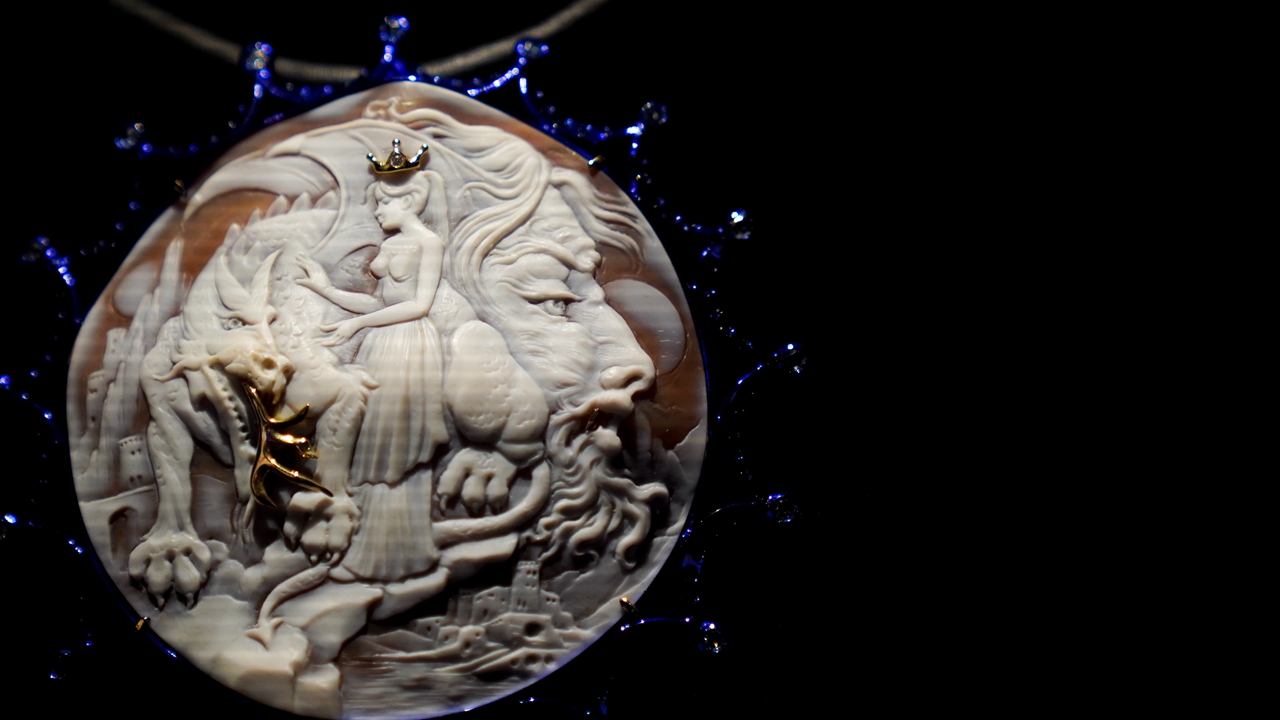 More jewelry pieces visitors can find at the exhibition.

Dates: Until May 10
Hours: 10 a.m.-4:30 p.m.
Tickets: 48 yuan/person, 88 yuan for two
Venue: 4/F, Shenzhen Jewelry Museum, Luohu District (深圳珠宝博物馆四楼专题展厅)
Metro: Line 3 or 7 to Tianbei Station (田贝站), Exit C