The 2023 Shenzhen Design Week launches today with a grand opening ceremony, along with a series of events to mark the 15th anniversary of the city being officially designated by UNESCO as a City of Design.

In 15 years since Shenzhen became the first city in China to join the UNESCO Creative Cities Network, the development of its design industry has been put on fast track. Design, which has been widely used in various industries like architecture, urban planning and city branding, has become an important booster for industrial upgrading and a key engine for the city's socioeconomic development.
"For over a decade, the city's design industry has progressed in both quality and scale. The integration of design into industrial production, scientific innovation, arts and fashion has led to the emergence of numerous distinguished design enterprises and famous brands. It has also brought together talents from home and abroad. Exchanges and cooperation with the global design community have become closer," Liu Wenbin, deputy director of the Shenzhen Design Week Organizing Committee Office, said.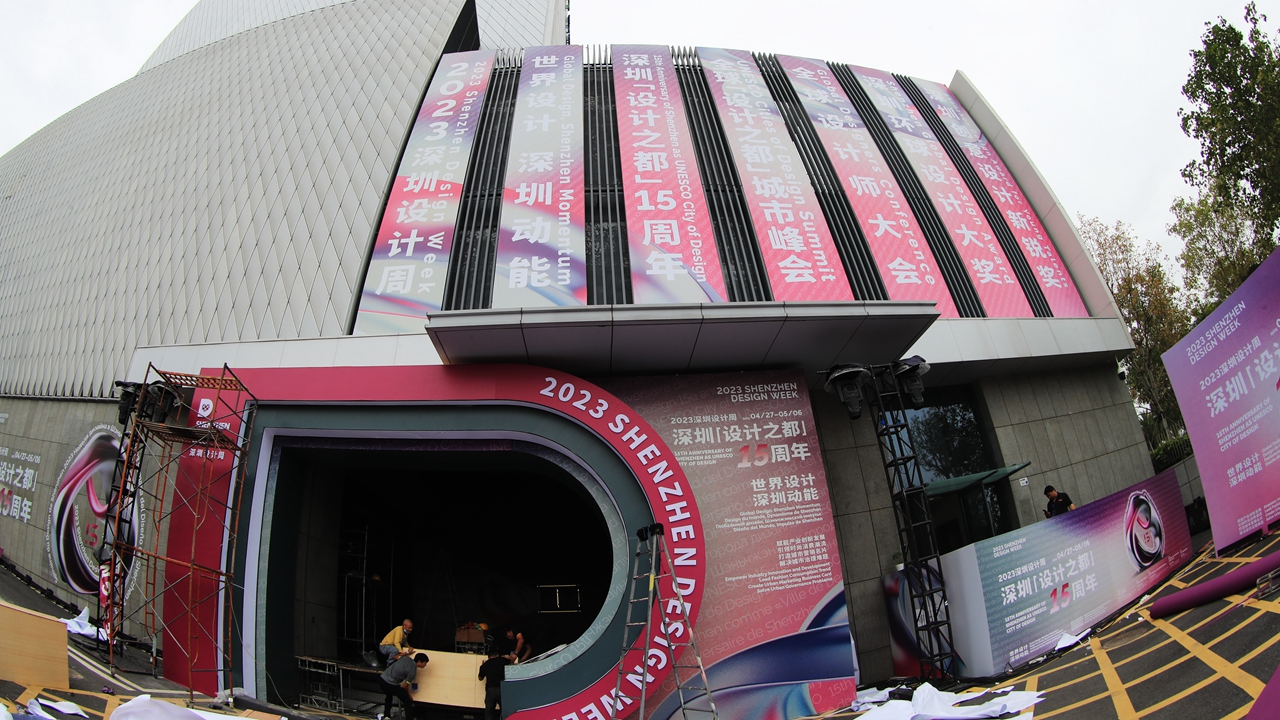 Workers add final touches to the Bay Opera of Shenzhen in Bao'an District yesterday, where 2023 Shenzhen Design Week will open today. Photos by Sun Yuchen

Data showed Shenzhen is now home to 33,000 enterprises and institutions involved in creative design, 30 listed design companies and over 220,000 designers, with the annual revenue of the cultural creative design sector surpassing 1 trillion yuan (US$145 billion). The city leads the country in terms of graphic, industrial, fashion, furniture and jewelry designs.
Zhu Rongyuan, former deputy chief designer of the Chinese Academy of Urban Planning Design, said in a fast growing city like Shenzhen, all types of design — urban, architectural and graphic designs — have their respective places, which has laid foundation for the city's growth.
This year's Shenzhen Design Week will focus on four aspects — design and industry integration, design-led fashion development, design and urban development, and the role of design in solving urban governance difficulties.
Workers decorate the Bay Opera of Shenzhen in Bao'an District yesterday, the main venue for 2023 Shenzhen Design Week. The event, an international design festival, kicks off today and will run through May 6, featuring eight theme activities.

Design and industry integration
In 2022, the total added value of the city's industrial enterprises exceeded 1 trillion yuan, and the gross industrial output value reached 4.55 trillion yuan, both taking the lead among Chinese cities. The added value of strategic emerging industries topped 1.3 trillion yuan, accounting for over 40% of the city's GDP.
"Industrial design plays a non-negligible role in manufacturing and industrial upgrading. The design week will present an exhibition featuring Shenzhen's technological and industrial designs," Zheng Xuan with the city's industry and information bureau said.
Shenzhen boasts 22,000 organizations and 1,400 firms engaged in industrial design. The strength of industrial design is pushing forward the transformation from "Made in Shenzhen" to "Created in Shenzhen," and helping form "Shenzhen Quality" and "Shenzhen Standards."
Thomas Kvan, founding dean of the School of Design of the Southern University of Science and Technology, said for him Shenzhen is the most exciting place in the world.
"Shenzhen has so many ideas coming out from different fields, which is inspiring for designers. As a designer here, when you come up with an idea, there are so many people helping you to realize it," Kvan said.
Urban and landscape design
Design is involved in different stages of the city's urban development, from planning to construction – reshaping the city's temperament and outlook. At this year's design week, the organizer will arrange a City Design Map bus tour and an exhibition on the city's ecological designs to showcase the city's humanity-based urban design achievements.
The city last year launched a three-year (2022-2024) action plan for the construction of a "city of parks" that intends to connect mountains, rivers and sea in a more harmonious way.
The harmonious co-existence of nature and human beings has become the city's calling card, according to Ding Qiang, deputy director of the city's planning and natural resources bureau.
Facts about City of Design
2008 Shenzhen is designated by UNESCO as a City of Design, becoming the first of its kind in China.
2009 The 1st SZ Creative Design Day is observed Dec. 7.
2010 The International Conference of UNESCO Creative Cities Network is held in Shenzhen.
2011 Shenzhen Design Award for Young Talents is inaugurated.
2012 The 1st China Design Exhibition is held, the largest of its kind since Shenzhen won the UNESCO City of Design title.
2014 The first Shenzhen-Hong Kong Design Biennale takes place.
2017 The first Shenzhen Design Week is held.
2018 The first Shenzhen Global Design Award is unveiled.
2019 The Special Award for Sustainability is added to Shenzhen Global Design Award.
2020 An exhibition titled "40 Years of Shenzhen Design" is held online during Shenzhen Design Week.
2022 Graphic Design in China (GDC) Award, curated and operated by Shenzhen Graphic Design Association, turns 30.
2023 The Global Cities of Design Summit is held in Shenzhen.