Share

Print
A+
A-
Brand job fairs in Shenzhen
From: Shenzhen Municipal Talent Affairs Bureau
Talented people are the main driver of a city's development. Each year, Shenzhen holds a number of online and offline job fairs to seek top-notch professionals from around the world.
1.Universities help graduates find jobs
In recent years, Shenzhen has organized a raft of online and offline campus job fairs for college graduates to facilitate their employment when job-hunting season arrives. In 2022, on-site campus job fairs were held in the Southern University of Science and Technology, Shenzhen University, Shenzhen Polytechnic, Shenzhen Institute of Information Technology, and Shenzhen Institute of Technology, with each attended by more than 100 Shenzhen-based employers.
Shenzhen also organizes virtual job fairs for graduates every year on a different theme. The virtual recruitment period for 2022, which ended up running for eight months from April to November, featured special job fairs providing posts at State-owned enterprises and industries such as in IT, finance, newly emerging industries, real estate, biomedicine and artificial intelligence. The online fairs, each attended by at least 60 employers, offered more than 10,000 new jobs in total.
2. "The elite gather together in Shenzhen" -- campus job fair serves up posts at State-owned firms
Launched in 2017, the annual campus recruitment fair participated in by Shenzhen's municipal State-owned enterprises has risen to national fame. Every year, hundreds of municipal State-owned firms offer new positions via this platform to university graduates. The posts cover administrative services, real estate and architecture, urban transportation, fintech, and public utilities.
Graduates can scan the QR code of "深圳国资校招平台" ("Shenzhen SOE Campus Recruitment Platform") to enjoy one-stop services, including more information about jobs, the one-click delivery of resumes, virtual job interviews, and career training courses.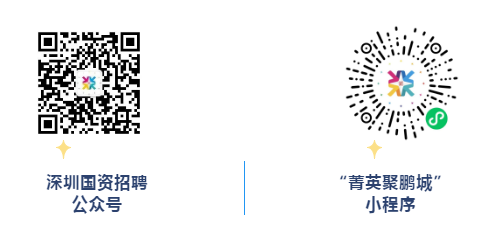 (L) Scan to follow the WeChat account "Shenzhen SOE Recruitment;" (R) Scan to browse the miniprogram of "The elite gather together in Shenzhen" campus job fair
3. Shenzhen Public Employment Service Platform
Job hunters are welcome to log on to the Shenzhen Public Employment Service Platform, which enables direct communication between employers and employees.
The platform, established by the Career Service Center of the Shenzhen Municipal Human Resources and Social Security Bureau, aims to provide all-round and multi-channel employment services for jobseekers. Conveniently, the website is very user friendly so don't be shy about giving it a go.
The platform provides 24-hour job hunting services for free. It also allows jobseekers to upload their CVs as many times as they want, and it charges no membership fee. It updates job vacancy information and provides search functions for users, who can search posts for whatever interests them.
You can also take a free career assessment on the platform to help you discover more about your professional goals.

Scan the QR code to take a free career assessment