When mentioning Coco Chanel (1883-1971), her "little black dress" and other timeless designs that emphasize simplicity and femininity may jump into many people's minds, but beyond her fashion achievements, her interest in music and significant connections with prominent musicians may be lesser known.
This Saturday night, Chinese mezzo-soprano Li Ying, who has studied in France, will collaborate with Guangdong-based Belgian pianist Renaat Beheydt to present a night of French art songs and chansons at Shenzhen Concert Hall, taking the audience on a journey reviewing Chanel's life and the music in her time.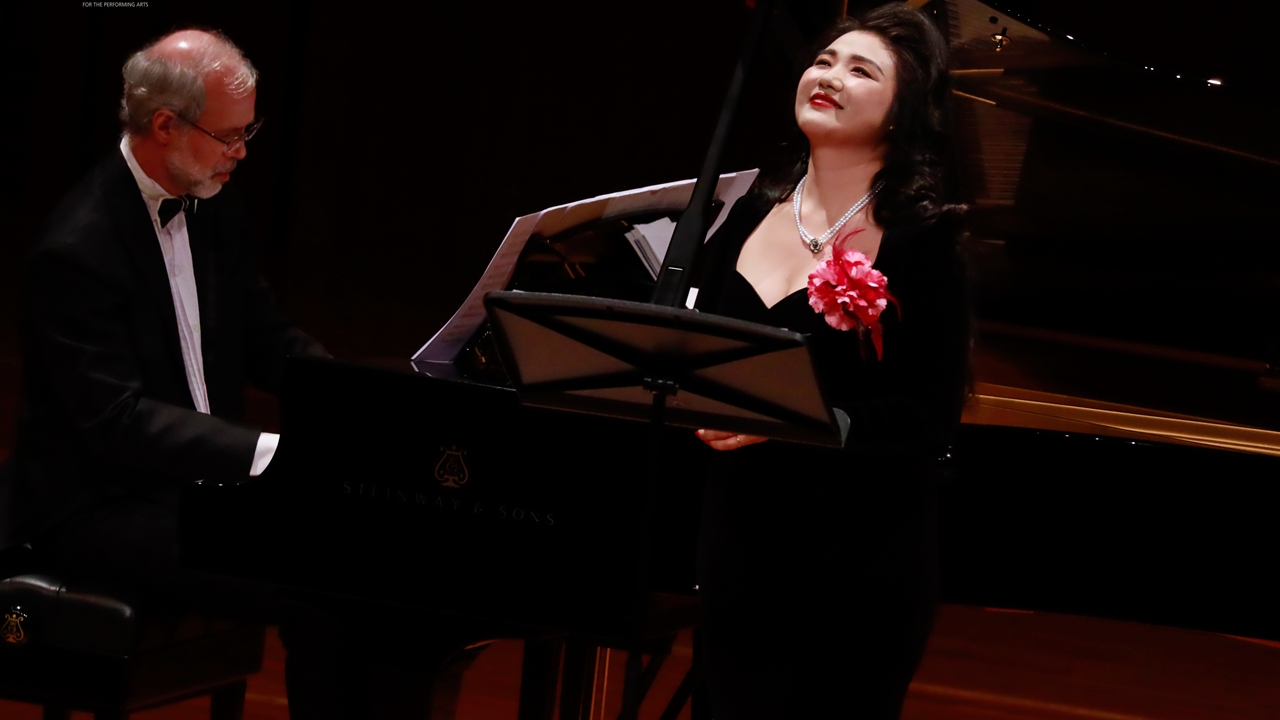 Li Ying sings and Renaat Beheydt plays the piano at their March 26 concert at Jiangsu Center for the Performing Arts in Nanjing, Jiangsu Province. Photo by Song Hao

Titled "The Playlist of Fashion Queen," the concert will feature 18 pieces, echoing different stages in Chanel's life. Bach's "Flute Sonata in E-flat Major, BWV 1031" may remind the audience of Chanel's humble childhood in the orphanage of Aubazine Abbey; Satie's "La Diva de l'Empire" and Poulenc's "Travel to Paris" will take the audience back to French salons and the La Belle Époque period; and songs around the time of Chanel's romances and fashion career will present the audience with a sense of old Paris.
"Inspired by Chanel's contribution on music and art, I selected the songs for the concert. She was an avid patron of the arts and had significant experiences with several notable artists and musicians, such as Dali, Picasso, Ravel and Stravinsky. Her collaborations with them helped shape the cultural landscape of early 20th-century France, which is worth researching," Li told Shenzhen Daily in an interview Tuesday.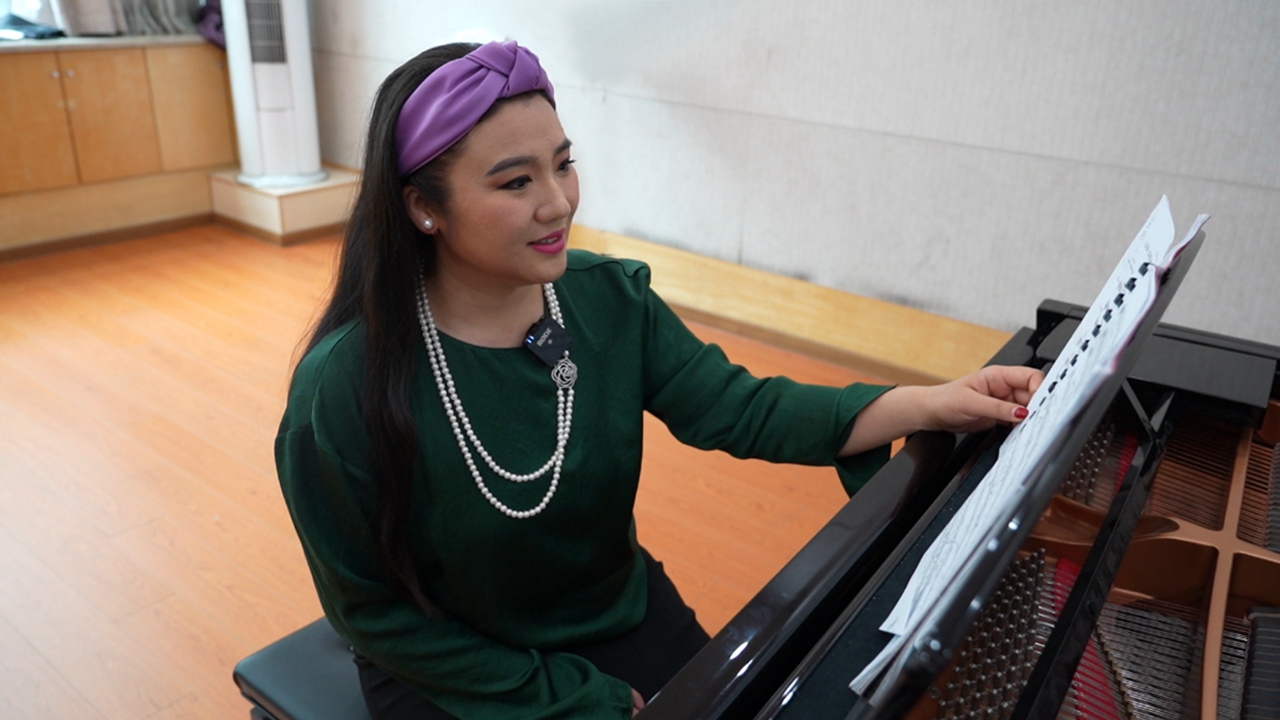 Li Ying introduces her concert program during the Shenzhen Daily interview at Shenzhen Opera and Dance Theater on Tuesday. Photo by Lin Songtao

"I hope to tell her life stories through music. There were many captivating songs during her period and I have selected some familiar ones, such as 'The Champs-Élysées,' 'Non, Je Ne Regrette Rien' and 'Autumn Leaves,'" said Li who graduated from Ecole Normale de Musique de Paris and now works for the Shenzhen Opera and Dance Theater.
"As an opera actress, I will incorporate acting in the concert. You will see me using various moods to render Chanel in her different life stages: at the orphanage, on Paris streets, in her romances, in her fashion empire, when her business suffered and in her old age. But I won't show off singing techniques on the stage; rather I hope to let the audience know her independent and upbeat spirit. Her unconventional approach to life impresses and inspires me the most," said Li.
Coco Chanel's photo is shown at Li Ying's March 10 concert at Guangzhou Opera House in Guangzhou. Photo by Tang Liang

At the concert, authorized old photos and videos of Chanel will be shown on a big screen to accompany Li's vocal and Beheydt's piano performance. "The audience will feel that they are watching a movie while my voice is like a gentle background sound."
French art songs, or mélodie, draw from classical music traditions and feature poems as lyrics, while chansons are characterized by their more straightforward melodies and lyrics. Both are essential parts of France's rich cultural heritage and represent the soul of French artistry. Their enduring popularity speaks to the enduring appeal of these musical styles and their continued importance to French cultural life.
Having lived in France for more than 10 years, Li said she is confident in her understanding of French life and culture, as well as the articulation in singing French art songs and chansons. She said she has been a diligent person since her childhood and has spent much effort in learning French. "I could spend a whole afternoon sitting in a coffee shop to listen to French people chatting and I did so on buses. I listened to different French people's talking in diversified topics and I also observed their ways of talking," she said.
Li studied vocal at Shandong University of Arts in China, and vocal and chamber music at Ecole Normale de Musique de Paris. She was instructed by tenor Robert Dumé, mezzo-soprano Beatrice Uria Monzon, soprano Ana Maria Miranda, baritone François Le Roux, coach Bruno Gousset and opera director Mireille Laroche.
At her graduation concert in France, Li sang a Chinese art song with lyrics from a Han Dynasty (202 B.C.-A.D. 220) ballad. "I remember the chancellor told me that he could perceive the Chinese culture through listening to my singing and I was greatly inspired," said Li.
"Both China and France have such splendid cultures, and I will continue to sing operas and songs from both countries, as well as from other cultures. In China, we often hear German lieder and Italian operas but less French art songs, so I hope to bring the elegant and romantic part of French culture to Chinese audience," she said.
Time: 7:30 p.m., May 20
Tickets: 99-399 yuan
Booking: WeChat account "szyyt_piao"
Venue: Shenzhen Concert Hall, Futian District (深圳音乐厅)
Metro: Line 3 or 4 to Children's Palace Station (少年宫站), Exit D