Equipped with recreational facilities such as slides, balance beams, climbing nets, swings and a sand pit, a playground at Shenzhen Bay Park, surrounded by coconut trees and lawns, has become a land of pleasure for children.
Such playgrounds, each with different facilities and ingenious designs, are a common sight in Shenzhen.
As China's first city to promote the construction of a child-friendly city, Shenzhen has been working to provide children with fair access to convenient, comfortable and inclusive facilities, spaces and services.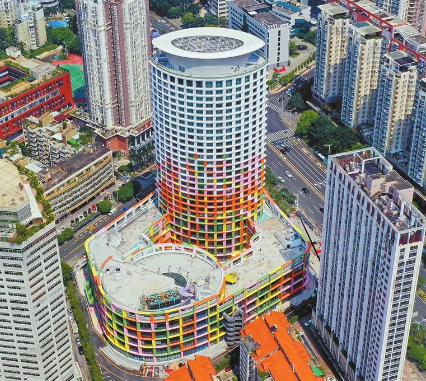 An aerial view of the colored Shenzhen Women & Children's Building in Futian District, which officially opens to the public today, International Children's Day, after a three-year renovation. Sun Yuchen
From communities, libraries, schools, hospitals, parks, baby care rooms to travel systems, "child-friendly" is cleverly manifested in the city's urban landscape.
In May last year, Shenzhen released guidelines for the construction of a child-friendly public service system, which were China's first such standards made by a local government.
With the vision of building a future where children can thrive, feel safe and heard, and are given opportunities to participate and lead, a child-friendly city is essentially a livable city for all.
Places for joy
Outdoor playgrounds are a staple of childhood. The vibrant colors and exciting games conjure up memories of time spent laughing with friends and getting the rush achieved through running, jumping and swinging.
On March 18, the Yitian Community Child-friendly Playground at Fubao Subdistrict in Futian District officially opened to the public. It is the city's first child-friendly community park.
The playground covers an area of approximately 2,000 square meters and consists of five major areas: a sand pit area, a green island area, a circular corridor area, an activity area and a rest area.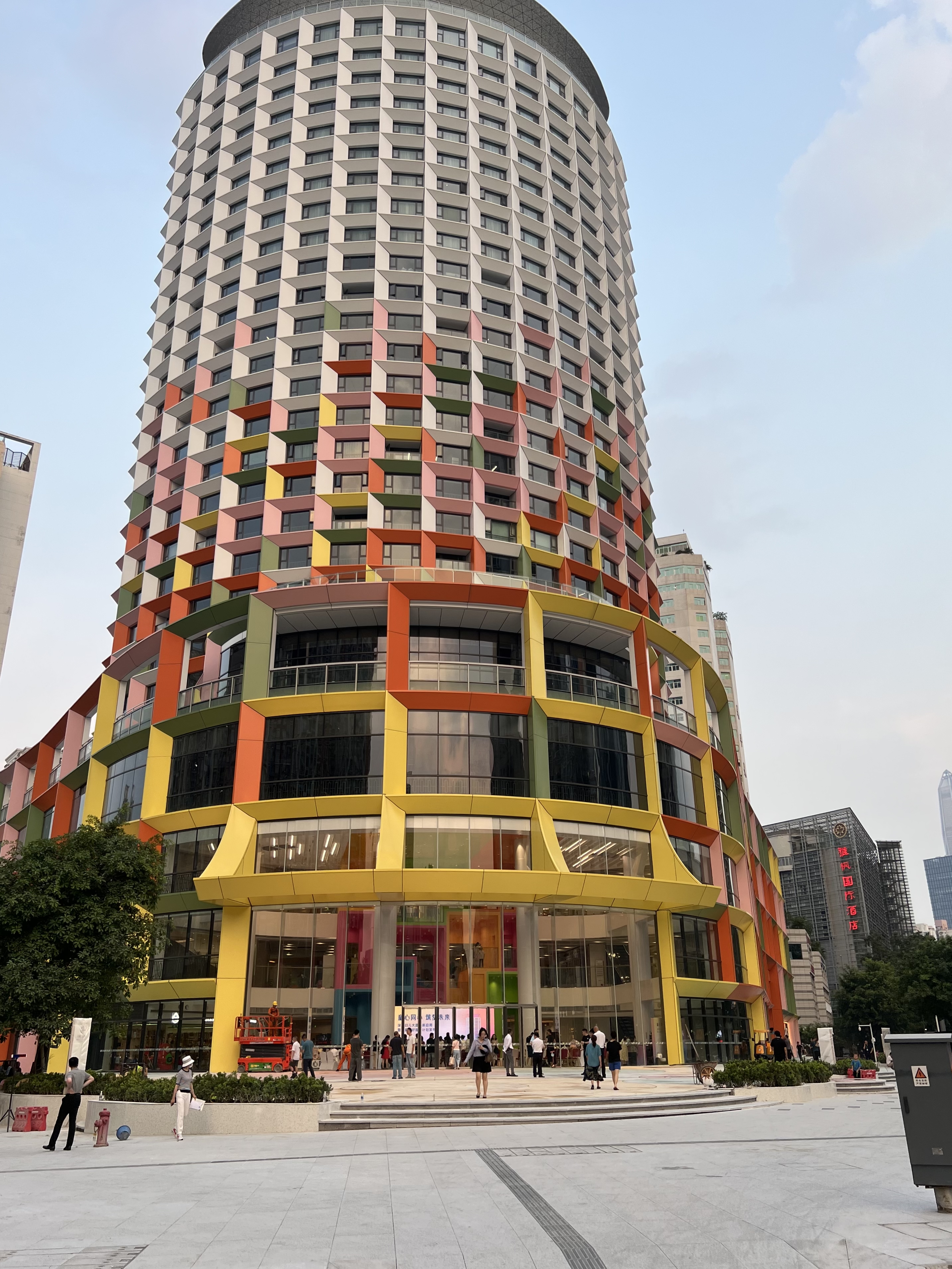 A view of Shenzhen Women & Children's Building in Futian District. Lin Jianping
According to the city's urban management authority, aligning with international ideas of child-friendly facilities, Shenzhen is promoting the renovation of children's parks to scientifically equip the city with service facilities that meet the needs of children of different ages.
By 2025, each district and Dapeng New Area in Shenzhen will complete the construction or renovation of at least one park dedicated to children and 11 parks dedicated to children will be reasonably distributed throughout the city, according to plans.
In addition, the city will further expand children's recreational spaces. By 2025, the city's parks will add 100 children's playgrounds.
A new fun land for children is also ready to open today, International Children's Day. With its colorful façade and green rooftops, the Shenzhen Women & Children's Building is officially open to the public after renovation.
The mixed-use building, a refreshing presence in Futian, hosts a wide range of facilities for the welfare of women and children, including a library, a theater and "discovery hall" for children, a women's exhibition hall, a family service hall and supporting facilities as well as offices and a hotel.
Comfy and
convenient facilities
In 2016, under the backdrop of promoting the construction of a child-friendly city, Shenzhen launched the program of building and improving baby care rooms. Now, baby care rooms can easily be found in public places, whether it is a transportation hub, a government service center, a park, or a shopping mall.
The city's over 1,150 cozy, bright and clean baby care rooms come in handy when mothers need to take care of their young children in public places.
At the baby care rooms in UpperHills, for instance, there are diaper changing tables, washbasins, tissue boxes, trash cans, drinking water, milk warmers, baby care tables, soft seats and cribs to meet diverse needs of mothers and babies.
"I used to worry about the lack of privacy and that someone might suddenly come into the baby care room when I breastfeed," said Li Na, a new mother.
To her surprise, the baby care rooms in Shenzhen are not only clean but also give her a strong sense of privacy.
"Whether it's breastfeeding or changing clothes or diapers, the baby care rooms give us a peaceful environment where we can go out trustingly," Li said.
According to the city's women's federation, the city aims to have more than 1,500 baby care rooms, including over 170 demonstration ones, by the end of this year.
Growing up safe
and happily
A safe, protected and clean environment is also essential for children's growth. A 337-meter-long child-friendly road with bright guiding lines and square stools was put into use in Nanshan District last month.
Located near Shenzhen University's north gate, the road, a demonstration road for commuting school children, has been praised by parents of students with Nanshan Kindergarten Attached to Shenzhen University for its safety.
Previously, the road was the only passage to the kindergarten and was in poor condition that posed safety hazards.
Shenzhen has also pioneered in creating a child-friendly urban village, with the city's first child-friendly urban village unveiled at Shuiweixincun in Dalang Subdistrict, Longhua District, on May 26.
The urban village project, which is divided into two phases, will integrate child-friendly awareness into every aspect and listen to children's opinions and thoughts on their living environment.
The city aims to turn the urban village into a livable and enjoyable environment for children of all ages.