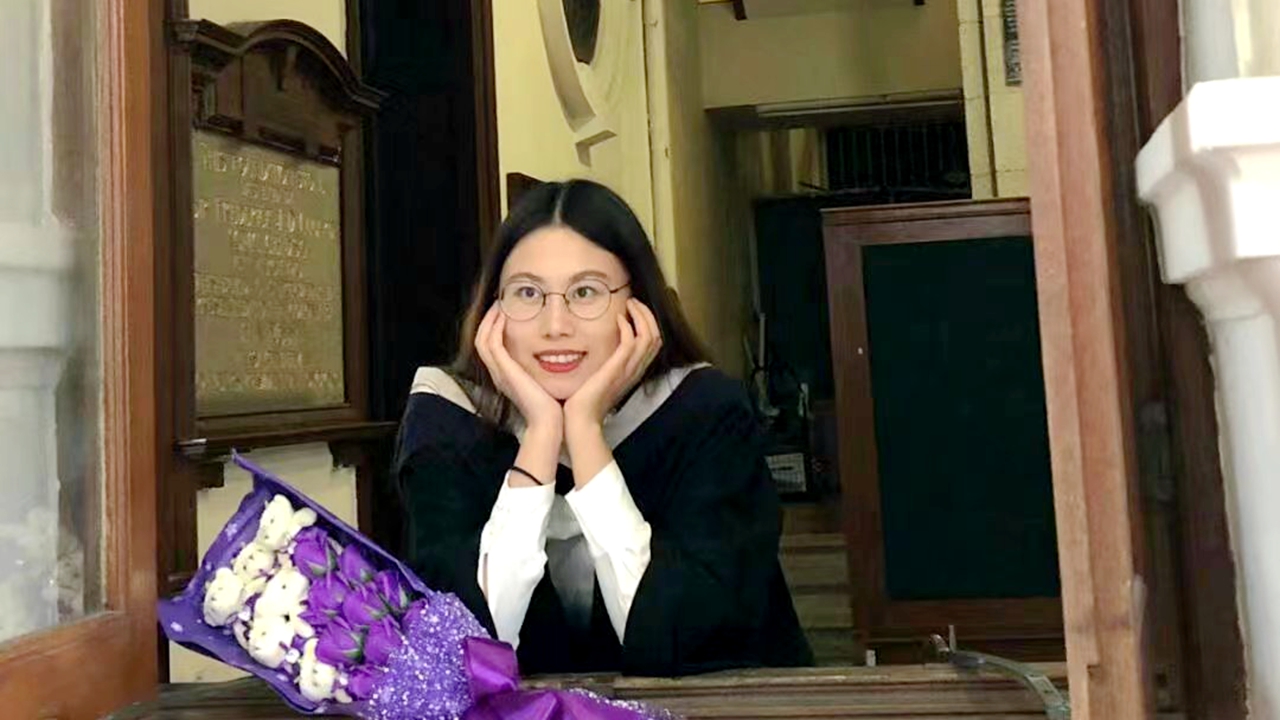 Bella Kwok poses for a photo at the University of Hong Kong graduation ceremony. Photos courtesy of the interviewee
Bella Kwok, a teacher from Hong Kong, has found her footing in Shenzhen, becoming an integral part of the city's educational landscape, all the while witnessing and participating in the growing integration between Shenzhen and Hong Kong.
Born in Fujian Province in the 1990s to a mainland family that has relatives from Hong Kong, Kwok moved to Hong Kong during her senior high school year and became a Hong Kong resident. After graduating from the University of Hong Kong, Kwok began her full-time teaching career in Shenzhen in 2018, joining an educational institution that prepares students for the Hong Kong Diploma of Secondary Education (DSE).
"I started working part-time at this DSE school before graduation and realized the immense potential of the international qualification it offers, with no restriction on non-Hong Kong students' registrations. Recognizing this as a promising opportunity, I decided to continue working here even after graduation, instead of pursuing a new career," she said.
"Furthermore, teaching has brought me to a simple and fulfilling work environment where I can share my experiences with students at ease as equals."
As a teacher, Kwok has had the unique opportunity to be a part of students' lives and see them grow. She recalls her first class as "the brave ones," who trusted the school and transitioned to a new education system within merely nine months, attaining impressive DSE results through sheer perseverance. Meanwhile, her current class has shown her the diverse and vibrant personalities of Generation Z, with whom she finds immense joy in talking to.
"There are the thoughtful and considerate, the lively and outgoing, the earnest and persistent, also the impulsive and naughty ones. They come from various backgrounds and may not need to worry about material life. Yet, they are united in the simple desire to strive for their ambitions. Seeing them able to clearly describe the major, the university and even the career they want to pursue in the future, I do feel that they are lucky. And for me as a teacher, I feel fortunate too to witness their growth," Kwok said.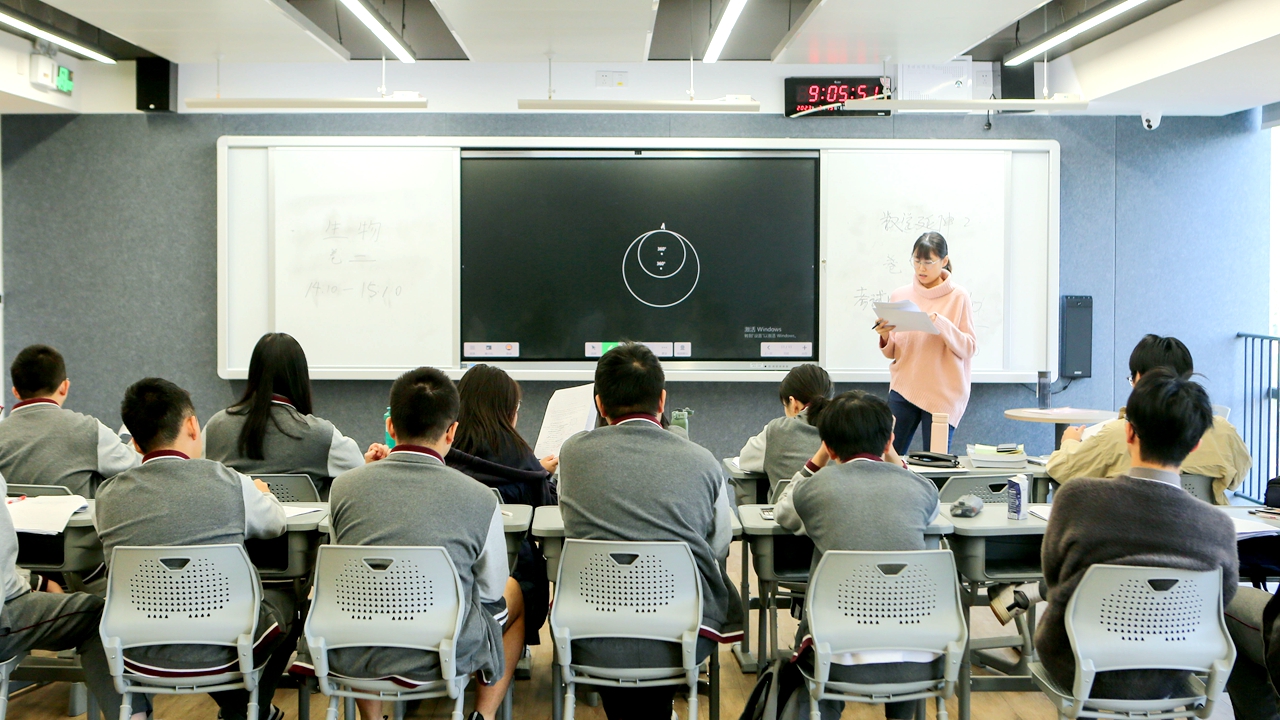 Kwok is seen during a class.
Preparing students for the DSE was even more stressful than Kwok's own exam experience. "I closely monitored their academic progress and emotional well-being along with their mock exams and application plans, hoping to guide them to deliberate their decisions instead of drifting with the tide," said Kwok.
For Kwok, the most delightful and rewarding part of teaching is conversing with each student and becoming their friend. "Though reserved, I enjoy chatting with different people, getting to know their perspectives and stories, which can be quite interesting."
Working with colleagues from both Hong Kong and the mainland, Kwok knows the benefits of communication and learning from one another, as they all bring different strengths and experiences to the table. As a Hong Konger, she offers her expertise on the DSE, which she experienced as Hong Kong's local qualification, while her mainland colleagues provide richer teaching experiences with particular contributions to science subjects. "While learning teaching experiences from them, I help explain the DSE system as it is less familiar to mainlanders. By complementing each other, we have developed a curriculum tailored for mainland students preparing for the DSE," Kwok shared.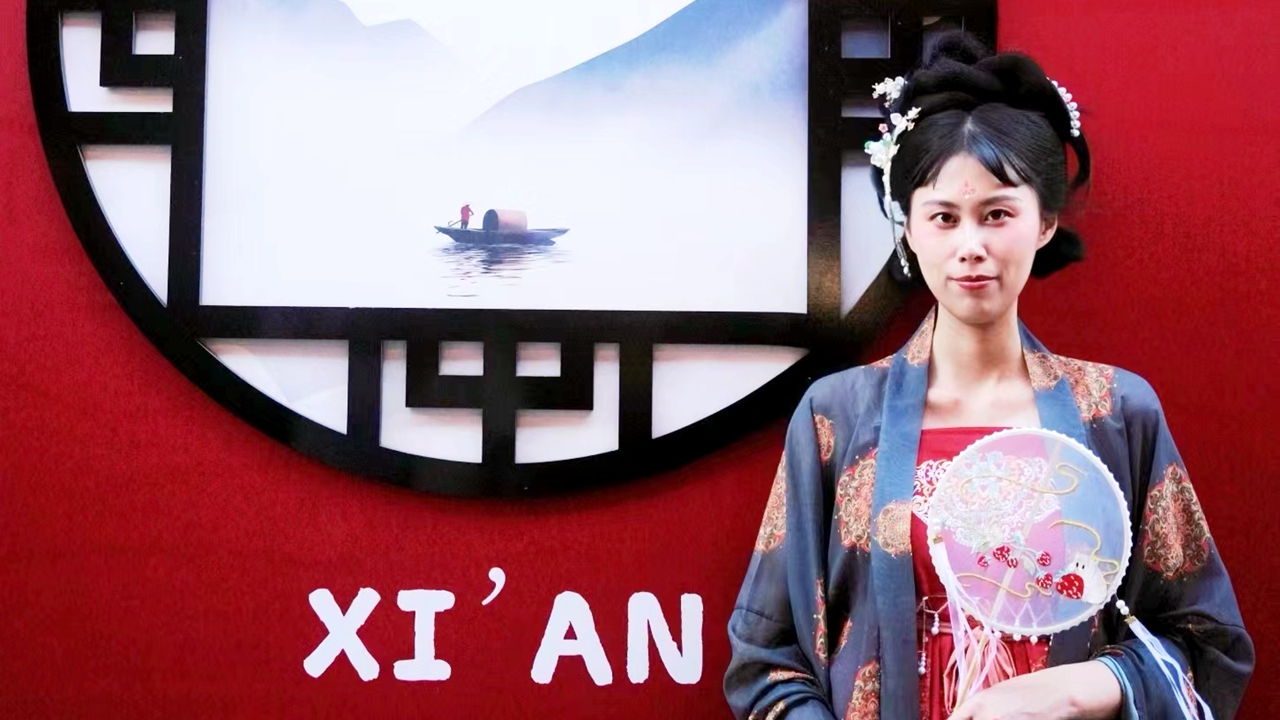 Kwok poses for a photo during her summer trip to Xi'an, dressed in Hanfu.
Throughout her time as a teacher in Shenzhen, Kwok has witnessed the transformation of the relationship between Shenzhen and Hong Kong, both in education and in everyday life. When she was a secondary school student, she felt that there was a notable gap in the two cities. "Back then I felt Shenzhen and Hong Kong were fairly segregated. Shenzhen differed greatly from Hong Kong in language, culture, and lifestyle, while Hong Kongers went here primarily for lower living costs," Kwok recalled.
However, she has seen a prominent shift in recent years, with the two cities becoming increasingly interconnected.
From a Hong Konger's perspective, Kwok sees Shenzhen's rise as an opportunity instead of a threat to the development of Hong Kong. "First-tier cities like Shenzhen with rapid technological advancements are thriving forces to embrace rather than resist. Riding the trend, we can achieve new heights," Kwoksaid. Highlighting the significance of embracing change and keeping an open mind, she believes that the integration of Shenzhen and Hong Kong can lead to various chances for growth and development.
To Kwok, the Shenzhen-Hong Kong integration has not only had an impact on her professional life but also her everyday life. She finds greater convenience when shifting between the two cities without having to worry about currency differences, "I travel with much ease between both cities as mobile payments are now more popular, being used cross-border and cross-currency," Kwok said.
Kwok said her experience is a testament to the fact that the growing integration between Shenzhen and Hong Kong can lead to a fruitful blend of cultures, ideas, and opportunities. Blending the diverse heritage into her identity, Kwok identifies with both Hong Kong's international flair and Shenzhen's progressive spirit in her own unique way.