The ancient Chinese philosopher Confucius believed that everyone is educable and "in education, there should be no distinctions of class." "Class" here does not only refer to social class, but all types of human differences.
Such words of wisdom have inspired and galvanized countless educators, including Lin Qing, founder of Shenzhen Feichang Xuetang Special Children Care Center, with care, respect, acceptance and equality as its core values.
Just like what the center's logo depicts — a white dove of peace holding a small green seedling in its beak heading toward a nursery, Lin has been sowing the seeds of love and dedicated to providing free courses for children with special needs and assisting them in integrating into society for over a decade.
Recently, Lin has been selected as one of the top 10 caring individuals for the year by Shenzhen Project Care, a campaign launched in 2003 that advocates acts of kindness and helping those in need.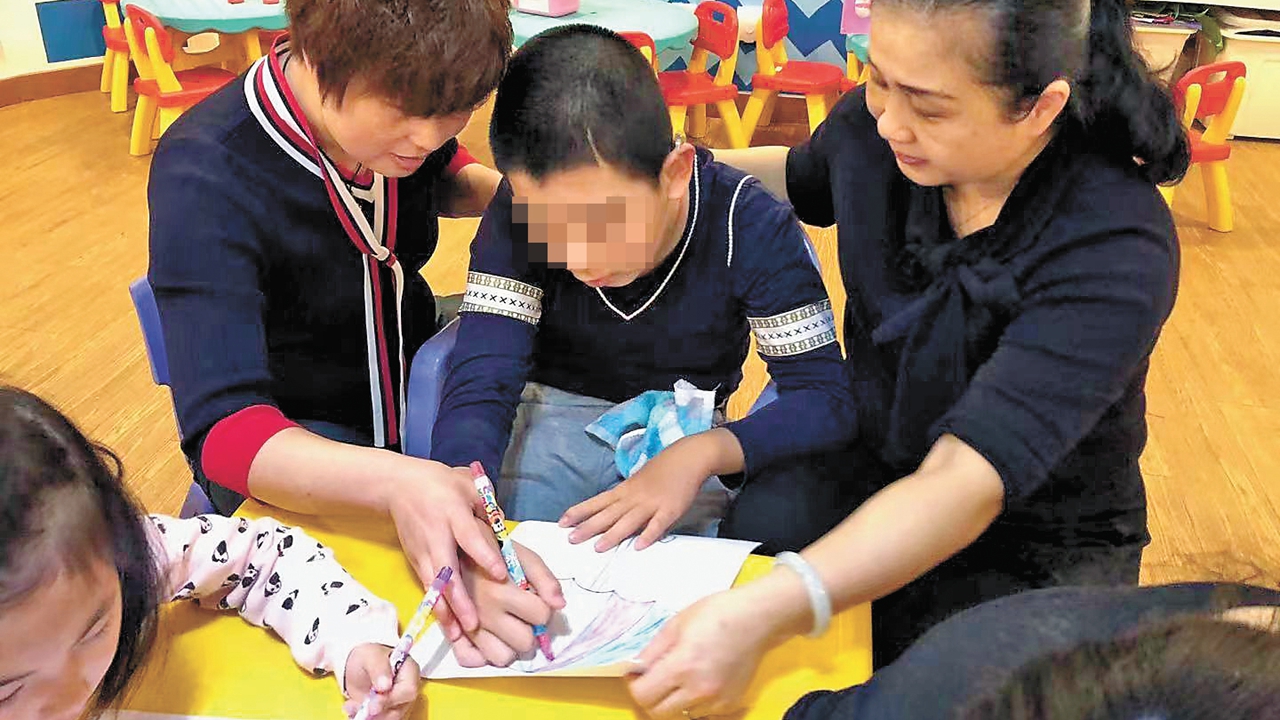 Lin Qing (R) at a drawing class at Shenzhen Children's Hospital in this undated file photo. Courtesy of Lin Qing
'This is worth doing'

It all started from volunteering.
Lin, who has 30 years of experience in preschool education, was once a kindergarten principal. In 2011, she came to Shenzhen Children's Hospital as a member of the city's volunteer federation, and only then did she learn about some special needs children who could not attend regular school.
"I realized that there was an immediate change in these children after I gave one class. It touched me very much," Lin told Shenzhen Daily. "I believed that education should be accessible to every child, so I told myself that from then on I would come over to volunteer whenever I had free time."
From 2011 to 2015, Lin and the teachers at her kindergarten kept giving free classes at the children's hospital during weekends.
In 2015, with the support of the hospital, Shenzhen Project Care and Shenzhen Lions Clubs, the Feichang Xuetang project was launched in the Vcare Center of the hospital.
Lin resigned from her position as a kindergarten principal and started leading a professional team to provide free full-day courses for special needs children aged 3-12 who are out of school.
"We hope to build a platform for them to integrate into society through preschool education, filling the gap that they are missing from not attending schools," Lin said.
From 2016 to 2017, more teaching locations were set up in Longgang, Longhua and Bao'an districts.
At present, the Feichang Xuetang center has eight full-time teachers, all of whom have graduated from colleges and universities and hold assistant social worker certificates. Many of the teachers have been awarded the honorary title of excellent teachers at the municipal and district levels.
According to Lin, the center has so far provided services to 2,424 special needs children. Among them, 279 children have been successfully enrolled in general schools.
"Seeing many children having been seamlessly admitted to kindergartens and general schools after attending our classes makes me feel that this is worth doing," Lin said.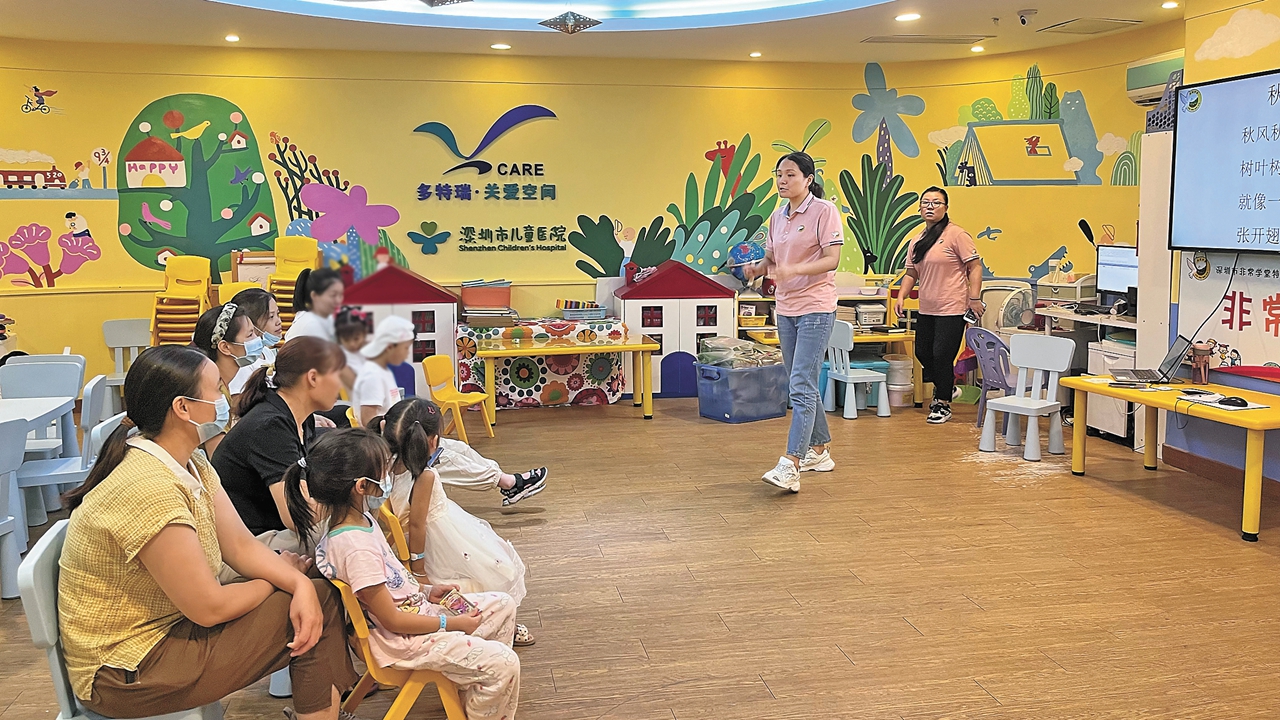 Children and their parents attend a class given by a teacher of Shenzhen Feichang Xuetang Special Children Care Center at Shenzhen Children's Hospital last Wednesday. Zhang Yu
Light up dreams

"Every September is a month that is both moving and exciting for us. We have already had many 'Doudou' [students] realizing the dream of going to school," Lin wrote in a post on WeChat on Sept. 4.
"May our children all encounter beautiful things and integrate into the new campus happily. We will also not forget our mission and continue to accompany more 'Doudou' to complete their journey to school," the post read.
As the new semester started, many parents whose children were admitted to kindergartens and schools expressed their gratitude to Lin and other teachers.
One parent whose child is named Junjun said: "Thank you very much for providing a learning venue for our Junjun. Seeing him studying with other children is a great relief for me."
Another parent said: "It is with Lin and her teachers' selfless dedication that we can better prepare our children for school."
"She has actually become the most trusted and reliable person in many parents' hearts," Zeng Guoying, a teacher at the center, told Shenzhen Daily. "No matter what difficulties she faces, such as financial or venue issues, she never thinks about giving up."
When she talked about the honor she had received from Shenzhen Project Care, Lin said it belonged to the whole team. "Our team is like a rowing team. I might be the one directing, but it's them who have been paddling hard."
Lin hoped that when these children reach adulthood, they will feel that there is love in this society and that they want to pay back to society.
"Many of our children after graduation told me that they want to be like me and help those in need. This is what I most like to hear," she said.