Inspired by the story of a "living Lei Feng," Wang Gang joined the Shenzhen Volunteer Federation in 2002. About 21 years on, Wang and his family's dedication to social welfare has been widely acknowledged.
Wang's family was honored by Shenzhen Project Care as one of the top 10 caring families this August. Wang himself was named one of the top 10 caring people at the 13th Shenzhen Project Care celebration in 2016.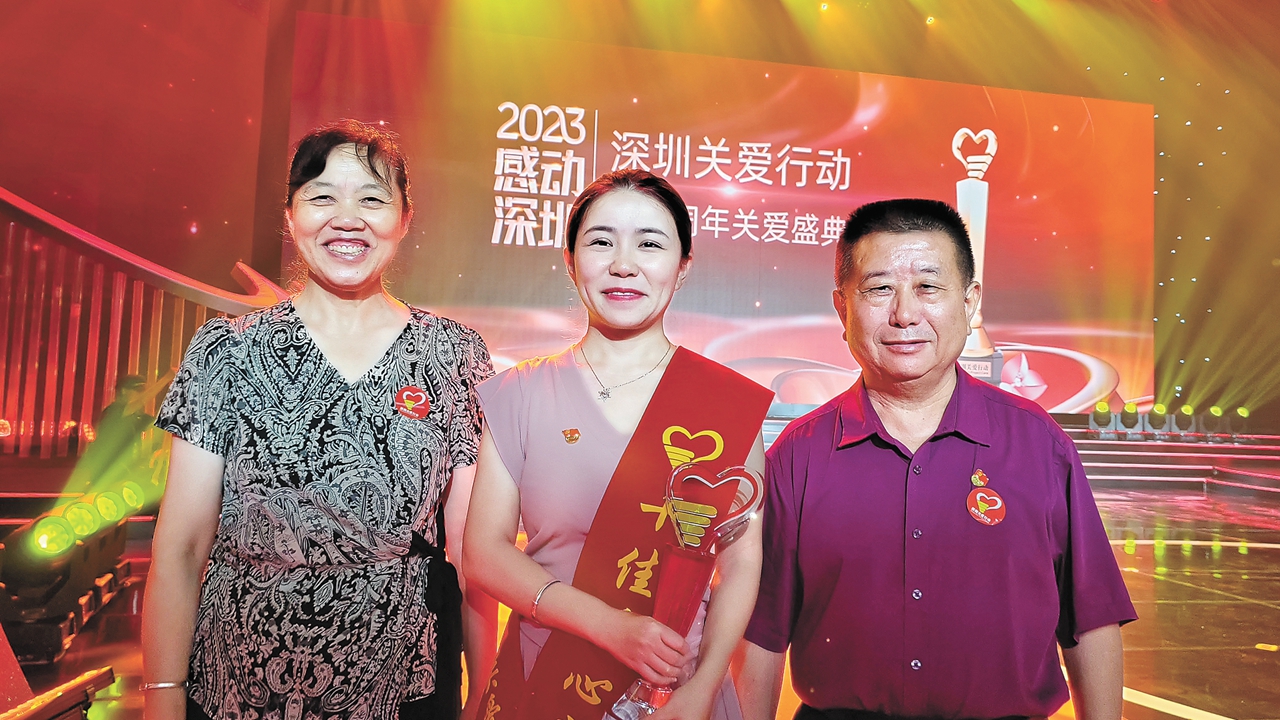 Wang Gang (R) and his wife Li Yimei (L) and daughter Wang Lishan attend an award ceremony of Shenzhen Project Care in August. His family was honored as one of the city's top 10 caring families. Photos courtesy of Wang Gang
As of now, Wang and his family's volunteer hours have exceeded 27,700 hours.

Source of inspiration
Wang came to Shenzhen in 2002 from his hometown in Hubei Province and worked at a local legal services office.
By chance, Wang read a Shenzhen Legal Daily story about a "living Lei Feng" named Chen Guanyu, a famous figure who was enthusiastic about public welfare and always ready to help others. He was inspired by Chen's stories and wanted to know her more.
Wang then contacted Shenzhen Volunteer Federation to ask for a chance to meet Chen and was told that he would have a chance to meet Chen if he joined the volunteer team. This marked the beginning of Wang's volunteering journey.
After becoming a registered volunteer, Wang joined the federation's service teams such as the Light of Life service team, the Youth Mailbox service team and the Social Investigation service team.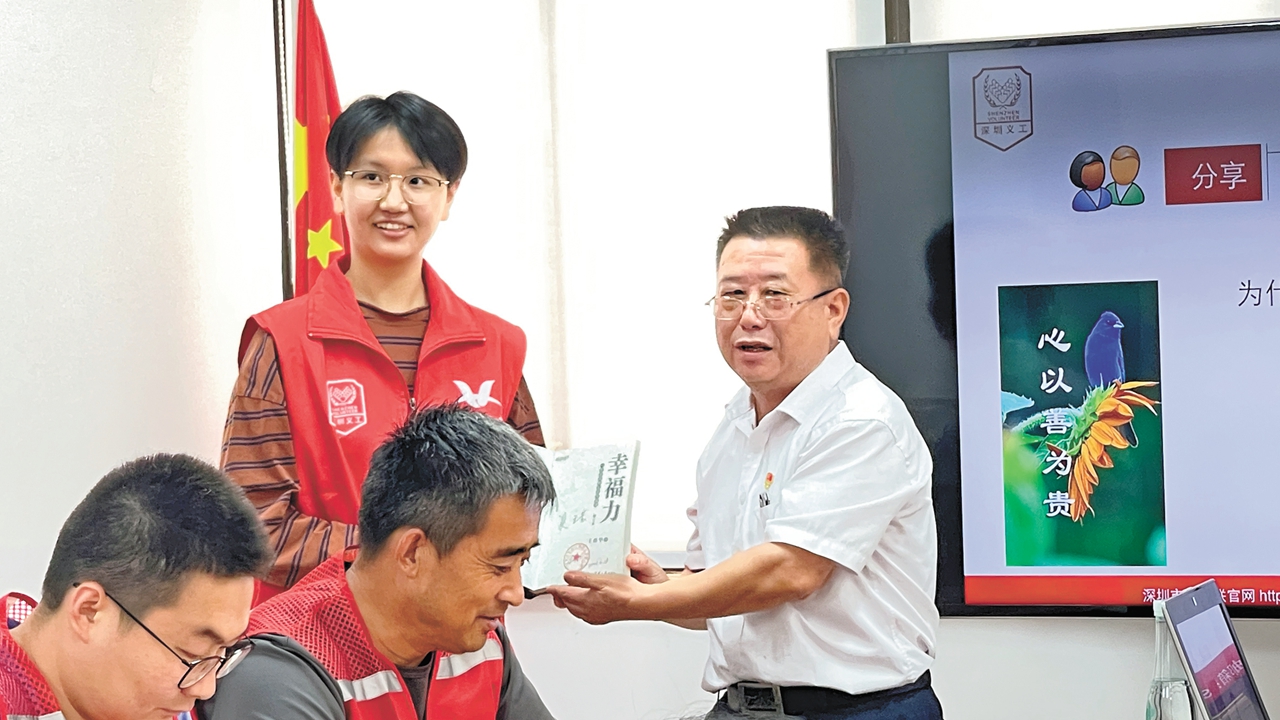 Wang Gang (R) at a training class for volunteers this May.
With joint efforts, the Helping Association of Shenzhen Light of Life was established in 2011 on the basis of the Light of Life service team and Wang became the director of the association.

Wang is also the superintendent of Shenzhen Changjie Volunteer Service Center.
Honors mean encouragement
Certificates of honor adorn Wang's office desk in Bao'an District, with silk banners also hanging on the walls. "I displayed the certificates to motivate me to do more in the future," Wang said.
Over the years, Wang has garnered countless certificates of honor for his dedication to social welfare. Wang said the certificates are nothing but proofs of what he has done in the past.
"Each certificate of honor is like a step that pushes me to move forward. Although the path forward is always difficult, I will insist on it as long as possible," Wang said, adding that "as long as I am on my duty for one minute, I will serve wholeheartedly for 60 seconds."
"When I worked at the Youth Mailbox service team, I received many letters from teenagers who talked about their issues and sought replies from 7788, which is the last four digits of my volunteer number. I realized that there was a need from society and that I was needed," he said.
Wang said that he could never have achieved this without the support of his wife and daughter.
Wang's dedication to social services also rubbed off on his wife and daughter. Wang's wife, Li Yimei, also joined volunteer service teams to assist him.
Wang's daughter, Wang Lishan, asked him for her 14th birthday gift on her 10th birthday. At first, Wang thought the gift may be something valuable. However, her wish was to become a volunteer at 14, the legal threshold age for volunteer registration.
Live and learn
Wang believed volunteering is not just about giving love but also requires professionalism to provide any real help.
Wang elaborated on this by quoting a saying that goes: "Give a man a fish, and you feed him for a day. Teach a man to fish, and you feed him for a lifetime."
As a legal worker, Wang uses his educational background and working experience to provide free legal consultation services. In order to better help teenagers, Wang acquired national physiological certificates through self-study.
From 2009 to 2017, Wang and his wife handled tens of thousands of free legal consultation cases for workers, winning unanimous praise from those who received help.
Wang always integrated knowledge on labor law, social insurance law and marriage law into training courses for new volunteers. He also cooperated with other related professionals to organize volunteers in his group to study courses such as criminal psychology and attend trainings to learn more about anti-drug practices and HIV/AIDS prevention.