Share

Print
A+
A-
Exhibitors feature more tech elements at e-commerce fair
Writer: | Editor: Liu Minxia | From: | Updated: 2023-09-14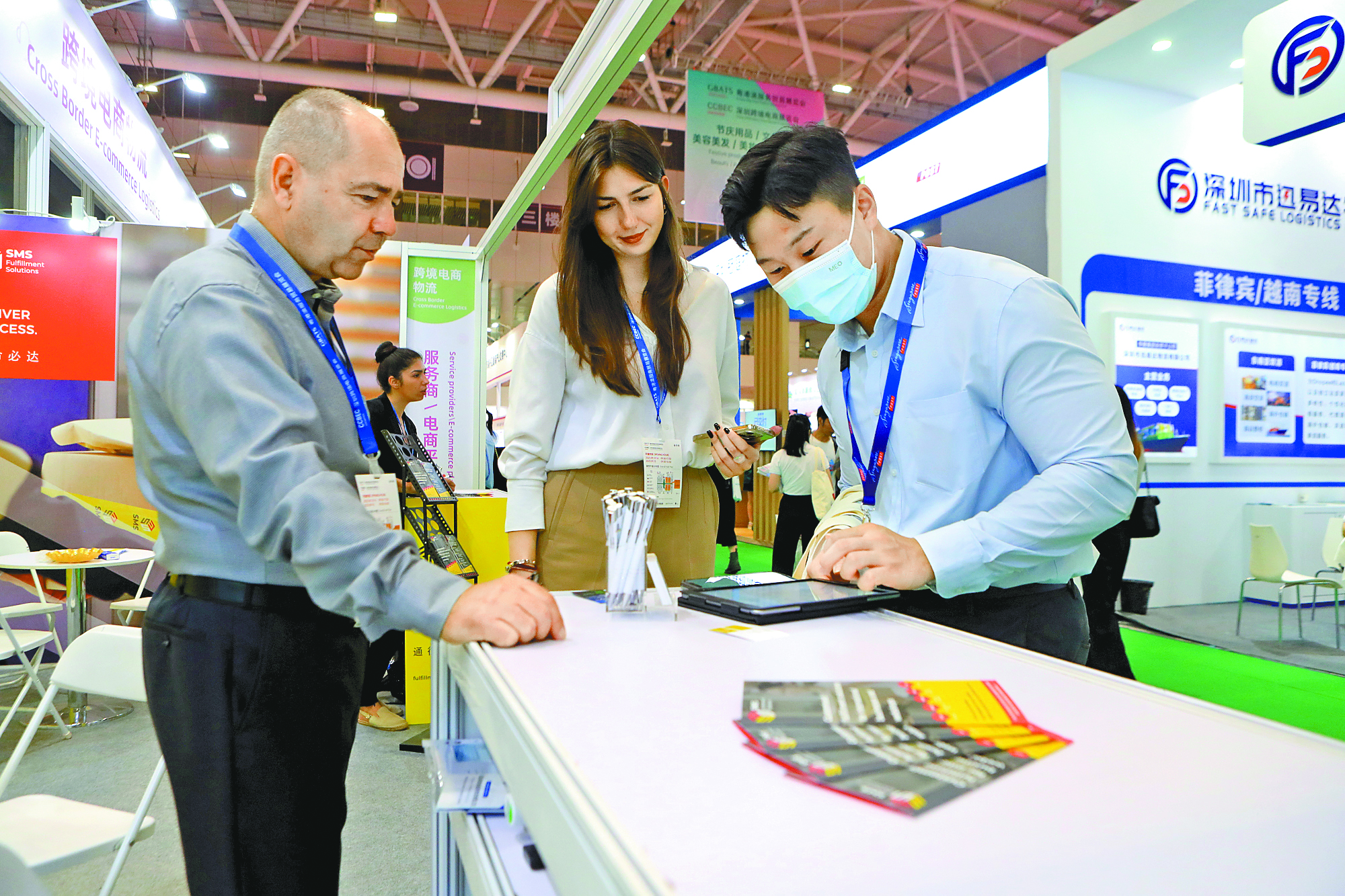 Exhibitors from Switzerland communicate with a visitor (R) at the China (Shenzhen) Cross-border E-commerce Fair (CCBEC) & the Greater Bay Area Trade in Services Fair (GBATS), which opened at the Shenzhen World Exhibition and Convention Center in Bao'an District yesterday. The three-day event has attracted more than 2,000 companies to participate. Photos by Sun Yuchen
More than 2,000 exhibitors from home and abroad are exhibiting a wide range of products and services at the China (Shenzhen) Cross-Border E-Commerce Fair (CCBEC), which opened yesterday at the Shenzhen World Exhibition and Convention Center.
As one of the region's most comprehensive cross-border e-commerce trade fairs covering almost every aspect of the industry, CCBEC has been held twice a year since last year. At this year's ongoing three-day autumn edition, which is being held concurrently with the Greater Bay Area Trade in Services Fair (GBATS), an increasing number exhibitors are selling technology-enabled services in addition to mass produced items.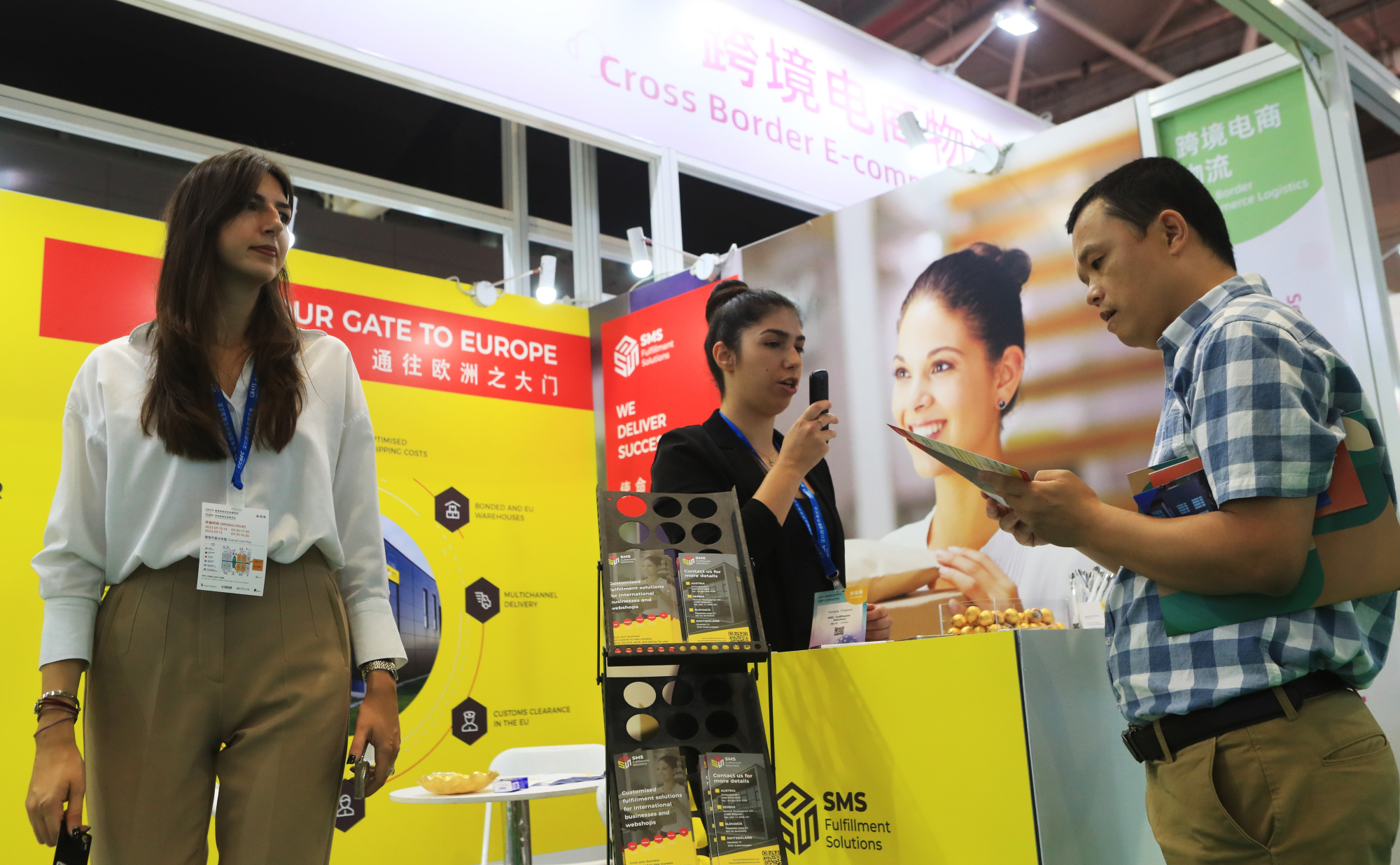 A visitor reads a brochure at the fair.
With a total exhibition area to 80,000 square meters, the fair has previously been known for its wide variety of products and this year increasingly features services. Local and international e-commerce platforms, along with cross-border service providers, demonstrate their latest services, offering solutions for traditional manufacturers to open up new overseas sales channels. Products displayed at the fair range from household consumer goods and festive products to medical care and pet products.
Shenzhen Lingxing Network Technology Co. showcases its all-in-one management platform, which provides cross-border e-commerce merchants with solutions for financial data integration, supply chain management and operation optimization. It said it has stuck deals with Amazon and Walmart.
The fair has also attracted more overseas e-commerce platforms. Lazada, a leading e-commerce player in the Southeast Asia market, said it hopes to find new ideas and sources to expand its overseas market through attending this fair.
"This exhibition is an occasion to showcase the latest cooperation achievements in trade in services in the Guangdong-Hong Kong-Macao Greater Bay Area, promote the high-quality development of trade in services and digital trade, and call on all sectors to work together to push forward the sustained development of trade in services in the Greater Bay Area," Zhang Wei, chief expert of China Association of Trade in Services and former vice president of China Council for the Promotion of International Trade, said in a speech at the opening ceremony of the fair.
Customs statistics show total import and export transactions in overseas e-commerce exceeded approximately US$281 billion for the first time in 2022, an increase of 7.1% compared with 2021. E-commerce now accounts for 5% of China's total foreign trade, compared to less than 1% five years ago. Similarly, the WTO projects the global B2C cross-border e-commerce market will grow by 27% through 2026.
Recent government initiatives for embracing cross-border e-commerce are also creating a favorable environment.
Supporting measures include the ongoing expansion of pilot zones, facilitating international shipping and logistics through policies such as tax exemption for international e-commerce imported goods, and developing overseas fulfillment centers. To date, a total of 200 policies have been implemented to boost the e-commerce sector.