Many people know Chen Xiangbo through his renowned gongbi-technique paintings, adorable Chinese zodiac-themed artwork, or highly popular giant rabbit installation art in Shenzhen's downtown Gangxia during this Spring Festival. What is less commonly known about Chen is that his interests extend beyond the world of art and into the area of social causes.
On Aug. 24, the 20th Shenzhen Project Care named Chen as one of the Top 10 Caring Individuals of Shenzhen in honor of his outstanding contributions to charitable endeavors over the past 10-plus years. Chen, director of the Guan Shanyue Art Museum, has exemplified the powerful synergy between art and charity by using his expertise in art creation and education, and organizing activities to bring positive change to society.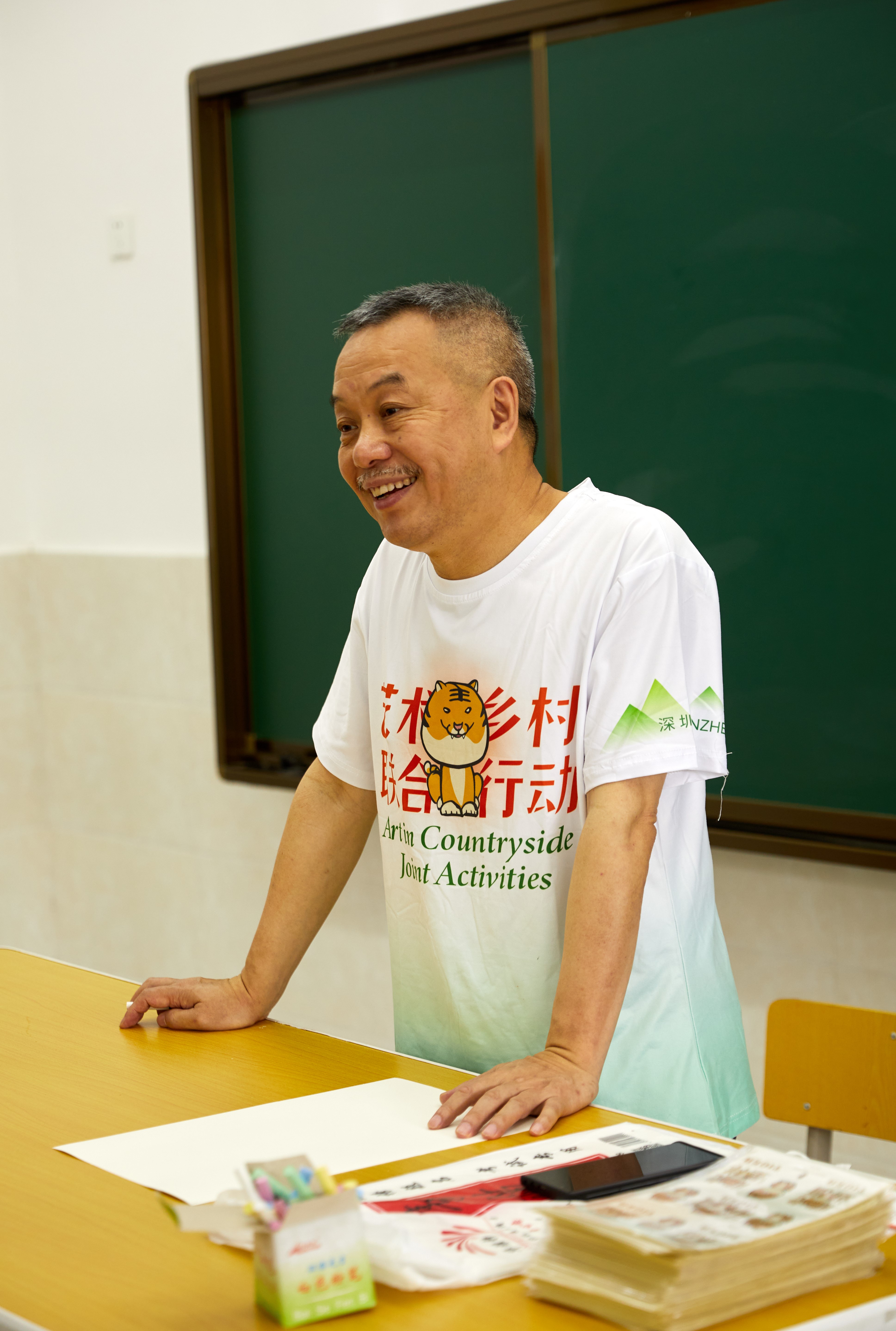 Chen Xiangbo, director of the Guan Shanyue Art Museum, gives a class to children in Xunwu County in Jiangxi Province last year. Photos by courtesy of Shenzhen Project Care Foundation
Journey into charity

Chen began his philanthropic journey in 2008 in response to the devastating earthquake that struck Wenchuan, Sichuan Province. Moved by the plight of those affected, Chen raised 52,000 yuan (US$7,148) to support quake relief efforts by selling four of his paintings. This compassionate act ignited a passion within him to continually support charitable activities through fundraising for various foundations and projects.
In 2011, as a postgraduate tutor at the Guangzhou Academy of Fine Arts, he established the Chen Xiangbo Graduate Scholarship for Excellence and has donated 30,000 yuan annually for the past 12 years.
To nurture young artists, Chen founded the Chen Xiangbo Art Fund under the Shenzhen Charity Federation in 2019.
The fund has supported emerging artists to hold exhibitions and publish painting books, creating a platform for their artistic growth and helping increase their recognition.
Chen Xiangbo draws in Xunwu County, Jiangxi Province last year.
Chen went a step further by launching another art fund affiliated with the Shenzhen Project Care Foundation in 2021. The fund focuses on fine arts education in rural areas. Chen and a team of esteemed fine arts teachers conducted educational activities in Xunwu County in Jiangxi Province last year and Hengyang City in Hunan Province this year. This project has extended artistic opportunities to children in these underserved communities.

Chen Xiangbo draws a tiger in class in Xunwu County, Jiangxi Province last year.
Teachers from rural regions were subsequently invited to visit Shenzhen to learn interdisciplinary teaching and instructional design from esteemed Guangdong fine arts teachers and explore local art museums.

"These activities have broadened these rural teachers' vision, and then the students' vision," said Chen, adding that music teachers will join future activities.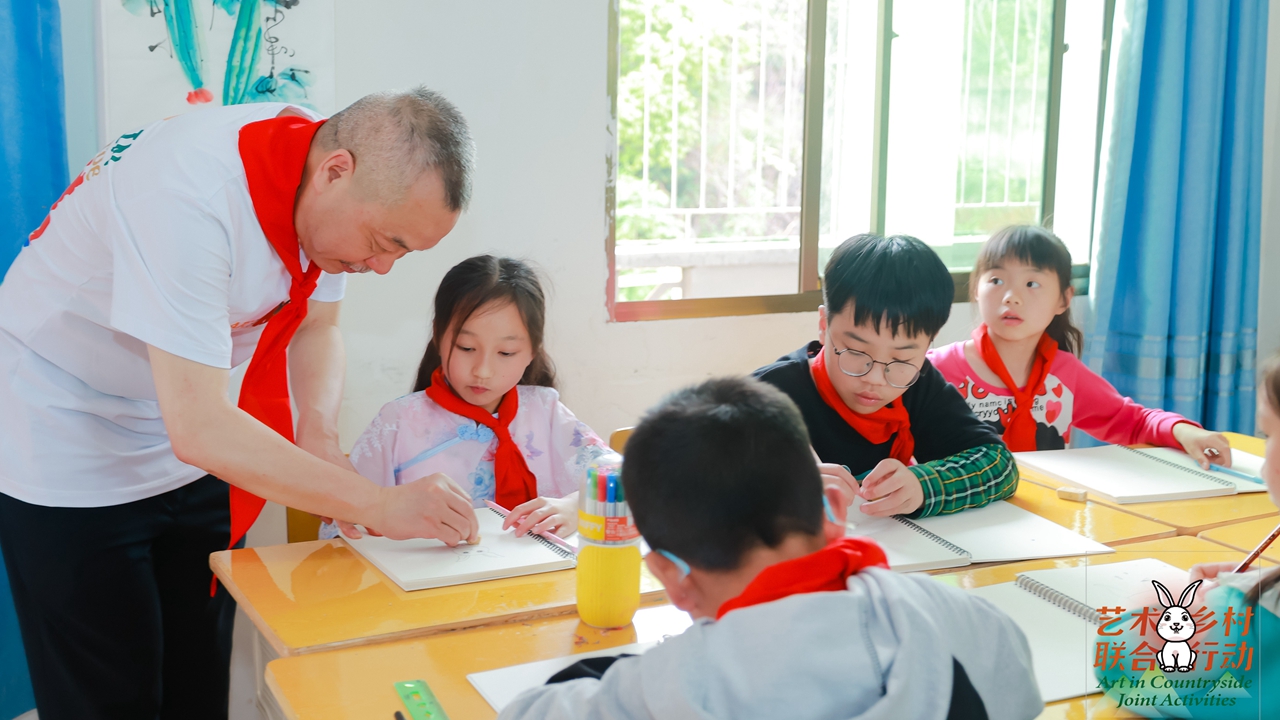 Chen Xiangbo instructs a student at a class in Hengyang, Hunan Province in this April.
In November 2022, Chen collected 548 paintings from rural teachers and students. Fifty-six outstanding works were selected to be published in a book. "Seeing their paintings published, which is a form of recognition, the rural teachers and students were delighted," Chen said.

Engaging with society
Having been living in Shenzhen for over 30 years, Chen has played a vital role in the city's art community. He has actively participated in the establishment of various local art associations. Since 2005, he has arranged for the Guan Shanyue Art Museum to hold activities in communities and schools to enrich the public art education and service. Chen believes that active engagement with society — whether doing art or charitable activities — is crucial for fostering motivation and combating idleness.
Meanwhile, Chen attributes his commitment to charity not only to his personal philosophy but also to the profound influence of Guan Shanyue (1912-2000). "Master Guan donated a lot and he possessed a generous and inclusive personality, consistently prioritizing the collective interests of society," he said. "If you do anything for personal benefit, you will not go further."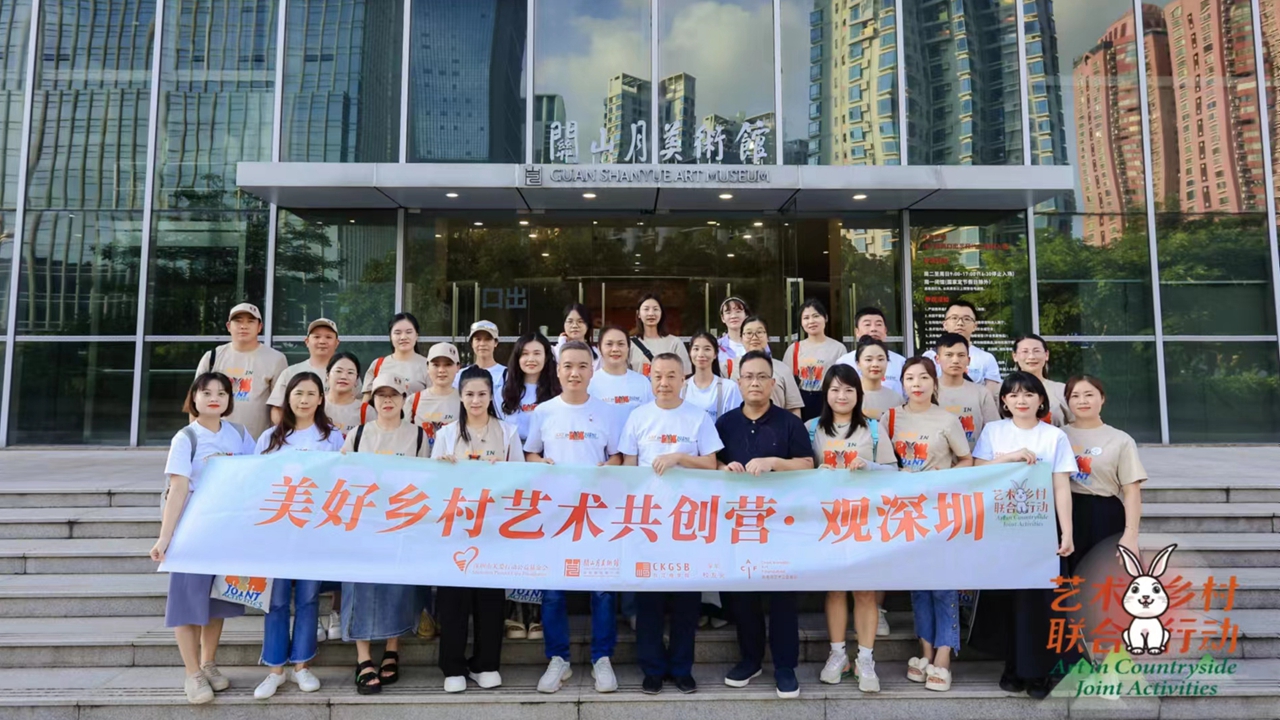 Teachers from rural areas in Guangdong, Guangxi, Guizhou, Yunnan, Jiangxi, and Hunan visit several Shenzhen art venues, including the Guan Shanyue Art Museum, in this August.
Power of art

While Chen acknowledges the numerous benefits art brings to individuals and society, he emphasizes its ability to foster self-understanding and promote well-being.
"Aesthetic sensibilities can enable individuals to understand themselves better, and I think art, alongside art therapy, has the potential to let people know who they are and what they need, thus tackle mental health issues," he said.
Chen is also supporting Shenzhen's development into a city of aesthetic education.
The Guan Shanyue Art Museum's digital art museum was launched last year, providing viewers with interactive and immersive art experiences.
He believes that art and aesthetic education is closely related to life and that artistic expression, from tech products to public buildings, can reflect a city's image.