An extraordinary individual with the ability to transform ordinary actions into something exceptional — this could perfectly encapsulate the invaluable contributions of Huang Tianhua, a driver who leads a Shenzhen team of drivers at China's ride-hailing giant Didi Chuxing.
In almost eight years of working for the Shenzhen branch of Didi Chuxing Tech Co. Ltd., Huang has earned a 100% passenger satisfaction after completing 45,000 orders and covering over 90,000 kilometers of safe driving. His team has earned top rankings in areas such as safe driving, customer service, and order income, outperforming nearly 2,000 other Didi driving teams in Shenzhen.
Huang won the city's May 1 Labor Medal last year and has recently been selected as one of the Top 10 Caring Individuals this year by Shenzhen Project Care, a campaign launched in 2003 that advocates for acts of kindness and benevolence.
Huang, who hails from Chenzhou, Hunan Province, moved to Shenzhen and registered as a driver with Didi in 2015. Throughout his years of service, he has consistently prioritized his customers' needs by going above and beyond to provide exceptional services.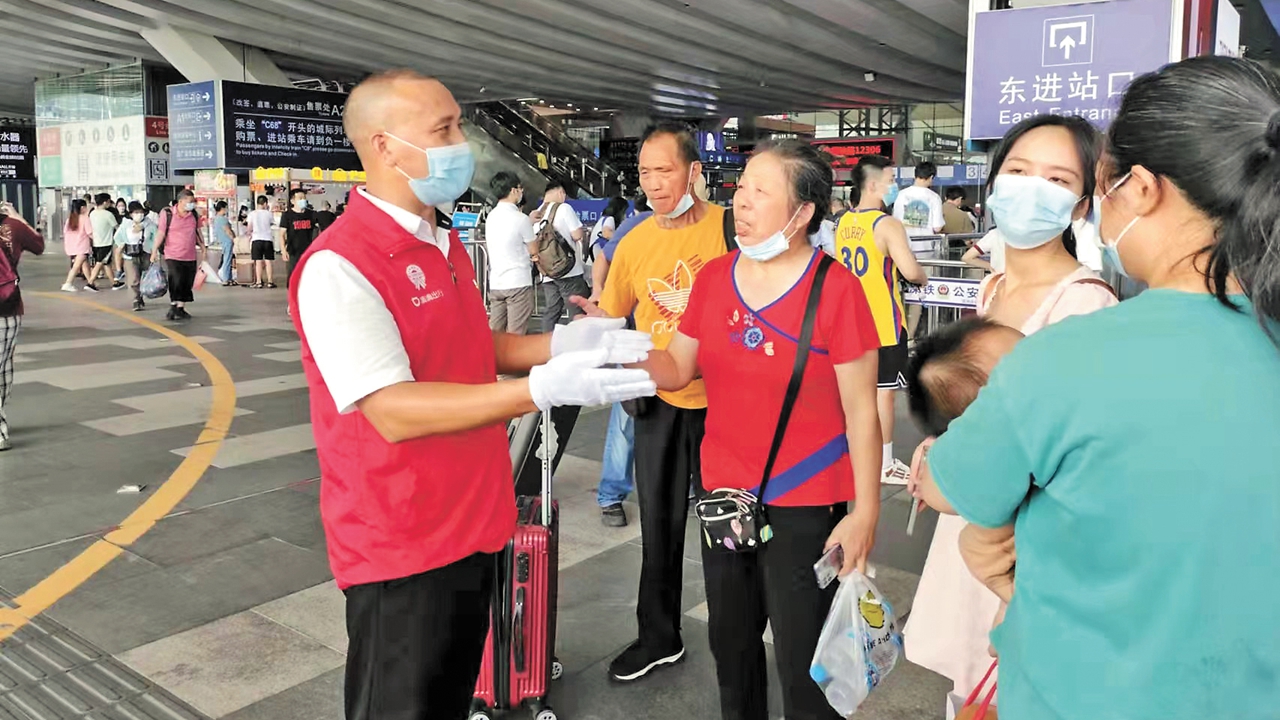 Huang Tianhua serves at Shenzhen North Railway Station in this Aug. 21, 2022 photo. Photos by courtesy of Huang Tianhua
Persisting in doing good deeds

During Huang's first nine years of working, one of his most memorable moments was picking up a passenger at Shenzhen Prison in Pingshan District in July 2017. At that time, there was ongoing road construction in the neighborhood surrounding the prison.
"It seemed impossible to find the passenger's location using the usual navigation routes," Huang recalled. "I drove on winding mountain roads, stopping to ask for direction from anyone I saw, worried and sweating. At that time, my only thought was that I would not give up until I successfully picked up that passenger."
After nearly an hour's search, he finally located the passenger. The passenger told him that six drivers had attempted to find her but he was the only one who succeeded.
Huang's enthusiasm also shines through while serving foreign customers. Even though Huang speaks limited English, he would warmly greet foreign passengers with simple English phrases. If he finds out that they can speak Chinese, he would introduce them to the charms of Shenzhen.
Aside from his professional duties, Huang has dedicated himself to volunteer work for several years. Since 2015, Huang has been a registered volunteer with the Shenzhen Volunteer Association. He devotes his spare time to various voluntary jobs, including helping to control traffic at the neighborhoods around Metro stations, railway stations, and schools.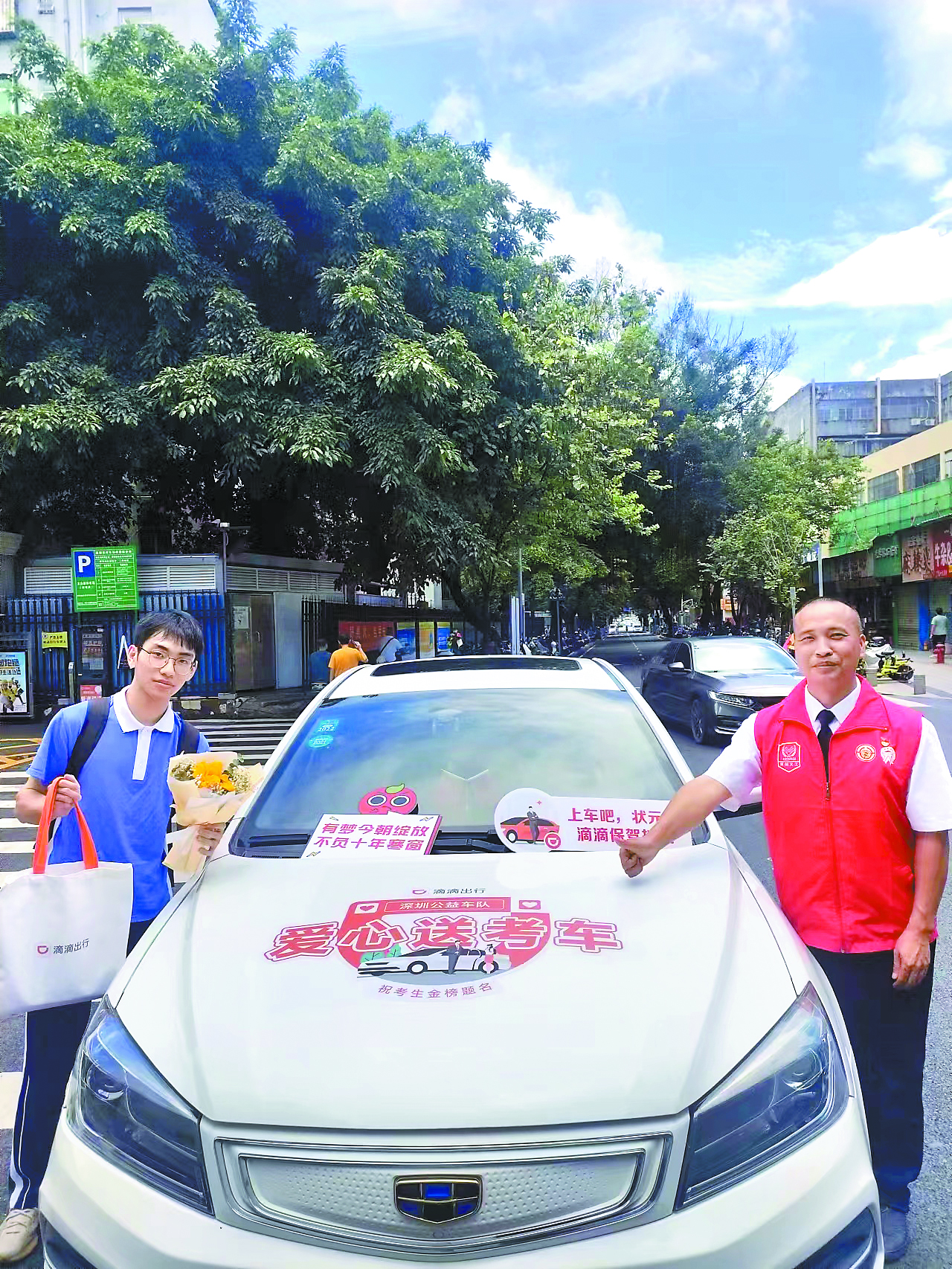 Huang Tianhua poses with a student while serving as a voluntary driver for exam-takers during the National College Entrance Exam in this undated file photo.
Huang has been part of the voluntary driving team for several years, transporting students to/from the National College Entrance Exam. He has also offered free rides to individuals in need, including a woman and child who couldn't make an online payment or afford the fare to their destination.

Coming to SZ, a wise choice
Huang is always willing to help others from the bottom of his heart, without considering whether he benefits personally.
Despite the accolades he has received, Huang remains humble.
"I just did ordinary jobs, but I did each one with enthusiasm. My goal is to bring kindness and happiness to people's lives and offer a helping hand whenever I can."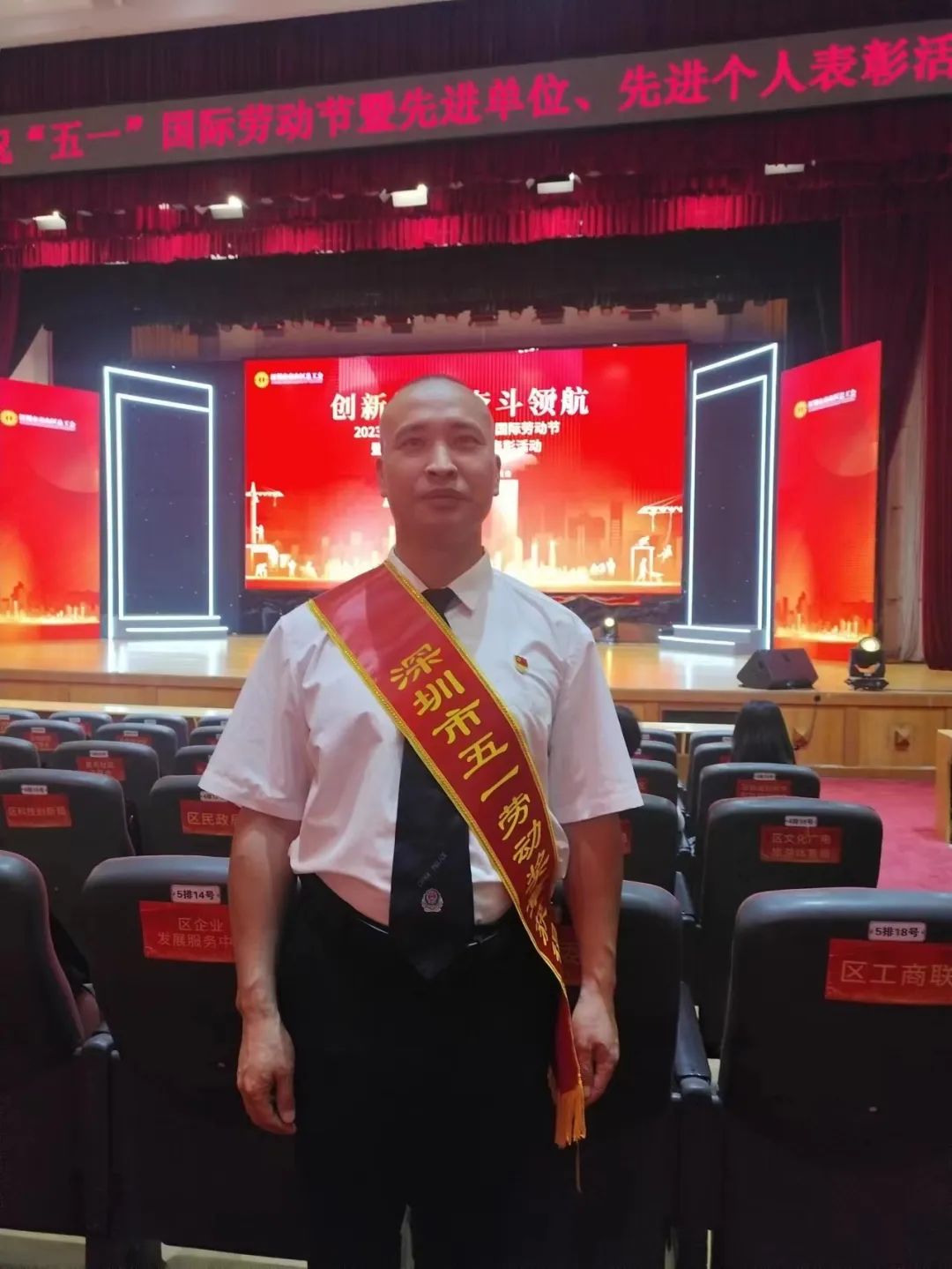 Huang Tianhua poses for a photo at a ceremony honoring individuals who have won the city's May 1 Labor Medal last year.
Huang expresses deep gratitude for Shenzhen, a city that has recognized and appreciated his contribution as an ordinary person.

"Shenzhen is a marvelous city that recognizes nobodies like me. The city has acknowledged the efforts I have made throughout my life," Huang said. "I firmly believe that anyone who devotes themselves to Shenzhen can make a difference."
"Coming to Shenzhen was a wise choice. I wish I could have come to Shenzhen when I was younger," Huang said. "I am extremely ordinary, but my dedication to my regular job has been recognized by the city. Shenzhen is really an inclusive and embracing city."
Honor, also a responsibility
Huang shared an anecdote about sending home a girl who had finished the National College Entrance Exam. The exam location was merely five minutes away from her home. During the ride, he shared his experiences as a helpful driver and about honor. These stories greatly inspired the girl, who requested a detour so she could continue listening to Huang's stories. The five-minute drive turned into a 25-minute conversation.
The girl said: "I've read countless stories in textbooks, but this was my first time meeting a Good Samaritan in person. I will take inspiration from your experiences and learn from you!"
While Huang takes pride in the rewards and honors he has received, he understands the responsibility that comes with them. He recognizes the importance of passing on the values these honors represent. Huang's goal is to continue performing acts of kindness and utilizing his limited influence to positively impact even more people.
"I have always told my son and daughter and my team members the importance of doing good deeds and encouraged them to try. I may not speak eloquently, but I have a genuine and sincere heart. I strive to set an example for them," Huang said.