When talking about sculptures, one may think of Michelangelo's masterpiece "David" or similar statues and figurines that are carved out of wood, clay, metal, or stone.
But at the sculpture exhibition "Transcending Dimension: Sculpting Space," one will see none of those sorts of objects or anything that fit the traditional definition of the word "sculpture."
The exhibition is presenting the works of 26 artists from countries including Germany, the Netherlands, Japan and France, which are on display at three different venues — the Pingshan Sculpture and Creation Park, the Pingshan District Government Building and Wanshi Habitat. It runs until May 31.
Just as its title indicates, the exhibition has extended three-dimensional sculpture beyond its usual definition and made it more about the relationship between objects and space. "I'm not talking about sculptures from the perspective of techniques or materials. To me sculptures are objects that have their own space. Sculptures could be seen as a whole which spread everywhere or be understood as a moment that triggers certain psychological activities," said Li Zhenhua, one of the two curators of the exhibition. Li is a Beijing- and Zurich-based multimedia artist who has curated for the film sector at Art Basel in Hong Kong.
Li Zhenhua

The curator hopes artists will discover the coexistence, synchronicity and symbiosis of new public spaces from works inspired by daily life. For example, "Treasure Hunt" by Zhan Wang and Tang Yuhan is a site-specific creation that employs daily life items to offer visitors an immersive experience at one location of the exhibition. The artists searched for and collected 100 daily life items that belong to those who used to live in the Hakka village Wanshi Habitat and other Hakka's now living in Meizhou City and Fujian Province, then brought them back to the village and randomly placed them at different corners of the village for people to look for. To play the "game," visitors need to take out a picture of an item from a box and then search for it. Upon finding it, they can keep it and bring it back home.
"For visitors, they are not only taking away the items themselves; more importantly, they are bringing back the memories or the fengshui of Hakka culture attached to the items," Tang explains.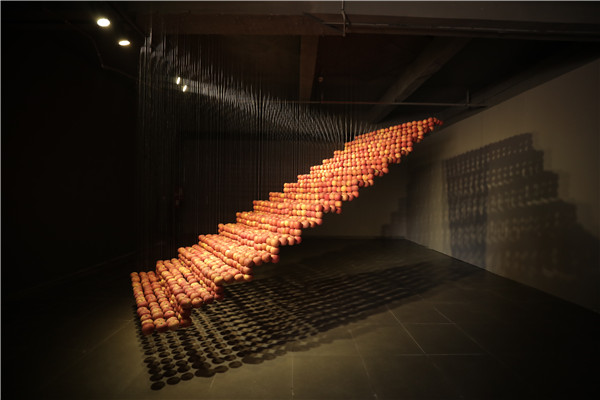 "Auspicious Signs Appear in the East" by Chinese artist Zhang Xiao. SD-Agencies

An apple is nothing more than a fruit, but 2,000 apples piled up is an installation called "Auspicious Signs Appear in the East" by Chinese artist Zhang Xiao on display at the Pingshan Sculpture and Creation Park. A native to Yantai in Shandong Province, known for its apples, Zhang built a hanging ladder of fresh apples. As time goes by, the apples will wither, rot and disappear, symbolizing the irreversible nature of time. "I want visitors to experience the power of time. It's a process of sculpting space and also a gift to time," he said.
Li also highlights the use of technology in the exhibition, which he believes is an important tool in pushing the boundaries of art. "The presentation of art is developing rapidly and technology serves as a medium to aid that development," he said. In the interactive installation "Exploded Views 2.0" by Dutch artist Marnix de Nijs, visitors are able to physically navigate through an audio-visual city landscape built up from "point clouds." The city landscapes are constructed with an innovative 3-D scanning technology that creates a surreal and dreamlike atmosphere. In contrast to the previous version of the installation, the content for the 3-D city landscape is provided by users of social media platforms.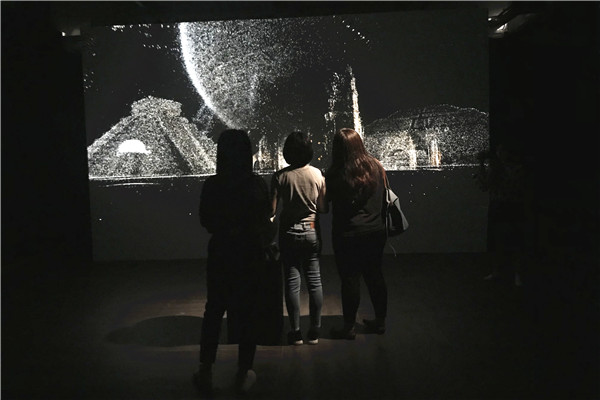 Visitors try their hands at the "Exploded Views 2.0" by Dutch artist Marnix de Nijs. Yang Mei

Thanks to virtual reality (VR), visitors are able to visit "an exhibition within an exhibition" as French collector Sylvain Levy has brought his VR museum of DSL Collection to Shenzheners at the Pingshan Sculpture and Creation Park. DSL Collection features major artworks by nearly 200 contemporary Chinese artists. Levy thinks of the technology of VR as the perfect tool to help him to introduce his collections to a wider audience. "In the VR museum, visitors are able to appreciate a 40-meter-tall installation called 'No Way!' since VR museums don't have physical constraints," Levy said. "For elderly people, they could see the artworks displayed in London, New York and Paris with a headset; young people are interested in VR because for them it's like playing video games."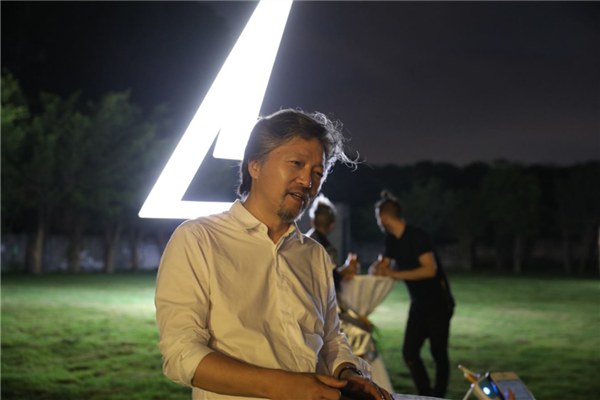 Liu Xiaodu

From the perspective of architect Liu Xiaodu, co-curator for the exhibition and also the curator for Bi-City Biennale of UrbanismArchitecture (UABB) 2018, to curate an exhibition means to change something with the aim of touching the hearts of visitors in some way.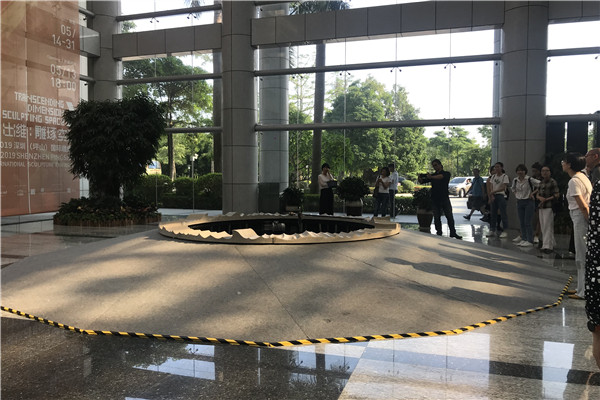 Feng Chen's installation "W" at the lobby of the Pingshan District Government Building. Yang Mei

"This time we decided to display Feng Chen's installation 'W' at the lobby of the Pingshan District Government Building to change people's perception of what government buildings should be like. People tend to have a stereotypical understanding of a government building. The artwork is not a permanent exhibit of the government. It somehow becomes an 'intruder,' thus forming a strong relationship between the work itself and the venue," Liu said.
At an exhibition that is blurring the boundaries between different art forms, seeing is not necessarily believing, and you can only come to trust your own feelings by visiting.
Dates: Until May 31
Entry: Free
Venue 1: Pingshan Sculpture and Creation Park, 1 Maluan Road, Maluan Subdistrict, Pingshan District (深圳市坪山区马峦街道马峦路1号)
How to get there: Take the high-speed rail to Pingshan Station and then take bus b760 or m368, Pingshan Gymnasium Stop 1 (乘坐高铁到深圳坪山站,换乘b760、m368到坪山体育馆1公交站下车。)
Venue 2: Pingshan District Government Building, 333 Pingshan Boulevard, Pingshan District(深圳市坪山区坪山大道333号区政府大楼)
How to get there: Take the high-speed rail to Pingshan Station and then take bus m478, Pingshan District Committee of the CPC and Pingshan District People's Government Stop (可乘坐高铁到深圳坪山站,换乘m478到坪山区委区政府站下车。)
Venue 3: Wanshi Habitat, 33 Dawan Road, Pingshan District (深圳市坪山区大万路33号)
How to get there: Take the high-speed rail to Pingshan Station and then take bus b811, Wanshi Habitat (可乘坐高铁到深圳坪山站,换乘b811到大万世居站下车。)