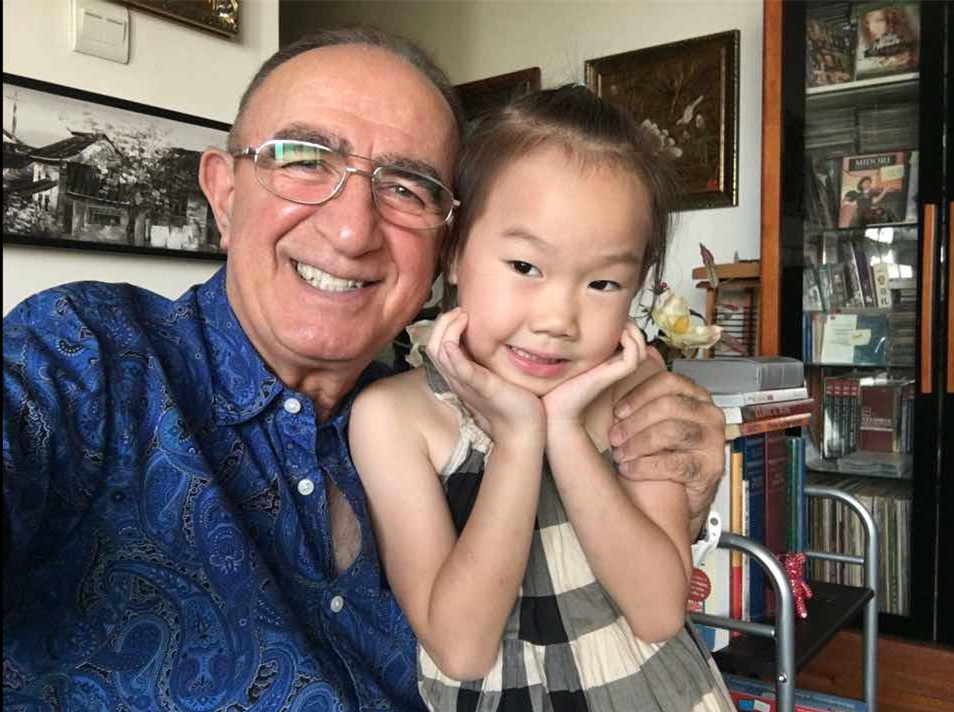 Paul Kay on the left
Liu Yangyang
ar_yangz@163.com
Retired American educator in SZ
Paul Kay, a retired educator from Southern California, United States, a PhD in Business Administration, and a Shenzhen resident for seven years, is enjoying his relaxing and colorful life in the city.
Kay first came to Shenzhen in July 2009, staying in Shekou. "It was then that I decided to move to China, I felt peace, safety and tranquility here, among the many decent and simple Chinese people. It's the traditional values and the family bonds that are so deeply embedded in Chinese hearts and minds that attracted me," Kay told Shenzhen Daily.
"For example, most young Chinese workers, even with a low salary, at the end of the month, send a portion of their earnings to their families. I bow my head to these beautiful souls. This level of care is very rare in Western countries. I truly respect this passion for the family. They're not self-centered," Kay said.
Kay's retirement is never dreary. Most of his time is spent composing classical music, making symphonies and concertos, through his Yamaha Grand electronic Clanvinova. He is teaching himself three foreign languages now: French, Italian and Chinese. For exercise, he often rides his bike around Shenzhen Bay or goes swimming.
Kay has set three missions for himself in China:
"I've focused on and have taken advantage of any opportunities I was given to "promote HOPE" in ordinary Chinese people's hearts and minds, by allowing them to hear from me how great their country is, what great opportunities they have, and basically, why they must appreciate their homeland and their rich culture ... And I've been highly successful in resurrecting, regenerating and confirming HOPE and happiness in the hearts of all Chinese, from children to grandmas and grandpas, whom I have come in contact with. I simply use myself, as a living example, of why and how I, this American guy, chose this country and its proud and honorable people, to reside in and cherish."
Kay says that one of his happiest moments is when he clearly sees a meaningful and deep smile and the gleam of hope and pride in the eyes of ordinary Chinese citizens, after he expresses his feelings and thoughts about their great country and all it offers.
His second mission is that he wants to help more children from poor families. Several years ago, he visited the countryside around Qingyuan to bring 10 destitute families clothes and money. "I know what I've done for them is just a drop in the ocean, but I'm very sure they will remember my respect and care, because I went to their home and I smiled and talked to them," he said.
Kay describes his third mission as a little "selfish," and that it's to complete his compositions of traditional Western classical music works, and begin the final phase of recording and producing them. He believes that scores composed by him will cause a stir in China because they express his love for this country and its people, through music.