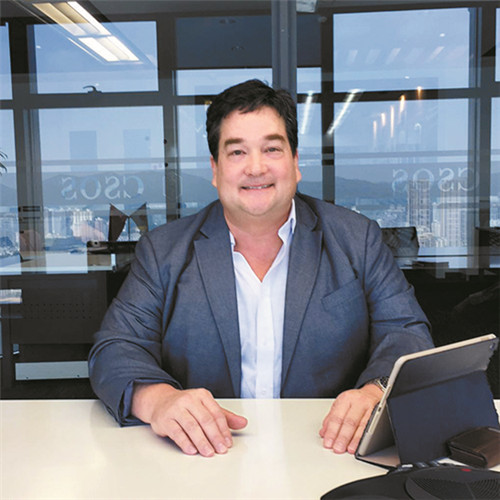 Steven Holt
Li Jing
1793367393@qq.com
Recalling his three-year career as chief medical officer for Deer Jet Medical in Shenzhen, which claims to be China's largest air ambulance service provider, Steven Holt said the scenes of a mission to evacuate 16 injured Chinese nationals out of Vietnam in May 2014 amid anti-Chinese unrest is still etched in his memory.
In the service used by the Chinese Government, the company employed an Airbus business jet to pick up the workers, who were seriously injured by rioters, and send them back to Chengdu, Sichuan Province.
The mission involved transporting 16 patients across the border within 18 hours, which was a record for a Chinese air ambulance operator, according to the company.
The 55-year-old veteran physician from Hawaii, who had served in the U.S. military for years before coming to China, was the only doctor on board the plane, along with a team of nurses from China and the Netherlands.
He said the situation was tense when the plane arrived in Vietnam, and the Chinese nurses were warned not to get off the plane for safety. They were able to load all of the patients with the assistance of Vietnamese doctors and nurses.
"Actually it was stressful because there were not enough ventilators or doctors for everybody. During the return flight, we had to treat three people with collapsed lungs. Finally everyone made it to Chengdu fine." Holt said. "We were very lucky. It is like an impossible situation, you must go to pick them up with things you were given, or people will die. That's all you have to do."
Holt said his job is not normally dangerous except for missions in Tibet because the high-altitude takeoff could be deadly.
"Once I was in a brand-new big plane in the Lhasa airport, which I think will be safe. During the takeoff, I found the captain kick things out of the plane. He said he was worried that he would not have enough runway for takeoff because the temperature kept climbing," he said. "But he managed to take off at the very end of the runway. So we barely made it off. That is scary."
The most common flight for the company is from Tibet to Chengdu because the plateau is prone to unexpected natural disasters and accidents. The flight costs around 50,000 yuan (US$7,900), which is unaffordable for most Chinese people, who don't usually buy commercial insurance. As a result, most of his company's customers are wealthy Chinese businesspeople. The firm handles 30-40 cases each year.
He remembered a woman from Hangzhou, Zhejiang Province, who paid to have a huge commercial jet take her to a U.S. hospital to treat her pancreatic cancer. The round trip cost her around 5 million yuan. "Apart from me, the patient took her own medical team," Holt said. "It was gorgeous inside the plane, with a TV, comfortable seats, beds, shower and toilet. I have not seen a wealthy American [who] does that."
He urged Chinese people to change their mindsets about commercial insurance, since most of them don't trust insurance.