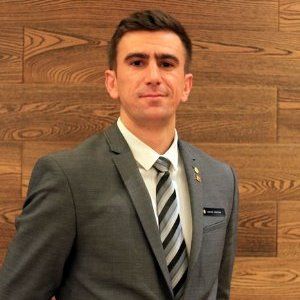 Razvan Croitoru
A Ding
adinglily@hotmail.com
Walking beside Razvan Croitoru, one may feel like a Hobbit in the world of The Lord of the Rings. The 31-year-old, who is 194 cm tall and usually well-dressed in a suit, has worked in the hospitality industry for almost seven years and has been living in Shenzhen for four and a half years.
Croitoru, from Romania, came to Shenzhen in 2012. He's now an operation manager of a restaurant and bar in OCT Harbor. Moreover, he's also a soccer player in the Shenzhen Devils, a team in the Shenzhen International Amateur Football League (SIAFL).
"I think hospitality is the best industry for me to work in because I can mix my profession with the pleasure of traveling around the world, as well as meeting and working with different people," Croitoru said.
While changing jobs across various countries is never an easy job, Croitoru always enjoys the challenges. He said, "Coming to a new country, the trickiest problem of mine is the language. I learned Chinese nearly by word-to-word teaching of my Chinese friends and listening to Chinese people very carefully. Now, I can understand 70 percent of Mandarin but speaking is more difficult for me." Croitoru can now already distinguish Mandarin from Cantonese.
Croitoru worked in Shanghai before he came to Shenzhen. "Shenzhen is a vibrant and young city, and people are friendly and warm. Most importantly, they are very open to new things," Croitoru said.
Besides operating the restaurant, Croitoru is also an avid soccer player. His team, the Shenzhen Devils, was founded in 2015 by a small group of expats who like playing soccer.
Croitoru loves soccer so much that he plays with his team every Monday.
"When I first came, there's no Shenzhen expats league, but in 2016 we managed to put all of the team members together. We are the most international [soccer] team because we have team members from China, Romania, Italy, France, Germany, Poland, Cameroon, Colombia, and etc."
Shenzhen Devils has managed in just one year to become the best expat team in the city, winning the SIAFL 2016. Croitoru played a large role in this success and was awarded for being the best goal scorer in the league this season.