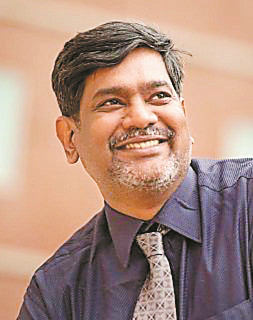 Yang Mei
yangmei_szdaily@163.com
DR. A. S. Karthikeyan, an Indian specialist in ophthalmology, came to Shenzhen two years ago at the invitation of Professor Dennis Lam, the founder and president of C-MER (Shenzhen) Dennis Lam Eye Hospital. He is now an eye doctor specializing in pediatric eye diseases at the hospital.
After completing a degree in medicine at renowned Stanley Medical College, he pursued his career in ophthalmology at India's first, and the world's second, eye hospital — Government Ophthalmic Hospital in Chennai. He was awarded the fellowship of the Royal College of Physicians and Surgeons of Glasgow in 2004.
Karthikeyan was appointed a pediatric ophalmology consultant at Lumbini Eye Institute (LEI) in Nepal and received training under Dr. Alex Levin from Wills Eye Institute in the United States between 2011 and 2012.
He finds that the most common eye disease Shenzhen's children suffer from is myopia, a condition in which images come into focus in front of the retina causing distant objects to be out of focus. He explains that "young children's bad reading habits and frequent exposure to electronic gadgets are the possible reasons."
Dr. Karthikeyan offers three pieces of advice to children on how to better protect their eyes.
First, while reading, children should sit so that light is coming from behind them. He added that natural light is much better.
Second, he says it is wrong for children to read in cars. Reading in moving vehicles puts a lot of pressure on the eyes and therefore can cause eye strain and headaches.
The doctor also suggests that children write under a white light with a cover, so there is no shadow cast while writing. He encourages children to spend more time playing outdoors.
He has contributed as a volunteer at several health care and eye care programs. He wrote a book, "Pediatric Ophthalmology Strabismus & Neuro-Ophthalmology" and contributed the royalty of the book to an eye care fund.
He has also been actively participating in charity by treating eye diseases of children from impoverished families in Shenzhen. To thank Karthikeyan for his contribution to Shenzhen in eye-related philanthropy, Futian District Government awarded him the title of "Elites of Futian's International Friends" on Sept. 13.