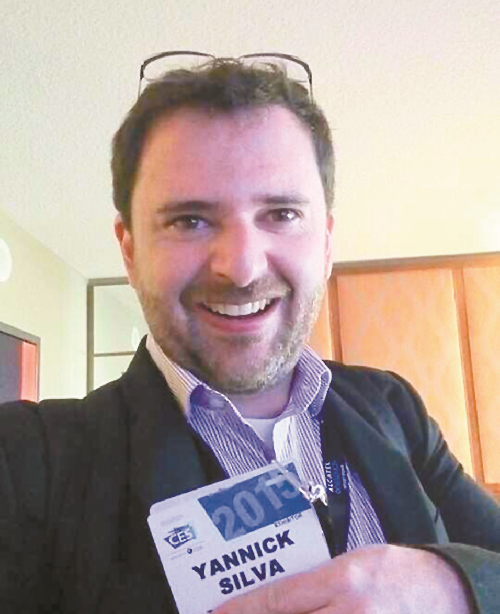 Yannick Silva
QUICK logistics, convenient e-commerce services and an environment conducive to purchasing hardware components have been the major reasons why Yannick Silva, a French software expert, has stayed in Shenzhen for over a decade.
Before setting up his own technology company in Shenzhen High-tech Industrial Park in Nanshan District, Silva worked at a French company's China bases in Ningbo and Shenzhen.
"The startup environment in Shenzhen is pushing me to go fast," Silva said. "Things happen fast here while everything developed relatively slowly in France for the past 10 years."
"My friends asked me why I would come to Shenzhen for software development 10 years ago, but now they said I should stay here after they got to know the city and its technology environment more."
Silva and his team, comprised of four other French software developers, receive orders from all around the world, mostly the United States and European countries. Silva and his team developed software for a recently held music festival, Clocknflap, in Hong Kong. The software helped generate images on the LED screen based on the rhythm of the band.
In a video shot by Silva, the Shenzhen Daily saw how the fancy patterns were produced to go along with the music played at the music festival. The team installed sensors on the drums and drumsticks through which the software created matching patterns on the screen, which visualized the music for the audience.
"This is just one of our projects tailored for our clients," said Silva, adding that the convenient environment in Shenzhen gives his company more advantages over their counterparts in Europe.
"With fast logistics like SF Express and the e-commerce platforms like Taobao with good prices, we can develop a piece of software in only two or three days, but some French companies based in France need at least seven to 10 days," said Silva.
Silva has been calling on his friends in France to come to Shenzhen for their technology business. Some have followed Silva's suggestion. The French software expert has been actively participating in software development for many startups and companies in Shenzhen's French community.