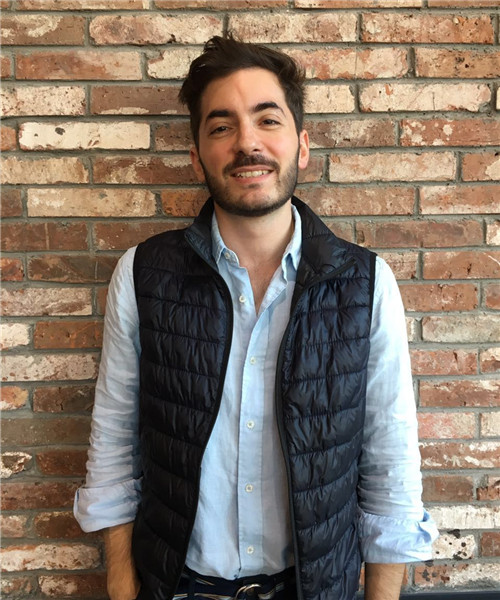 Gianvito D'Onghia
Zhang Yang
nicolezyyy@163.com
Sitting in a coffee shop in Nanshan District, Gianvito D'Onghia played a video on his laptop and explained how he and his colleagues planned a branding campaign for a Chinese lingerie brand for the Valentine's Day last year.
The 30-year-old Italian has worked for Creative Capital, a Shanghai-headquartered branding agency, for almost two years. He is the managing partner of the agency's Shenzhen branch based in Simply Work, an international co-working space in Nanshan.
D'Onghia said his work is helping a company create or adjust its brand identity through concepts that enable customers to experience the brand's core values.
During the Valentine's Day campaign for the underwear brand, couples were offered brand gifts after taking part in an interactive game in a shopping mall, such as guessing their lovers' wishes by picking one of the wish cards on the wall, to see how well they know each other.
D'Onghia said the event's online video received lots of clicks as it captured many emotional moments between couples, and the brand's Weibo account got 16,000 new followers one day after the video was posted online.
D'Onghia and his team also helped rebrand a Shenzhen jewelry company "from selling jewelry to selling a love story." Based on the story of a "happiness garden" they created for the brand, they applied the concept by using elements of a lovers' garden in product displays, packaging and the visual identity of the brand.
D'Onghia said the agency followed a consistency-based methodology: transposing a brand's story onto its customers' various touching points. "Storytelling brings consistency to each of our projects, letting brands move from selling a product to selling a story," he said.
Holding a master's degree in fashion and experience in design management, D'Onghia speaks fluent Chinese after studying Chinese for five years in Europe. He was offered a scholarship by the Confucius Institute to attend a 10-month full-time Chinese language program in Beijing Normal University in 2010.
D'Onghia said some Chinese companies are product-oriented and lack expertise in how to place a product within a story. He said the main challenge of branding in China is that some entrepreneurs don't see the value of branding and they think building brands merely means designing a pretty logo or packaging.
"We want them to understand that they are not paying for just a logo, but they are paying for recreating the identity of the brand and its DNA," he said. "A logo by itself has no value. A logo has value only within a larger brand consistency-based system embodying the brand's storytelling and its identity."