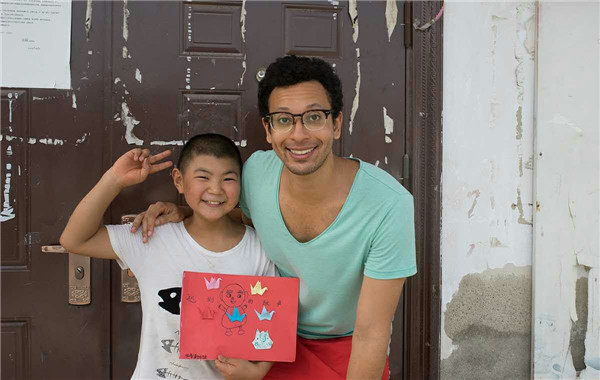 Marco Flagg and his student
Chen Xiaochun
654789759@qq.com
Mao Min, one of the children in the Art Sprouts program at the P+V Gallery in Longhua New Area, said she had learnt useful social skills in the program.
Art Sprouts was a half-year pilot art program offered to children aged 8 and above free of charge. "At the beginning, I was a bit nervous. But then I learned that they spoke Chinese and they were very nice. I felt relaxed and started to enjoy the program," said Mao.
The program was jointly initiated by American photographer, Marco Flagg, and other expats in the city. Flagg taught the children how to use a camera to capture their community and life.
Flagg, 31, said photography can help students improve their self-confidence and self-expression.
"Because if you take a picture of your family and community and print it out, you can look at the picture and talk about it. It makes things a lot easier. If you just talk about your community, it would be very abstract and hard to understand," he said.
Having taught photography for free in different communities in Beijing, Shanxi Province, and now Shenzhen, and once a teacher at Shenzhen Middle School, Flagg said that he has been able to feel the difference among children growing up in different areas.
"The kids in rural area are very shy while the kids in Shenzhen Middle School are very confident. What's surprising is that the kids in urban villages in Shenzhen are not as shy as I expected, maybe because they are exposed to the big city things."
Flagg said that photography is teaching tool that is pretty normal in the United States and other countries but not so much in China. He pointed out that the special thing about photography is how an image can capture one's view of reality.
"It is a direct way of capturing what you see. But because you have to put it in a frame, you have to decide the object and the shooting angle of a picture. So you can share your perspective."
Another one of Flagg's projects won the 2016 Nanshan District Social Organization Public-Benefit Project Competition in September. The project, "Child's eye of Baishizhou," has obtained government support.
Flagg and his partners, Chinese artists, designers, architects and city planners, have successfully collected secondhand cameras or cell phones from people they know and are using them for the project.
They teach around 15 kids, most of whom are kids of migrant workers in Baishizhou, photography and other activities.
"The work of the kids can serve as a historical record of Baishizhou, a large urban village that will undergo huge changes in the following years."
Flagg said although there are dozens of journalists and documentarians from all over China and even the world that is focusing on Baishizhou right now, the work of the children is different. "It is a unique perspective of their story, of what they see, their families, their friends, what they do for fun, and what they think about the environment."