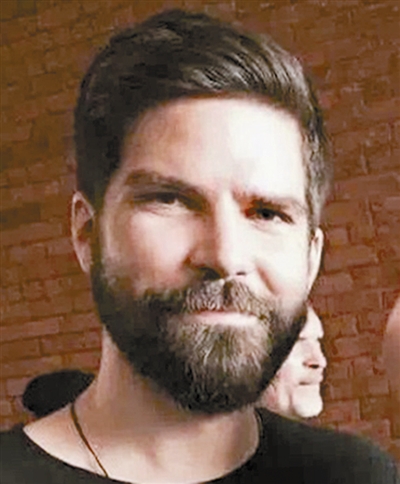 Tomasz Guiddo
Cao Zhen
caozhen0806@126.com
At the beginning of 2017, DJ Tomasz Guiddo's New Year's resolution is to finish all the tracks he started to record last year and continue to cooperate with local Chinese musicians.
"My job makes me follow the calendar each day and think about when I will perform or produce an event. I have so many dates to remember that I stopped caring about holidays or special occasions a long time ago. For me the New Year's Eve happens almost every night," said Guiddo, a DJ and producer from Poland.
Guiddo has been in Shenzhen for almost three years, dazzling partygoers with his eclectic style, mixing fusions of house, techno, jazz, boogie, disco or ambient. "I don't follow one route or style. I simply choose records that I think are special. I'm always improvising, keeping it unpredictable even for myself," said Guiddo, who has worked in Pepper Club and Lavo and regularly travels around the world to play at various festivals.
Raised in Warsaw and Berlin, Guiddo studied social psychology and visual arts. Before coming to Shenzhen, he had been DJing in Europe for about 15 years and had his own recording studio and radio show. In 2013, when he was invited to perform experimental music in Shenzhen for the ChoP Project (a musical collaboration between artists from China and Poland), he decided to move to the other side of the globe.
"My first Chinese experience was very inspiring. I spent one week in Shenzhen and stayed in OCT-LOFT. I met lovely people and saw stunning places. I also performed at Wutong Mountain, so the first things I saw in China seemed interesting and attractive to me," Guiddo recalled.
Although China doesn't have a clubbing culture like Europe, Guiddo finds performing here fascinating and very comfortable. "In Europe I know people's background, what they expect and are used to, while in China I feel like I'm showing people something they don't know and that's very motivating. Sometimes the clubbers come to me saying 'Oh, we've never heard anything like this before!' But you can see they mean it with respect and are fascinated and open-minded," said Guiddo.
"The venues in China are better organized. The setup is comfortable; the equipment you ask for is always there; it's new and it's the best. In Europe, unless we are talking about those well-established places, like Berghain or Fabric, many venues don't have enough money. Everything is quickly put together, just to make it run, so many times the DJ has to struggle. But that's what the underground is all about."
Guiddo believes that experimental music is marginal in China but seems to be doing well. "For some reason it's easier to find the audience for avant-garde noise music than underground house here. It looks like, besides all those businessmen, there are more artists than ravers."
In addition to performing gigs and organizing parties with guest DJs from abroad, Guiddo also gives workshops to Shenzhen students from time to time. In November last year, he and a few Polish artists showed students at Shen Wai International School how to process sounds. They had a student playing cello and transformed it into a completely new electronic sound using an iPad. "We try to encourage students to make music with whatever they have available around them, not necessarily professional musical instruments. I feel satisfied seeing that after the workshops some students really start making music and seem serious about it. When I see some of my students producing music and making professional careers now, it gives me a really strong and electrifying feeling of satisfaction, a kick, power to move on," said Guiddo.