从深圳出发,沿s360惠深沿海高速前行约30公里,离开深圳后第一个高速出口,便来到小桂村。小桂和大部分渔村一样,依山伴海,质朴无华。这里最吸引游客的,当数漂浮在海面的渔排,小桂村的渔排尚未形成规模,三三两两地散落在小小的海湾里,正因为这个三面环山的海湾,使得这里成为海钓胜地。
For those who are eager to escape the hustle and bustle of city life on the weekends, there is no better place than xiaogui, a village over the sea in huiyang district, huizhou city, which is only one-and-a-half-hour's drive from central shenzhen along the huizhou-shenzhen expressway s360.
Like most fishing villages, xiaogui is embraced on three sides by green hills, overlooking the sea. what attracts tourists most are the fishing rows floating over the sea. the spot has developed into a paradise for fishing lovers.
从码头乘快艇,很快就登上这座漂浮在海面的连排木屋。这些由木板、铁架、泡沫塑料、塑料桶搭建的渔排,构成了生活的全部。渔排的下方,是另外一番景象——海湾丰富的浮游物吸引了大量鱼儿觅食,这里也成了鱼的天堂。
Take a speedboat from the dock and after several minutes you will get to the cabins floating on the sea. the cabins are made of planks, iron stands, foamed plastics and plastic buckets. under the cabins, there is a whole new world---a paradise of large schools of fish that live on the abundant plankton in the bay.
随着潮起潮落,渔排也在缓慢起伏。行走在渔排之上,仿佛有一种时间滞缓的错觉。夜幕降临,烤鱼的香味开始弥漫,人们用美食犒劳自己和家人。仰望繁星,对酒当歌,身体渐渐适应了摇摆节奏,缓缓进入梦乡。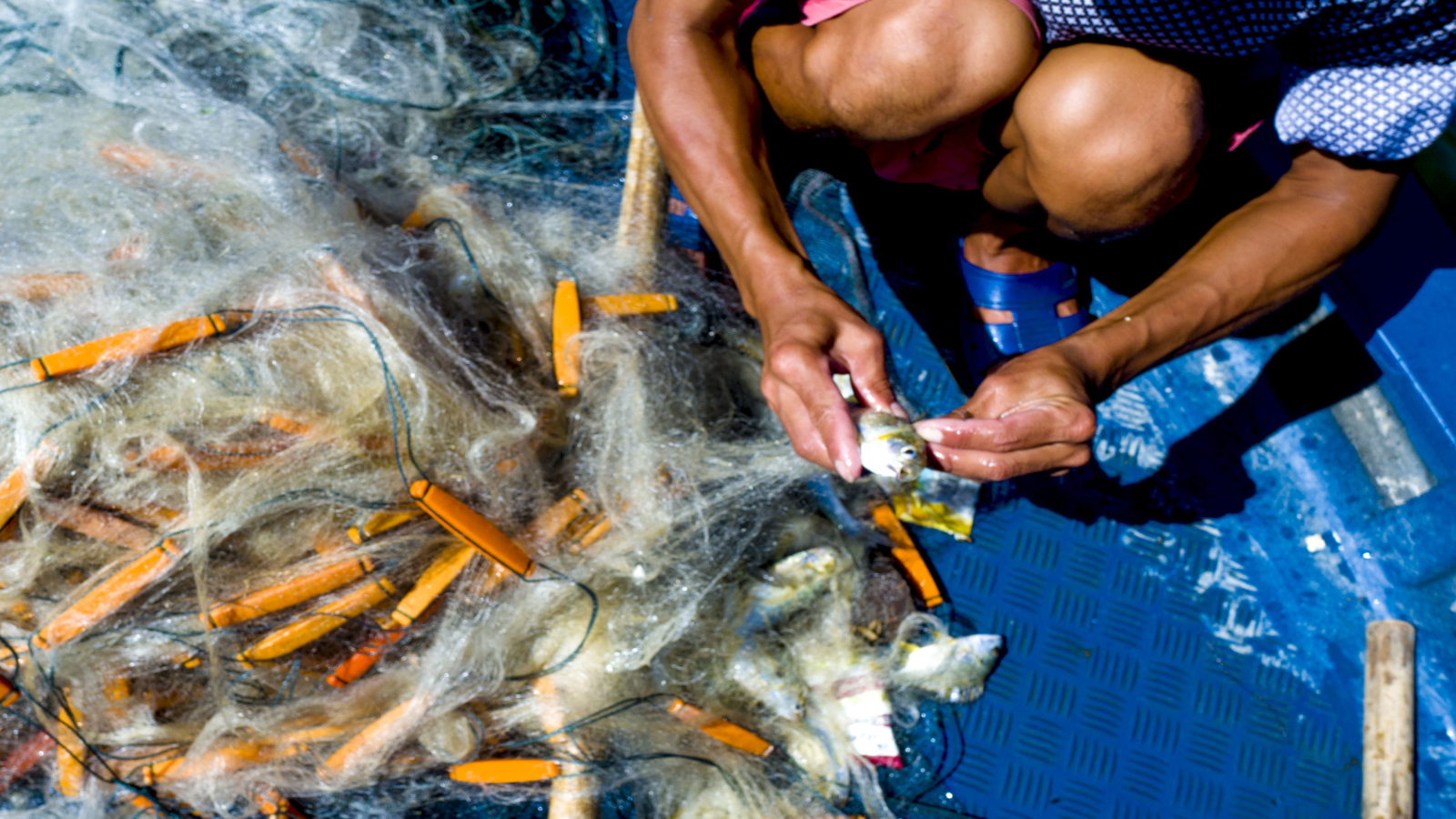 As the tide rises and falls, the fishing rows undulate slightly. after nightfall, the smell of baking fish wafts across the bay. after a day of work, people treat themselves with delicious food under the moonlight. looking at the stars and drinking wine, people soon get accustomed to the environment and float off to sleep.
清晨推开门,随着渔排的起伏,睡眼惺忪的人们有些摇摇晃晃。海面霞光万道,沐浴在霞光里的,还有通宵垂钓的海钓者,三五成群,金色的阳光洒在他们略显疲惫的脸上,洋溢着等待大海馈赠的希望。
As the sun rises, people wobble out of their cabins with eyes half-closed. the sun casts its glorious rays across the sea. basking in the morning sun, some fishing lovers have spent the whole night by the sea and now their weary-looking faces are waiting for their rewards.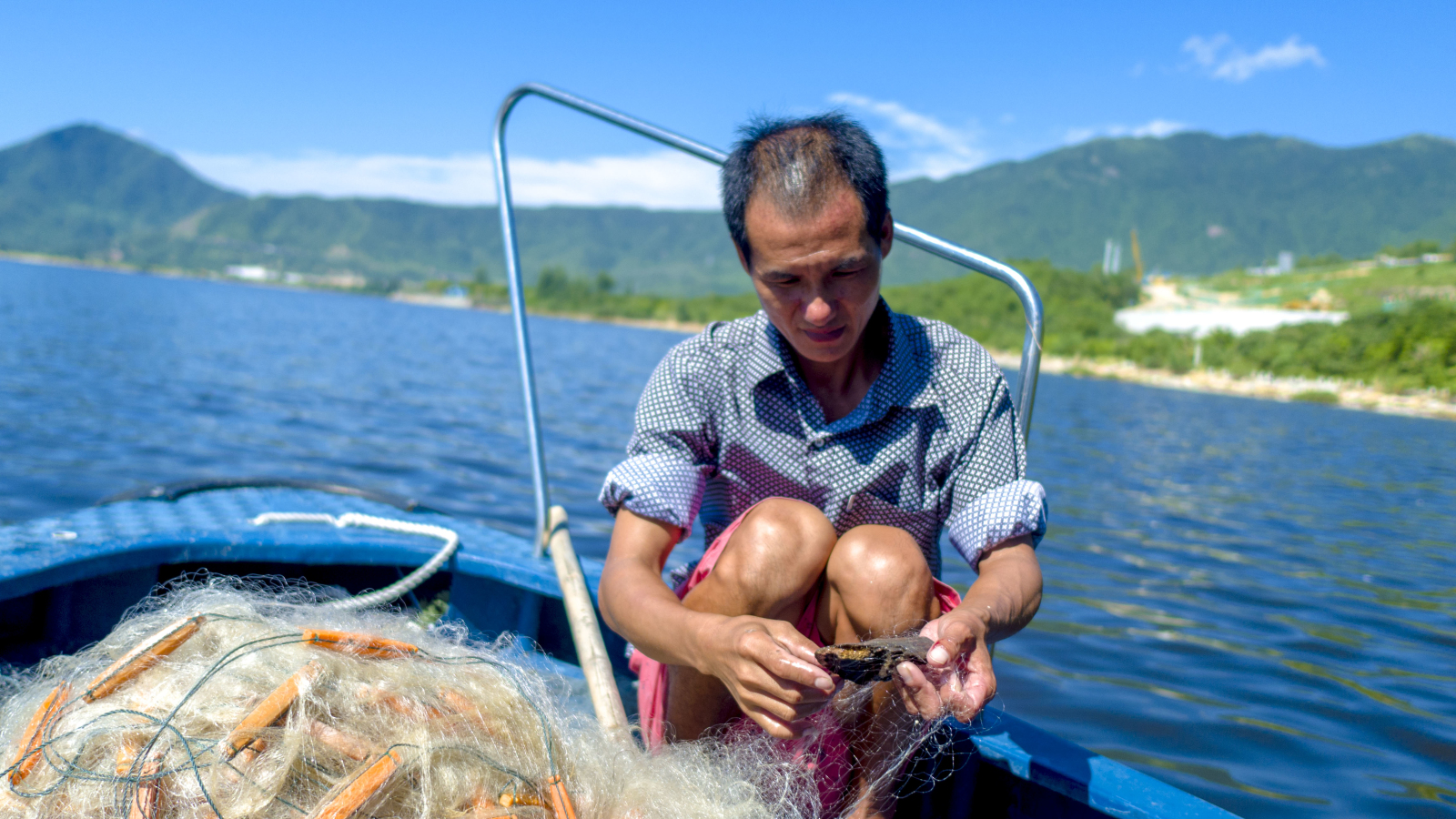 渔民苏木荣和徐进财在小桂经营"16号快艇",带领游客出海捕鱼是他们的工作之一。花费400元,游客能体验一个多小时的快艇捕鱼,并得到所有的战利品。在一片开阔的浅水海域,徐进财利索地放下百余米的渔网,这张网已经布满了破洞,但还能胜任这种消遣式的捕鱼作业。苏木荣驾驶快艇开始在渔网附近绕圈,徐进财便招呼游客和他一起用木棍敲打船身,使鱼群惊吓入网。几分钟后开始收网,眼看渔网上挂着大大小小的鱼儿,游客一边发出阵阵欢呼,一边拍照发朋友圈,这也是苏木荣他们最惬意的时候。
Su murong and xu jincai are two fishermen who run the no. 16 speedboat. taking tourists to fish on the sea is one of their jobs. it costs 400 yuan for tourists to experience more than one hour of fishing on the speedboat and they can keep all of the "spoils (fish)". across the expanse of the shadow seawater region, xu jincai nimbly loosens a 100-meter fishing net that has visible breaks.
While su murong drives the speedboat circling the net, xu jincai calls on tourists to knock sticks together in order to scare the fish into the net. after several minutes, xu begins to draw in the net and the tourists are excited to see fish of different sizes entangled within. they cheer and post the photo of a bucket of fish on their wechat moments. this is the time when xu and su feel the most content.