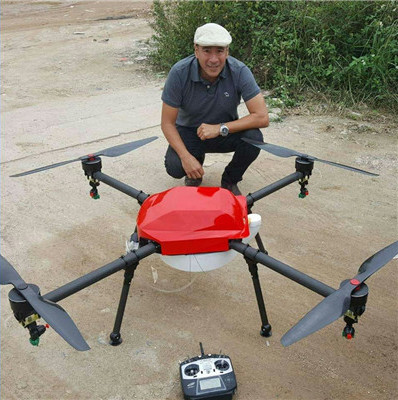 Ecuadorian Oswaldo Alberto Loor Sojos
Email of the writer: 654789759@qq.com
Ecuadorian Oswaldo Alberto Loor Sojos came to Shenzhen as a representative of his company to set up an office for the purchase of cellphone accessories in 2012.
About one year later, the company asked Loor to return to Ecuador to manage an assembly plant for cellphones, Loor, who had already fallen in love with the city and saw many business opportunities, quit his job and started his own business.
At the beginning, he only shipped mobile phone accessories, such as selfie sticks and USB drives, to his country. Two years ago, Loor started selling toy drones, and eventually he found out about agricultural drones.
"I posted a picture of an agriculture drone on my Facebook and a lot of people asked me about it. They asked about its price, its flying time and its functions," said Loor, who thought it had potential for business and later partnered with a Chinese engineer to produce agriculture drones.
"My partner focuses on the technical things, and I am in charge of sales. We already sell them to different countries in South America and South Africa," said Loor.
Now focusing on agriculture drones, Loor explained that the agriculture drone is new and very useful for farmers, "because chemicals are bad for health and it takes a lot of time to spray. Although big farms use airplanes to spray chemicals, airplanes spray everywhere, including on houses where people live, thus posing a health threat as well. So drones are a perfect solution."
Although Loor shows great confidence in agriculture drones, the business is not completely smooth. Usually, farmers are very traditional and don't believe in new technology. To tackle the issue, he has put out some drones for demonstration, inviting farmers to see how the drone works. Luckily, orders are growing.
On top of that, they partnered with a company in Ecuador that specializes in multispectral camera drones that can take a lot of pictures and can help analyze the conditions of a field.
"You get the images and then upload them on to the website. These guys have the system and can produce a report of the field, which can tell whether the field needs more nitrogen, or whether it has too much water or lacks water, or whether insects are eating the plant," explained Loor.
To Loor, Shenzhen is a great place, because it is very safe and he can meet a lot of cool people who are focusing on different projects in the fields of technology and business.