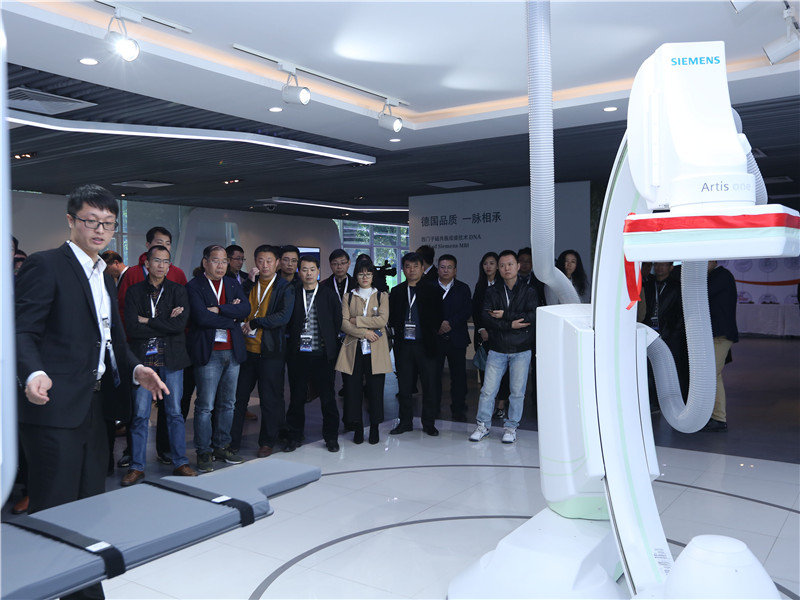 A CEREMONY was held at Siemens Healthineers Advanced Therapies R&D and manufacturing center in Shenzhen (SSMR AT) on Friday to celebrate the 100th installation of Artis one Angiography & Interventional X-Ray System in China.
Over 300 sets of Artis one, designed and produced in Shenzhen, have been sold to 49 countries and regions. Over two-thirds of its orders come from the overseas market.
Artis one received its first order in China from Shanghai Pudong New Area People's Hospital on March 31, 2015. The first set of Artis one was installed in the country at Shangqiu Fourth People's Hospital in Henan Province on June 14, 2015, and the 100th at Yangquan Third People's Hospital in Shanxi Province on Dec. 22, 2017.
Pu Zhengrong, vice president of Advanced Therapies at Siemens Healthineers Greater China Region, said that they had consulted many experts throughout the research and development stage of Artis one.
"In the past, we usually used a large-size or small-size detector. Artis one adopted the mid-size detector design. Since the machine rooms at most hospitals in China cannot meet the requirements for installing a machine and some hospitals don't even have machine rooms, we designed Artis one to suit the local situation," said Pu, adding that the product only requires 25 square meters to be installed.
SSMR AT, with its official operation commencing in April 2014, is Siemens Healthineers' only manufacturing base in the world for Artis one, and the only R&D and manufacturing base of Advanced Therapies Business Area outside Germany as well.
Ye Wei, general manager of SSMR AT, said the supporting industries in Shenzhen are complete, and better than many other cities in the Pearl River Delta or Yangtze River Delta. "There are a lot of talents here. Those are all the reasons why we chose Shenzhen for our headquarters," said Ye.