China enters the list of top 10 countries for travel with the newly released list in Lonely Planet's Best in Travel 2018. With its stunning scenery, mysterious history, highly-connected bullet-train network and wholly-upgraded tourist attractions, China is drawing the attention of more and more international travelers.
China, a country endowed with vast swaths of land and rich culture, is definitely worthy of exploration. Truly dig into and experience what it has to offer, you will be charmed by the country.
There are many places in China that are worth visiting, and we will share with you 10 places which may give you a feeling of being at once within China and elsewhere.
Central Street or Russia?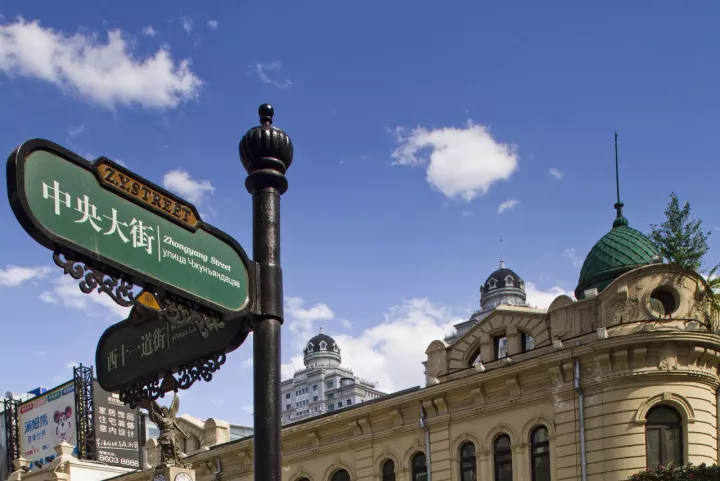 Harbin is a city deeply influenced by European culture and often called "Oriental Moscow" or "Oriental Paris." Central Street is the best miniature of the city that features different styles of European architecture and cultural integration.
Sometimes even Russians who come to Harbin on business don't feel that they are in another country when walking down Central Street; this is because the street was originally part of the town built by Russians about 110 years ago.
The street features Russian-made goods such as furs, souvenirs, imported vodka, Russian dolls and chocolate, Russian restaurants and a choice of international cuisines, and interesting old architecture of various styles.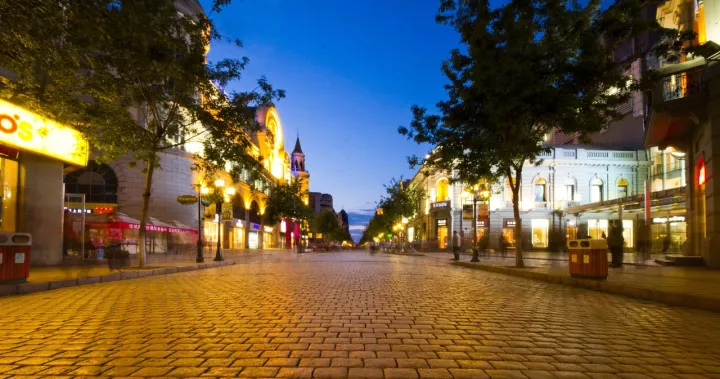 Tips: The representative architectures include the Education Bookstore (the biggest of Baroque as well as the hallmark of Central Street), the Mod-Er Hotel (formerly the Modern Hotel built in 1906) and the Daoli Qiulin Shop (built in 1919).
Chaka Salt Lake or Bolivia's Mirror of the Sky?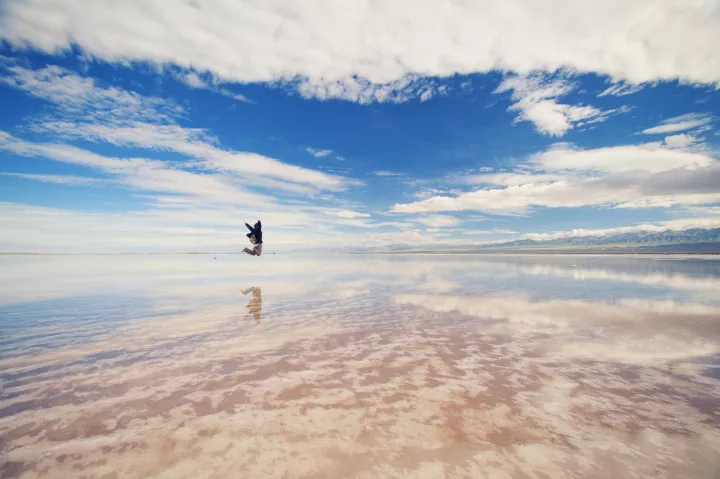 You must have seen similar pictures posted on your WeChat Moments: A person stands in the middle of a vast lake in which you can see his reflection, while the endless sky and water merge into each other in such a distorting way that it almost makes you feel like you've entered into a two-dimensional space.
Pictures like this may be taken in Salar de Uyuni in Bolivia which is dubbed "Mirror of the Sky," or, they may have been taken at Chaka Salt Lake in Qinghai Province, which is rather near if compared with Bolivia.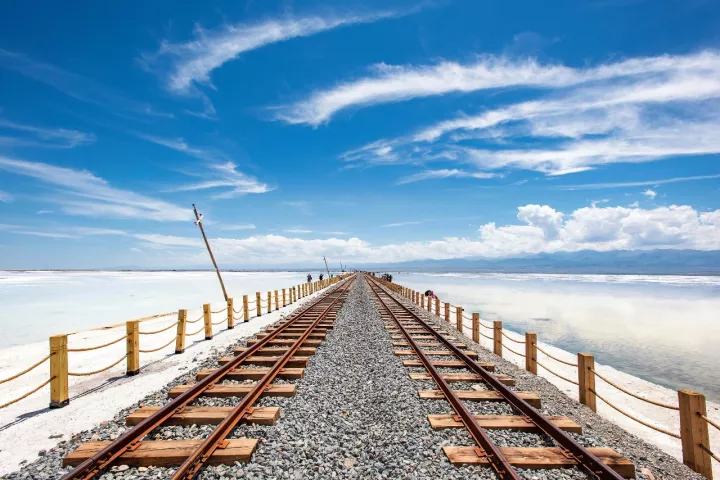 Nicknamed "China's mirror of the sky," Chaka Salt Lake is rated by Chinese National Geography as one of the 55 must-visit places in your lifetime. It reopened in May last year after upgrading and reconstruction. But due to poor transportation, most people have yet to witness its charm.
People in Guangdong can take a direct high-speed train linking Guangzhou and Lanzhou which takes less than 10 hours, making the trip to "China's mirror of the sky" much more convenient.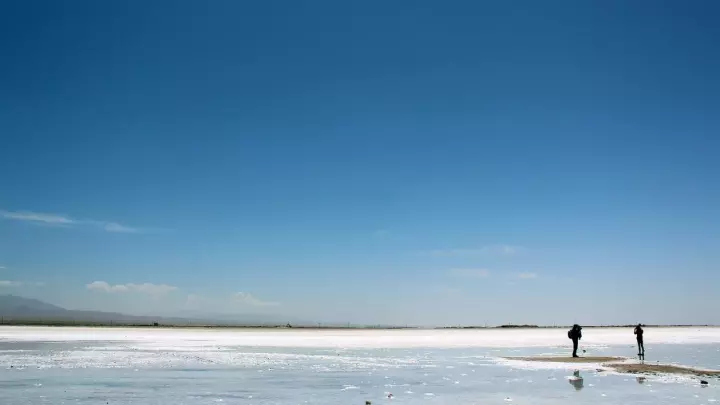 Maybe some of you remember the scene where a train travels through water in Hayao Miyazaki's "Spirited Away." If you come to Chaka Salt Lake, you will see the real-life version: There's a train that travels through shallow water like in a whimsy tale.
Tips: The best time for visiting the salt lake is summer and autumn when the weather is nice and the lake is crystal clear.
Shanghai or France?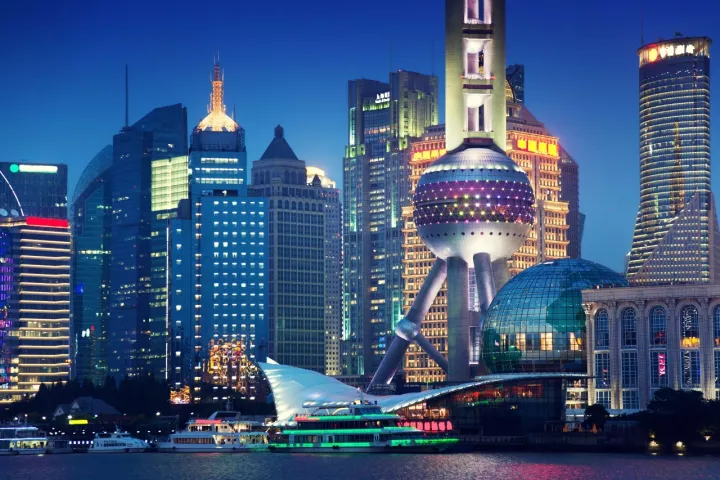 "Paris of the East" was another nickname for Shanghai before it was given the name "Magic City." At the beginning of last century, the concession history injected some French elements into Shanghai. The French-style houses built by French heavyweights with large sums of money are still preserved intact and old nostalgia-laden sycamore trees take their root here, adding a touch of French vibes to the Shanghai-style elegance.
Nowadays, many French deem Shanghai as their second hometown. In the French-style villa of Shanghai French Concession, you will probably encounter bistros where all dishes and chefs come from the same place of origin.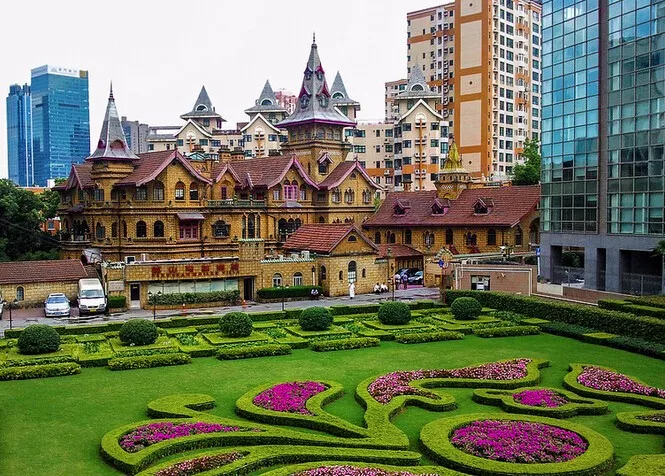 Against a background of neo-classic carved pillars, rustic sycamores in the mid-ground and the "new Shanghainese" with blonde hair and blue eyes as the foreground a common scene in this neighborhood, you'll definitely manage to take a nice picture with your phone.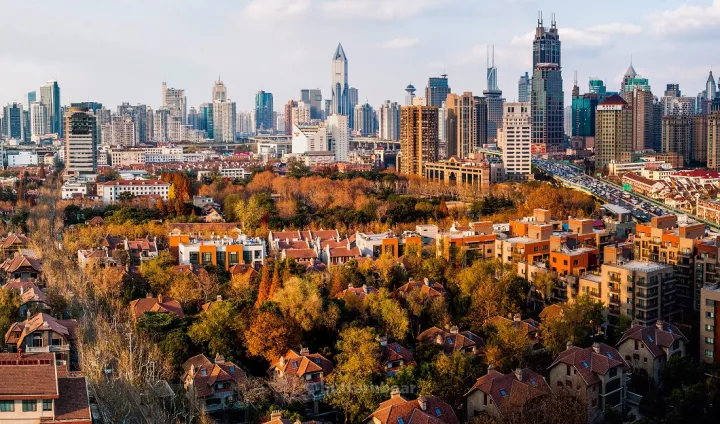 Then, just sit down and get ready for an authentic French meal.
Tips: Shanghai French Concession is located between Huangpu District and Xuhui District. To find the typical area, you can dig into Huaihai Road West.
Wuhan University or Japan?
If you have no extra time or money for an extensive tour of Japan for cherry blossom sightings, you can go to Wuhan University. Every spring, Wuhan University is an ocean of cherry blossoms in bloom. On the campus of Wuhan University more than 1,000 cherry trees of about 10 different varieties were planted, giving way to a fragrant crossover into Japan.
Thanks to the romantic feel of cherry blossoms at Wuhan University, the once not-so-popular tourist destination Wuhan now tops spring travel guides. Pictures show tourists flocking to the university for its annual cherry blossom season.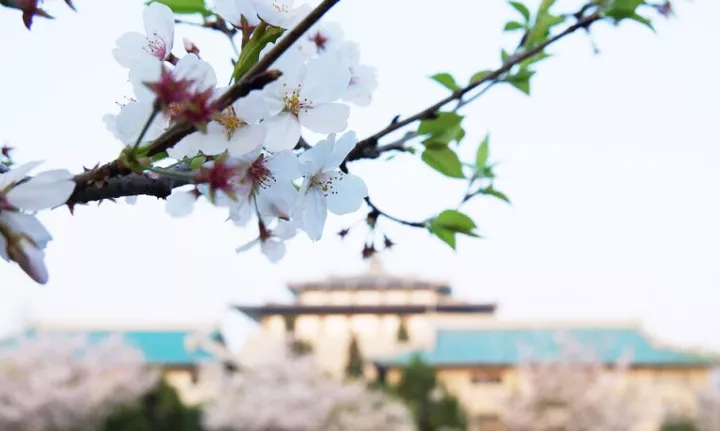 When the pink pointed buds unfurl on bare thin branches alongside leaves stenciled with a paler green around the edges, it heralds the onset of a vibrant spring and turns the university into a pale pink and white meadow.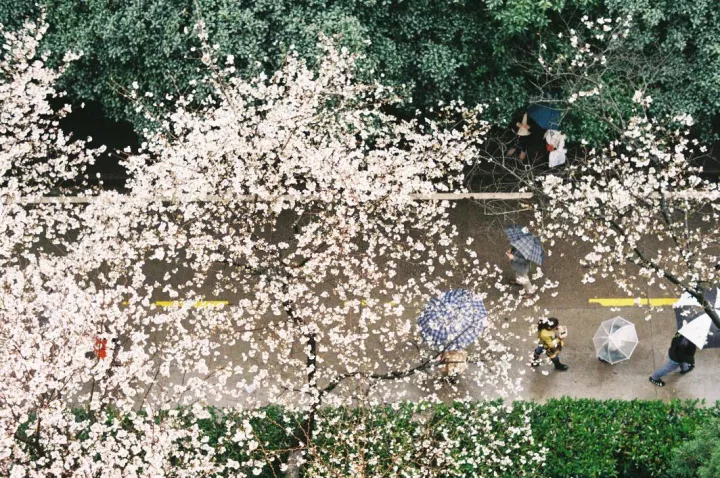 To ensure the smooth continuation of campus life for students, the university has created an online booking system that allows visitors to sign up to view the cherry blossoms, controlling the number of guests on-site at a time and preserving a placid experience for everyone.
Tips: If you fail to book a ticket, you can visit the campus after 6 p.m. The cherry blossoms also look charming in the late evening when visitors are most scarce.
Lake Nuoertu or the Dead Sea?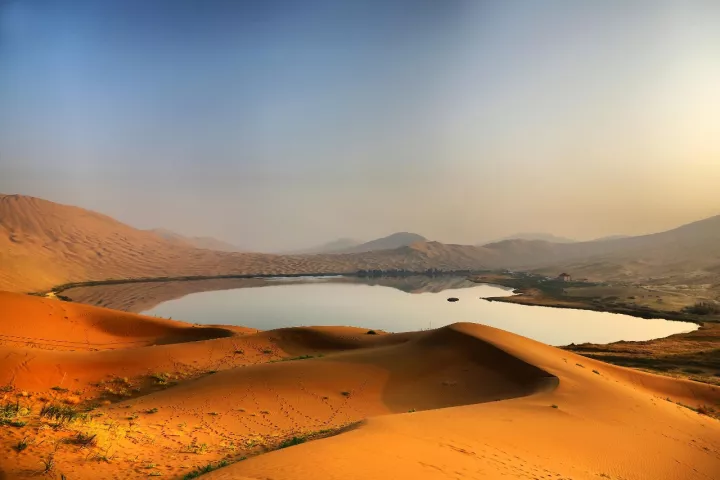 If you want to float in water without knowing how to swim, lay back, relax and enjoy this amazing natural phenomenon. There is no need to spend thousands of yuan on plane tickets and travel all the way to the Dead Sea because a lake here in China can satisfy your small dream.
Badain Jaran Desert in Inner Mongolia is home to over 100 spring-fed lakes that lie between vast sand dunes, some of which are fresh water while others are extremely saline. Lake Nuoertu, one of the largest and deepest lakes of the desert, is nestled against a large dune and definitely the twin sister of the Dead Sea.
The lake, as deep as 30 meters in some places, is extremely saline. It is the only lake in the Badain Jaran Desert that can provide the magical experience of effortless floating on its surface like the Dead Sea. To this day, an official tourist site has yet to be set up at the lake, which may make it a bit difficult to locate, especially since all the hundreds of lakes in the surrounding area are similar in appearance.
Tips: Lake Nuoertu is located inside the Alxa Desert Geopark and is one of the stops along the tour route around the Badain Jaran Desert.
Mountains in Sichuan or an alien planet?
If you cannot cover the costs for a future tour to an alien planet, just come and check out Haizi Mountain and Tu'er Mountain in Sichuan Province. This amazing scenic area boasts unmatched natural beauty and it is a mandatory stop for all visitors to Daocheng County.
The meaning of Haizi is "lake" in Mandarin. Haizi Mountain is a provincial nature reserve in Sichuan. There are many different sizes of granite boulders and a lot of glacial rock basin of various shapes. Haizi Mountain is located between Daocheng County and Litang County with an average elevation of 4,500 meters. The highest peak is at 5,020 meters and there is a total of 1,145 lakes.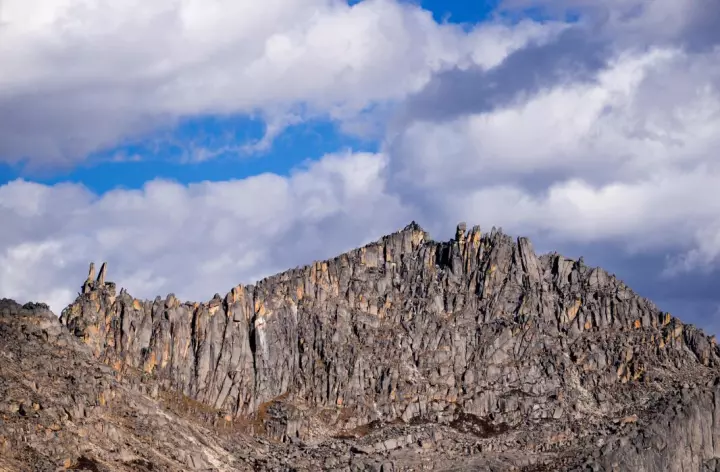 The scale and density of Haizi is unique in the country. The scenic area is also famous for its "magic stone." People are always amazed at and attracted by the mysterious and magical aura of the scenic area.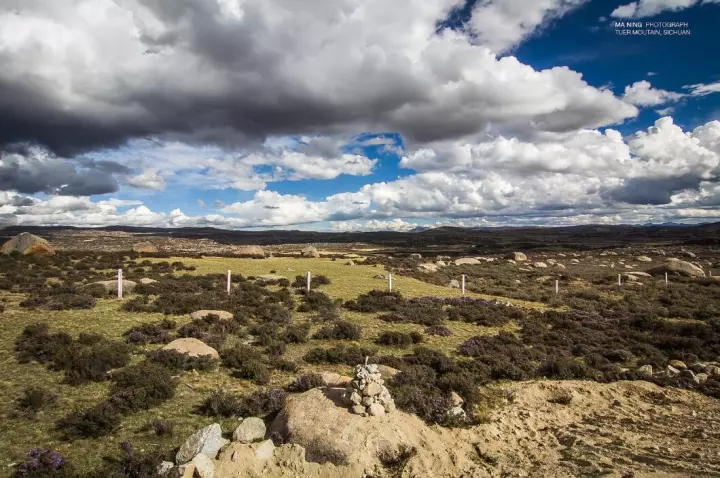 Tu'er Mountain is named so because of its unusual shape, bearing an uncanny resemblance to two small rabbit ears poking out of the earth. The rabbit ears can be clearly seen on sunny days. It paints the picture of a rabbit scurrying away from a predator. Surrounding the mountain are precipitous needle karst formations and crystal clear lakes.
Tips: There are many bends on the roads to Haizi Mountain and Tu'er Mountain, so do be careful when driving here.
Jinghong or Thailand?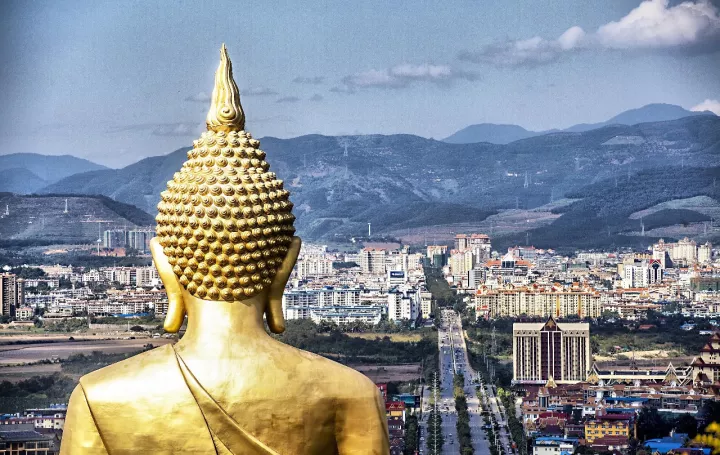 In the midst of watching Dai girls dancing at the Manting Imperial Garden, appreciating a night view at the impressive golden pagoda in Jiangbei and launching a Kongming Lantern, or tasting worms in the barbecue night market, you may momentarily wonder whether you are in China or Southeast Asia.
Jinghong is a city in the seat of Xishuangbanna Dai Autonomous Prefecture in the deep south of China's Yunnan Province. Anyone who has been to Jinghong would have to notice that most of the buildings resemble the design of Thai temples.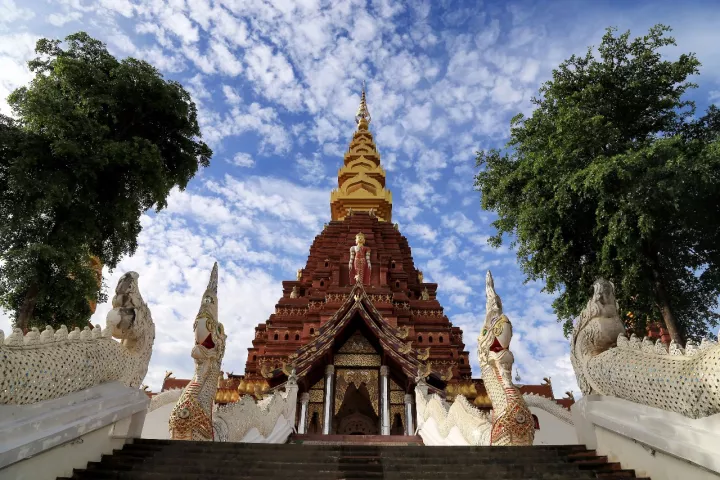 Nowadays, Jinghong is becoming more and more Thai-style, for it feeds itself with many Thai elements including its most commercial areas and popular tourist sites, which are modeled after the stunning Bangkok Old City, Rattanakosin.
Tips: Jinghong is a hub for Chinese package tours as well as for travelers passing between China and Laos. A prime area for backpackers, it is an interesting alternative to Laos or northern Thailand.
Xinjiang or Central Asia?
The west Asian landscape is divided by deserts and grasslands, whose unique tonality and customs extend all the way to the Mediterranean Sea. If you were to tramp over the Tianshan Mountains and enter South Xinjiang, you would immediately be embraced by a strikingly different culture.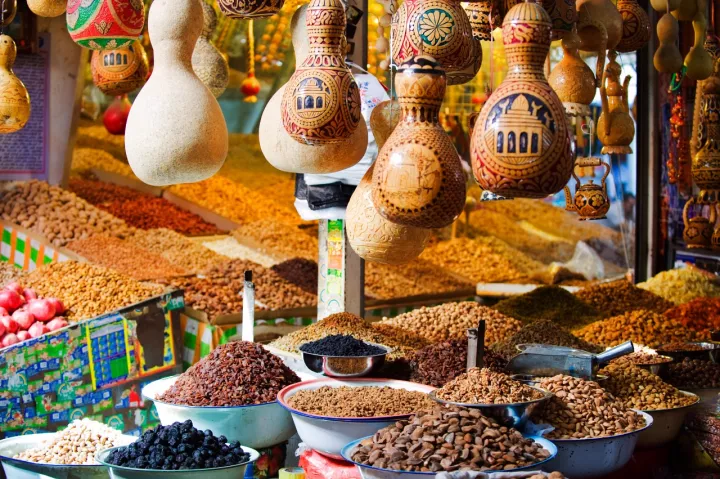 With sand blown by the wind making deserts everywhere, southern Xinjiang has dry weather and severe water scarcity, so the land here is arid and mostly barren. But wherever you go, the fragrance of barbecued meat and crusty pancakes will fill your nostrils, making your mouth water in the dry climate. Here you're sure to cross a mosque whenever you take a stroll around.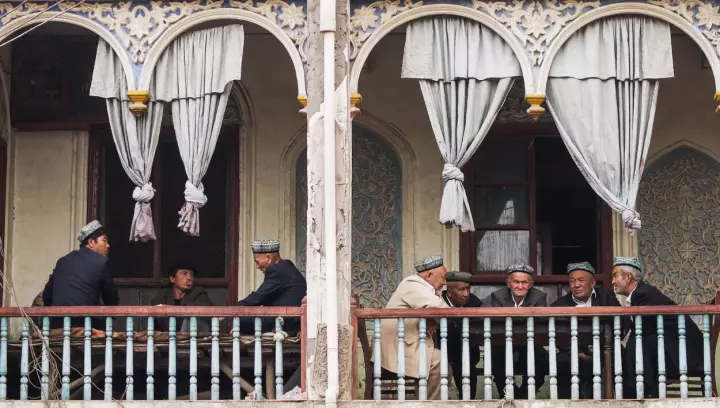 The majority people here are the Uygur minority. Uygurs are a Turkic group of people with a look distinctly different from ethnic Han. Some have very angular features with deep eye sockets and sharp noses.
You may get invited into a home as a guest when you pass through the yurts of ethnic Kyrgyz. A shot of exotic feelings will invade your senses as you wander around the Kashgar old town where the Islamic-style constructions are mostly made of earth and wood and explore the local bazaar where you are surrounded by natives with beards and turban.
Tips: Kashgar Prefecture is the most recommended tourism site in South Xinjiang for its exotic feel. In addition, you can visit Kuqa County and Tajik Autonomous County of Taxkorgan nearby.
The Wave in Jingbian or Arizona?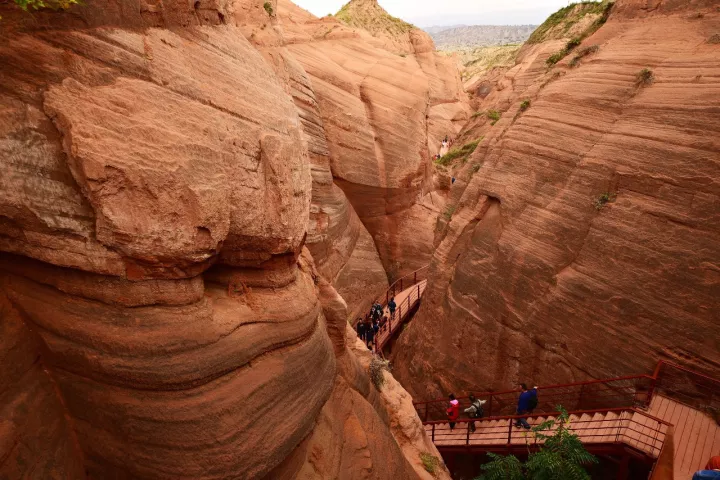 The Wave is a sandstone rock formation located southeast of Longzhou Town, Jingbian County of northwest China's Shaanxi Province. Similar to The Wave in Arizona in the United States, the unique landform in China also attracts numerous visitors.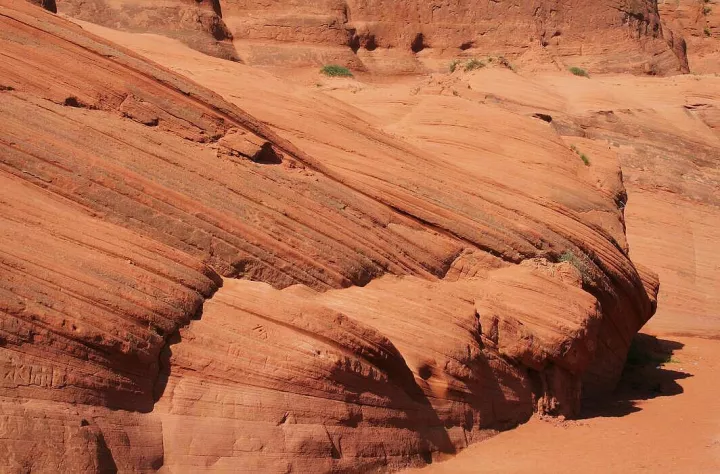 The Wave in China is called Longzhou Canyon and enjoys a history of 60 million years. The Longzhou Canyon is famous among hikers and photographers for its colorful, undulating forms and the rugged, trackless hike required to reach it.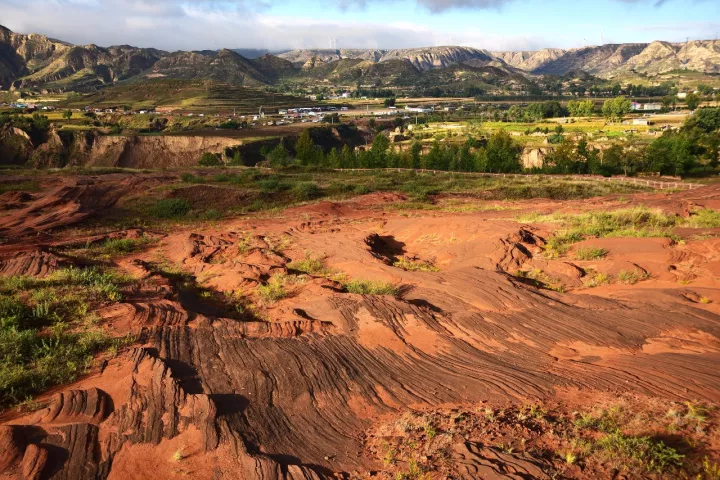 Tips: Hotels in the town contain photo collections of The Wave. You can locate the best spots for shooting according to hotel photo guides. The best time for shooting is before 9 o'clock in the morning or after 3 o'clock in the afternoon.