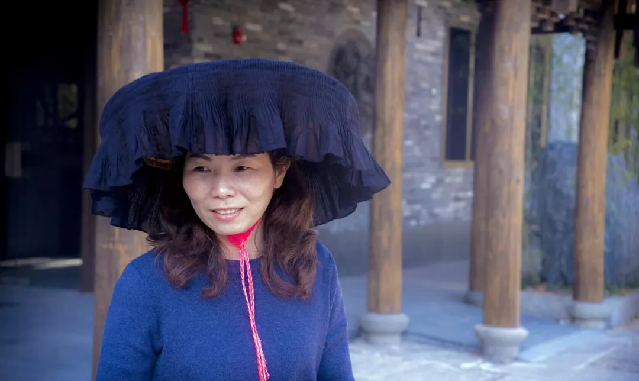 Gankeng, one of the 10 major ancient Hakka villages in Shenzhen, boasts a history of more than three centuries. The village, surrounded by green hills and clear waters, is primitive and beautiful. Architectural structures unique to Hakka culture can be found everywhere in the village, including blockhouses, deep alleys, the famous Phoenix Valley and the former residence of "Zhuang Yuan," or Number One Scholar in ancient China.
甘坑,深圳十大客家古村落之一,至今已有三百多年的历史。青山绿水,古朴优美。深巷、状元府、古炮楼、凤凰谷等传统建筑融于山水之中,形成独特的客家文化景观。
In the past, it was a tradition for Hakka women to wear bamboo hats when they go out or work in the fields. Making a Hakka bamboo hat requires sophisticated craftsmanship. Throughout the making of the hat we can see how diligent and graceful Hakka women are. As the lyrics of a classic Hakka song go, "Hakka bamboo hats enjoy a long history, weaved with elegance and style. The craftsmanship of Hakka bamboo hats is well preserved, passing down our love and warming our hearts."
过去,客家女性出门、下地、赶集都要佩戴凉帽。客家凉帽作为一种独特的编织工艺,记录着客家女人的勤劳和柔美,正如一首歌里唱道:
客家凉帽,源远流长,
织出了精华,美丽了时尚。
客家凉帽,别来无恙,
载满了情爱,温暖了心房。
Every few days, when Zhang Guanxian goes to a bamboo forest at the foot of a hill in the neighborhood, he selects the most suitable bamboo for making hats. Selecting an ideal bamboo is of great importance and a single segment should reach up to 60 centimeters in length. Thanks to the bamboo's smooth textures and supple fiber, the bamboo is the most preferred materials for making Hakka bamboo hats.
每隔几天,张官贤都要去后山的竹林里,挑选合适的竹料制作凉帽。这种竹叫单竹,又名水筒竹,节间长一般可达60厘米,竹质细腻,纤维柔韧,是竹编的最佳材料,也是客家人制作凉帽的首选材料。
61-year-old Zhang Guanxian is one of the few Hakka bamboo hat craftsmen in Gankeng Village. He has been learning Hakka bamboo hat-making since he was 16 years old. His rough and time-worn hands mirror his devotion to the trade. The history of Gankeng people making Hakka bamboo hats can be traced back to more than 200 years ago and it has passed on through six generations. Zhang Guanxian himself witnessed the heyday of Gankeng bamboo hats in the last century.
今年61岁的张官贤是甘坑村仅有的几位凉帽工匠之一, 他从16岁开始学习凉帽工艺,几十年的坚持都刻画在这双饱经风霜的手上。甘坑凉帽制作的历史超过200年,传到他们这一辈已是第六代。张官贤也亲历过上个世纪甘坑凉帽的辉煌时期。
Zhang Guanxian is skilled at "Yao Mie," or slicing bamboo strips with teeth, and "He Mao," pressing the two pieces of the hat together and applying tung oil. Zhang is using his teeth to slice the nearly 50-centimeter-long bamboo canes into slices that are as thin as paper and as pliable as muscles.
张官贤熟练掌握咬篾、合帽、上油等关键工艺。张官贤用嘴把近半米长的竹条撕成篾片,薄如纸,韧似筋。
Zhang Guanxian's apprentice Zhu Yixiang uses bamboo slices to weave the hat. Zhu cannot afford to make any mistakes since the weaving pattern is too intricate. There are two pattern styles of Hakka bamboo hat: Starry Sky and Emei Flowers.
编织凉帽是一项非常考验记性的工序,花纹复杂细腻,容不得一丝差错。客家凉帽花纹一般分为满天星和峨嵋花两种。
Tung oil, thick and transparent, is a fine drying oil obtained by pressing the seed from the nut of the tung tree. Gankeng people have a unique method of making tung oil. Applying tung oil on the surface of the hat protects it from water and insects and keeps the hat shiny and durable. According to Zhang Guanxian, tung oil should be applied to a hat three separate times and then aired out under the sun before it can be considered finished, a process which takes about two weeks. Hats with poor quality tung oil, however, may not dry even after three years.
桐油,是一种优良的带干性植物油。甘坑人熬制桐油是一项非常特殊的独门技艺。熬好的桐油涂刷在凉帽上,用来给凉帽防水、防虫,并使凉帽散发光泽、结实耐用。张官贤说,一顶凉帽要经过三次刷油、晒干,前后需要半个月的时间。不合格的桐油涂在凉帽上,三年也晒不干。
"Ma Zai" is a hand-made tool for combining the two parts of the hat together. They come in large amounts and different specifications. To better control the strength and radian, Zhang Guanxian goes bare foot and uses Ma Zai to combine the clip and body of the hat together, both in summer and in winter. He starts tying the edge of the hat with soaked thin bamboo slices, which usually takes 38 loops to complete.
客家人自制的合帽工具,称为码仔,规格各异,数量繁多,为了更灵活地控制力度和弧度,无论严寒酷暑,张官贤都赤脚上阵,仔细地用码仔将帽夹和帽身合二为一。
Ling Fudi is the eldest bamboo hat craftswoman in Gankeng Village who is proficient in a variety of needlework. Ling is making the drapes of the hat cloth. After spreading out the cloth, she splashes water onto the fabric and then slowly folds 180 drapes. After folding, she will dry the cloth before sewing it onto the edge of the hat, which is basically the last procedure of a Hakka bamboo hat's production. Despite the fact that Ling's eyesight is not very good, she completed the procedure efficiently due to her great familiarity with it.
凌福娣是村里最年长的凉帽女工,精通各种女工工艺。她用浸泡过水的细竹条将帽的边缘绑牢固,一般要扎38圈。制作凉帽沿布的皱褶,平铺之后,将水洒在布上,就这样一个一个地,折180个褶子。折好以后晒干,就缝制到帽沿上,一顶甘坑凉帽就基本完成。凌福娣的眼力已大不如前了,但她还是麻利地完成了她熟谙的工序。
The making of Gankeng bamboo hats requires 33 steps in all, each of which reflects Gankeng people's wisdom in dealing with weaving bamboo, fabric, dyeing and painting. It requires the joint effort of both men and women. However, there is no detailed written record about how to make Hakka bamboo hats; it simply depends on the master and apprentice to accumulate experience and pass on the craftsmanship. As Hakka bamboo hats are fading from the commodity market, its traditional craftsmanship is becoming a lost art.
甘坑凉帽制作有33道工序,凝聚了甘坑人在竹编、布艺、染制、油漆技艺上的智慧,男女分工,复杂细腻,缺乏详细的文字记载,全靠师徒传授和实践积累。随着凉帽慢慢淡出商品市场,传统的制作工艺也濒临失传。
In 2006, Gankeng bamboo hat was included on the list of Shenzhen Municipal Intangible Cultural Heritage. In 2013, it was included on the list of Guangdong Provincial Intangible Cultural Heritage. Veteran craftsmen like Zhang Guanxian and Zhang Hangyan are named by the country as inheritors of the Hakka bamboo hat.
2006年,甘坑凉帽被纳入深圳市非遗文化保护范畴,2013年,甘坑凉帽入选广东省非物质文化遗产名录,张官贤、张航燕等老匠人成为非遗传承人被载入史册。
To pass on the craft, Gankeng Village is calling upon villagers to learn Hakka bamboo hat-making. Zhu Yixiang and Zhang Ruizheng are the only two young adults in Gankeng Village who have learned parts of the process. Zhu mainly performs weaving and Zhang studies "Yao Mie" and "He Mao."
与此同时,甘坑村开始招聘村民上岗培训,以继承凉帽编织这项传统技艺。诸宜香和张锐铮,是村里仅有的学习凉帽技艺的两位年轻人。诸宜香主要学习凉帽的编织,张锐铮则学习咬蔑、合帽等工艺。