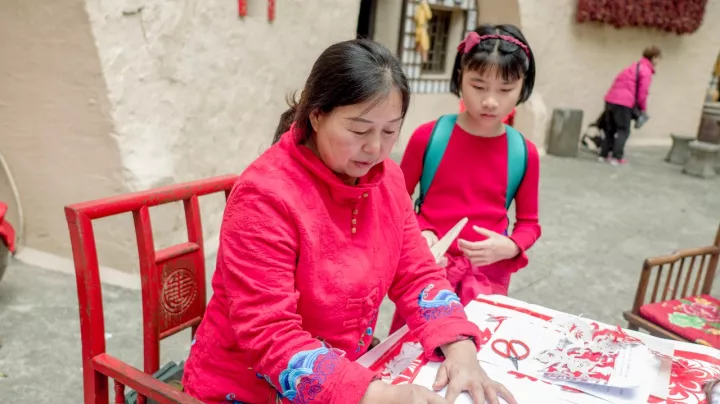 一把红色手柄的小剪刀,红纸在指尖翻飞,细碎的小纸屑簌簌飘落......不到1分钟,栩栩如生的四只手拉手的福娃娃呈现在纸上。田星笑呵呵说:"这个特别简单,适合初学者。"
Tiny red-handled scissors snipping away, red paper gliding expertly between fingers, and scraps of red paper drifting down... In less than one minute, four chubby "lucky babies" appeared between the spaces cut out in the decorative paper. Tian Xing laughs, "This is really easy and suitable for beginners."
剪纸是一种用剪刀或刻刀在纸上剪刻花纹,用于装点生活或配合其他民俗活动的民间艺术。
Paper-cutting is a folk craft that uses scissors or an engraving knife to cut patterns from paper for decoration for daily use and traditional occasions.
田星,深圳市非物质文化遗产代表性传承人。她的剪纸作品题材丰富,篇幅宏大,几乎都与民间习俗、传说故事有关,表达了她对生活的热爱。这幅名为《西北婚俗》的巨幅剪纸作品,长28米,宽1.5米,展现的是陕北结婚的情景。
Tian is a representative inheritor of this intangible cultural heritage item in Shenzhen. Her paper-cutting works are rich in subject matter and grand in size. Along with the theme "folk customs and legendary stories," these works express her love for life. Her huge paper-cutting work entitled "Customs of Marriage in Northwest China" is about 28 meters in length and 1.5 meters in width, and shows the whole wedding process typical to Northwest China.
田星出生在陕西省宜君县,这是宜君剪纸的发源地。母亲和姐姐是田星的启蒙老师,从记事时起,每逢新春佳节或者结婚喜庆之时,剪纸是必不可少的装饰。
Tian was born in Yijun County, Shaanxi Province, the cradle of Yijun-style paper-cutting. Tian's mother and sister were who first influenced her on paper-cutting. As far back as she can remember, paper-cutting has been an essential decoration for adorning homes during festivals and marriage ceremonies.
田星1991年被深圳市锦绣中华民俗文化村选中聘用并定居深圳,开展"田氏剪纸"艺术的展示、技艺传授等活动,并独创出双手剪纸绝技。
Tian was hired by Shenzhen Splendid China Folk Culture Village in 1991. She settled in Shenzhen ever since, displaying her paper-cutting to visitors and passing on the craft. She invented a paper-cutting technique which uses both hands to for the cutting process.
剪纸也为田星带来了巨大的荣誉。她先后被联合国教科文和中国民间文艺家协会授予《民间工艺美术家》称号,中国民间文艺家协会会员,被深圳文联授予民间艺术大师。田氏剪纸被列入广东省非物质文化遗产代表性项目。
Paper-cutting has also brought a spotlight to Tian. She has been awarded the title "Folk arts and crafts artist" by UNESCO and the Chinese Association of Folk Literature and Art. She is a member of the Chinese Folk Literature and Art Association. She was recognized as a master of folk art by Shenzhen Federation of Literary and Art Circles. Tian's paper-cutting has been included in the representative items of intangible cultural heritage in Guangdong Province.
如今,田星的重心已转向剪纸教学,她希望更多的年轻人掌握这门生活艺术。
Today, Tian focuses on teaching paper-cutting and she hopes more young people will master this art.