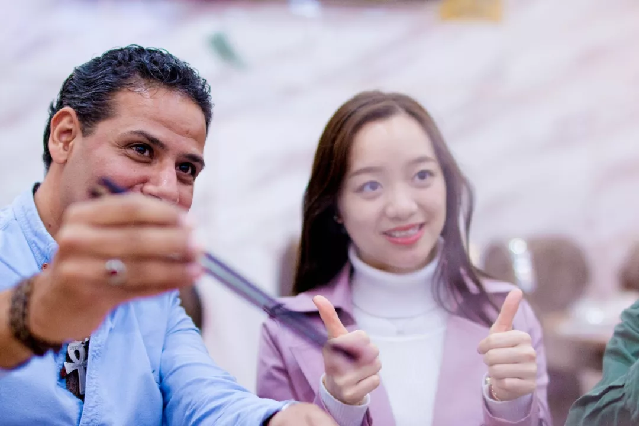 潮汕大目牛肉火锅是一家老字号的潮汕风味餐厅,35岁的肖镇根开始接手打理父辈的餐饮行当。今天,店里来了几位特殊的客人,他们是SHENZHEN DAILY的读者,来这里体验地道的潮汕美食--牛肉。
Chaoshan Damu Beef Hotpot is a time-honored Chaoshan restaurant that was handed down to 35-year-old Xiao Zhengen from his father in 2005. Today, special guests - Shenzhen Daily's readers - come here to experience a hallmark of authentic Chaoshan food: beef.
牛肉是潮汕人最喜爱的食材之一,在大厨蓝云凤眼里,不同部位的牛肉有着细腻而复杂的口感差异。牛颈肉是牛经常运动的部位,油脂分布适中,结实而富有弹性,纤维较细,口感滑嫩,能吃出牛肉特有的风味,是涮牛肉的首选。
Beef is a favorite ingredient used in Chaoshan cuisine. Chef Lan Yunfeng knows the delicate and complicated tastes of each beef cut by heart. Chuck, the shoulder of the cow where the muscles are often used, is a richly-flavored cut with an optimal balance of meat and fat, making the meat hard and bouncy with fine fibers. The smooth taste is the first choice for beef hotpot.
而里脊是牛身上运动量最少、口感最嫩的部位,最适合生拌、熘炒、烧烤。
The tenderloin can be cut from the cow's body with the least effort, and is soft and easy to eat. It is often used for raw mixes, stir fry and barbecue.
牛肉丸是著名地方小食,属于潮菜系。在潮州已经有近百年历史,可分为牛肉丸、牛筋丸两种。牛肉丸肉质较为细嫩,口感爽滑;牛筋丸由于添加了嫩筋因此更有嚼头。最适合做牛肉丸的是牛腿肉。
Beef balls are a famous Chaoshan snack. Having nearly a hundred years of history in Chaozhou City, the beef ball is divided into two types: beef meatball and beef ball with tendon. Beef meatballs are tender and taste smooth. Beef ball with tendon adds tendons, making it chewier. Shank - beef from the leg of the cow - is the most suitable meat for making beef balls.
宰杀后四个小时之内到店的新鲜牛肉,去筋后切块,放在砧板上,开始槌打。手打牛肉是体力活,也是一门巧活。潮州人用两根特制的铁棒,每根3斤重,面呈方形或三角形,用双手轮流槌打,左右开弓,直至把牛肉打成肉浆。由于今天这几位特殊的客人是新手,大厨蓝云凤改用两根木棒演示,并教授他们的槌打技巧。
Fresh beef is transported to Chaoshan Damu Beef Hotpot within four hours after slaughter. After removing tendons and arranging the beef cuts, the cuts are put on a cutting board and the process of making beef balls begins.
Hand-beating beef is physically taxing, but also an effective method for making succulent and chewy beef balls. In Chaozhou cuisine, two special iron bars, each weighing three pounds, are used to pound the surface of the beef. The chef pounds the meat with both hands until it is beaten into a meat pulp. Since today's special guests are novices, Chef Lan Yunfeng demonstrates the beating process with two wooden sticks.
槌成肉浆后,加入盐和鸡精,继续再槌15分钟,直到肉浆粘手不掉下为止,然后用手捻肉浆,半握拳头,大拇指和食指成环状,稍用力挤出丸,用羹匙掏下放到温水盆里,再用文火煮丸约8分钟。一向讲究原汁原味的潮州人用牛肉、牛骨熬汤来煮牛肉丸,这样一来,肉丸的肉味不会渗透到汤水中,从而使牛肉丸更具浓郁的牛肉味。
After the meat is beaten into meat pulp, it is seasoned with salt and chicken powder, then beaten for 15 minutes more, until the meat becomes a very sticky paste. Next the chef grabs a handful of the paste, softly clenching it in his fist and forming a ring with his thumb and index finger. The meat paste is squeezed through the fingers, forming a meatball. It is then scraped into a warm pot of broth and cooked for eight minutes. To retain its flavor, the hot pot broth is made with beef and beef bone. The meat flavor of beef ball mixes with the beef broth, giving it a rich beef flavor.
吃的时候用原汤和牛肉丸下锅煮至初沸,加入适量胡椒粉和芹菜粒,配上沙茶酱或辣椒酱佐食,更是妙不可言。
When being served with hotpot, put the beef balls into beef soup until the soup comes to a boil. Add some pepper, chopped celery and shacha sauce or chili sauce. The fantastic taste is beyond description.