(This article was updated on Sept. 1, 2021)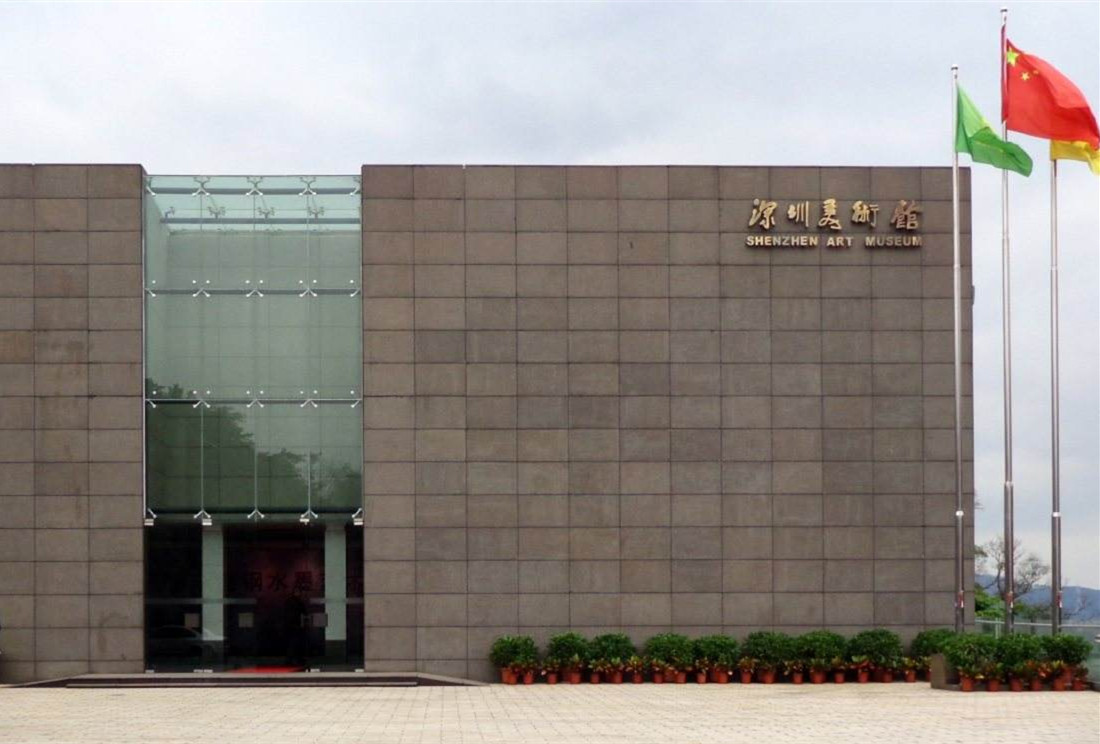 Shenzhen Art Museum深圳美术馆
Shenzhen Art Museum was established in 1987. The museum contains a total of 5,500 square meters of floorspace and houses a 1,200-square-meter exhibition hall within a 2,800-square-meter complex.
Since 2001, the museum has established its mission to "pay close attention to contemporary urban native arts" and is the venue for the annual China-Themed Exhibition on Contemporary Art and Native Art-Themed Exhibition of Shenzhen.
Add: Shenzhen Art Museum, inside Donghu Park, Aiguo Road, Luohu District 深圳市罗湖区东湖公园深圳水库风景区内
Metro: Huanzhong Line to Tai'an Station (太安站), Exit A, and then take a taxi
Guan Shanyue Art Museum 关山月美术馆
The Guan Shanyue Art Museum is dedicated to the works of Guan Shanyue, a modern master of the Lingnan School of Chinese ink painting. Lingnan School originated in the early 20th century and was inspired by Japanese and western arts. Guan Shanyue studied under the masters of the school and proved to be a competent artist in that style. He donated his paintings to the Shenzhen City Government in 1993 and the gallery opened in 1997. It contains exhibits of Guan's work and hosts regular special exhibitions.
Add: Guan Shanyue Art Museum, 6026 Hongli Road, Futian District (福田区红荔路6026号关山月美术馆)
Metro: Longhua or Longgang Line to Children's Palace Station (少年宫站), Exit B
OCT Art and Design Gallery 华•美术馆
The OCT Art & Design Gallery was built with the purpose of propelling the development of vanguard designs, which involves effort from various design industries such as graphic and space design, product and fashion design, and digital and animation design, and dynamic and contemporary art events.
The gallery positions itself on the frontier of design, bringing in the best new design ideas from around the world and discovering, revealing, publicizing and developing the latest trends and talent through involvement in themed exhibitions, public seminars, academic forums, international academic exchange activities and education.
Add: OCT Art and Design Gallery, Overseas Chinese Town, 9009 Shennan Boulevard, Nanshan District 深圳市华侨城深南大道9009号
Metro: Luobao Line to OCT Station (华侨城站), Exit C
He Xiangning Art Museum 何香凝美术馆
As China's second national modern art museum after the National Art Gallery of China, the galleries at He Xiangning Art Museum have shifting exhibits mainly of avant-garde and modern Chinese art styles. Some of China's best-known painters regularly exhibit here.
Add: Overseas Chinese Town, Nanshan District, Shenzhen 中国深圳南山区华侨城
Metro: Luobao Line to OCT Station (华侨城站), Exit C
Luohu Art Museum 罗湖美术馆
Located in Luohu District, Luohu Art Museum covers 8,600 square meters of land. Communications between the museum and the public is valued by the Luohu Art Museum's mission to create a distinctive, unique value and innovative public platform. There are six exhibition halls and one academic hall, both of which meet international exhibition standards.
Opening Hours: 10 a.m.-5 p.m., closed Saturdays and Sundays
Add: Luohu Museum of Art, 6 Nanji Road, Luohu District (罗湖区南极路6号罗湖美术馆)
Metro: Line 2 to Hubei Station (湖贝站), Exit A
Design Society 设计互联
Design Society is housed in the Sea World Culture and Arts Center (SWCAC) and oversees its cultural operations. Located in Shekou's Sea World, it is designed by renowned architectural studio Maki and Associates, led by Fumihiko Maki.
It features multiple galleries, presenting ground breaking designs from the past, present and future. It has studios and educational spaces, catering to the public's need for learning and growth.
Add: 1187 Wanghai Road, Shekou, Nanshan Shenzhen 深圳市南山区蛇口望海路1187号
Metro: Line 2 to Sea World Station (海上世界站), Exit A
Opening hours: Sunday - Thursday 10:00-22:00
Friday and Saturday, 10:00-22:30
Intangible Cultural Heritage Hall, Futian Cultural Hall 福田文化馆非遗主题馆
The Intangible Cultural Heritage Hall covers 5,000 square meters. The gallery holds regular exhibitions of intangible heritage items.
Hours: 9 a.m.-9 p.m., closed Mondays
Add: Intangible Cultural Heritage Hall, Futian Cultural Hall, 103 Fuhua Road, Futian District (福田区福华路103号福田文化馆非遗主题馆)
Metro: Line 7 to Huaqiang South Station (华强南站), Exit C