Delilah Lewis acts as a line cook for an event.Courtesy of Delilah Lewis
Email of the writer: JeniZhang13@163.com
As a small business owner from the United States, Delilah Lewis is ambitious to tap the business potential in China with Shenzhen as her starting point.
Having extensive experience in business administration, customer service and management, Lewis and her husband LaMarr founded a brand consulting and marketing company called Dee Djoire in the United States in 2012.
With budget-aware consumers in mind, they provide services for those who have a business idea but have little knowledge about running a business, with the aim of helping their clients gain more awareness of their target demographics.
Lewis has worked for Fortune 500 companies as well as husband-and-wife businesses started from scratch, but she gravitates more towards the latter. "I feel that there's room in the industry for everyone to be successful. So I don't necessarily target bigger companies that have 100,000 people on the payroll. I like to work with smaller companies to help them make their brands more professional," explained Lewis.
Motivated by a strong desire, Lewis and her family moved to Shenzhen in 2017. For her, coming here was a smart move as she can network with local companies and factories that specialize in branding and making products.
Living in Futian, she and her family have been constantly impressed by its friendly residents, clean environment, convenient transportation, and places such as Huaqiangbei and SEG electronics market.
"I was very fascinated with how the local people embraced me and my children even though we don't know much Chinese yet. It's been a really nice experience for us so far," she said.
When technophile meets tech hub
As an early adapter to the world of technology, Lewis got a head start with computers when she was 7 years old. Her uncle and dad used to own a computer business, so she and her brother learned how to take computers apart, build them, service them, and install Windows and software at a very young age.
"We were able to venture out and use that experience to create a living, and I've been able to build off that knowledge to create a brand for myself," said Lewis, who has also fallen in love with design software like Photoshop and Adobe Illustrator over the years.
She thinks that her foundation in technology has helped her stand out as an entrepreneur. "I come from a long line of entrepreneurs. My dad always instilled in me that the same effort that you put into working for someone else can also be just as rewarding as working for yourself."
Lured by Shenzhen's reputation in the technological field, Lewis was excited to come to the city and settle in Futian. Although she had never been to China, she was eager to extend her services and collaborate with Chinese companies.
"This is the technology hub of China, and that's what brought me here. The companies here are the ones that are coming up with different inventions and manufacturing items that are technology-driven," she said.
The young business owner is also impressed by the city's clean and beautiful environment. "I also love the MTR. It's probably the cleanest subway I've ever seen in my life, and it's very efficient," said Lewis.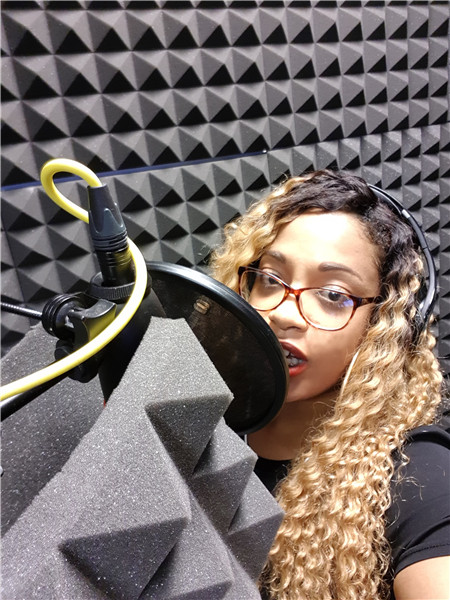 Delilah Lewis records a song at a studio in Hong Kong.
Build on your strengths
Apart from being a technophile, Lewis is also fond of cooking. She worked at the Olive Garden, an American casual dining restaurant chain, for almost 10 years. Now, she is trying to tie in all of her experience in the event planning and culinary field with her branding and marketing business.
"I'll do a spoken word event and tapas dinner at Wrecking Ball by Xpats Bar & Grill in Futian on May 17," said Lewis. Additionally, as the bar owner is seeking to revamp his bar's menu to bring in more customers, she is trying to come up with a fancier menu to showcase something different for the bar.
"Hopefully he [the bar owner] will use those recipes on his menu permanently. And if it works out well, I'll be able to utilize his menus to do some teaching classes as well, like teaching kids easy American recipes," said Lewis.
In fact, she has a cookbook that is going to be released on Amazon very soon. It's an e-book consisting of 100 recipes.
"My cookbook is basically showcasing recipes —not necessarily a specific type of diet — but recipes that are easy to replicate and fuse together different cultures. So it's not just American recipes, but an international take on American favorites," explained Lewis.
After growing up with a mother of Hispanic and Italian descent and an African American father, she wants to showcase some inventive recipes by combining international techniques for cooking.
"I feel like food is a way to convey love even if you don't know people personally. You're showing them a side of yourself by preparing meals," said Lewis, who cooked for several private parties in Futian last year.
An enthusiast of music
Lewis is not only computer-savvy and keen on cooking, she has also been around the music industry and writes music. Not long ago, she did a voice-over for a marketing ad for a record label in Hong Kong.
"I've been in the entertainment circle as well. I am eager to expand and collaborate with artists in China," she said.
She is currently trying to reach out to artists in the music industry in China, as she knows that Chinese artists want to cross over and sell their music abroad. "What I would like to do is be able to get a couple of songwriting gigs or I can help these Chinese artists write a song that would be popular in America," said Lewis.
She is also planning to shoot a documentary on hip-hop music in the country. "It's basically a project that goes over the process of hip-hop music and the industry in China and what Chinese artists think of the music genre."
She hopes that the documentary will be something that can provide a fresh perspective on the hip-hop industry in China, because the industry as a whole can be utilized as a vehicle for positivity.
At present, Lewis is raising funds for the production, which is still very much in its beginning stages. "We are in the process of raising 4 million yuan (US$628,042), so it's going to take me a bit of time. So far, I have raised 80,000 yuan. It's something that I'm really looking forward to and excited about," she said.