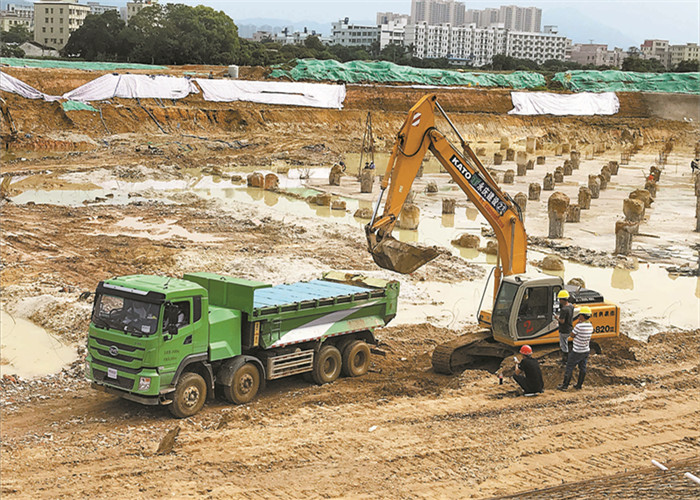 A BYD-made electric dump truck at work Tuesday. Xu Xingdong
A total of 500 fully enclosed BYD T10ZT electricity-powered dump trucks will be used in Shenzhen, according to an agreement signed by BYD and two truck operators Tuesday.
Shenzhen Xinrongyuan Construction Engineering Co. Ltd. and Shenzhen Zhengbao Industrial Co. Ltd. placed orders for 300 and 200 of the trucks, respectively, to implement the city's Blue Sky program.
It will be the first batch of electric dump trucks launched by BYD after the company started researching and developing new-energy trucks in 2012.
Compared to diesel-powered trucks, using electricity-powered trucks in Shenzhen could reduce carbon emissions by 1.61 million tons, sulfur dioxide by 31,200 tons and nitrogen oxide by 9,100 tons.
The dump trucks meet technical and regulatory requirements and are powered by the lithium iron phosphate battery produced by BYD. The battery can be fully charged in 90 minutes, and the truck can travel 280 kilometers fully loaded on a full charge.
At the Pingshan river treatment site Tuesday, the trucks were deployed to transport dirt. The trucks' fully enclosed covers are automatically controlled to prevent spillage during transport. The intelligent system can monitor the condition of each truck and the driving habits of the operators, identify the drivers and limit the speed of the vehicle.
Shenzhen unveiled guidance on the technical standards for fully enclosed intelligent heavy vehicles last December.
In April, the city unveiled the 2018 action plan for the sustainable development of the Blue Sky program. The city is trying its best to ensure air quality through 10 engineering projects, including the use of e-vehicles in logistics services, the refitting of diesel-powered vehicles and the renovation of ports. (Han Ximin)