Email of the writer: ximhan@126.com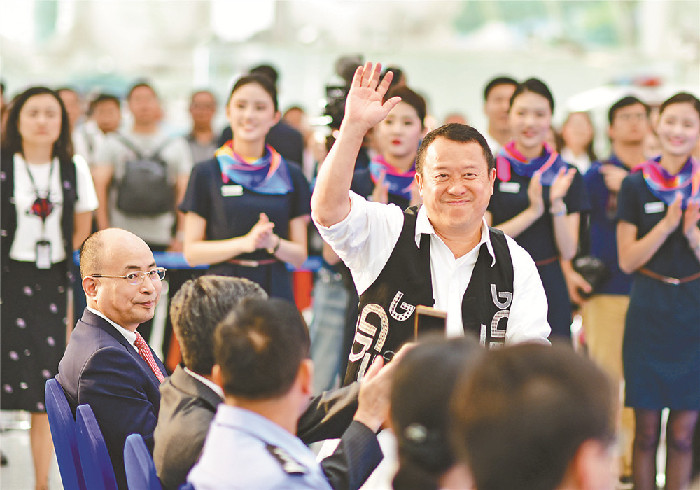 Eric Tsang Chi-wai, a Hong Kong actor, film director and television host, waves yesterday at a ceremony marking the launch of a direct flight from Shenzhen to Darwin, Australia. Tsang is among the first passengers of the direct flight to Darwin. Richard Han
Shenzhen-based Donghai Airlines launched a direct flight from Shenzhen to Darwin, Australia early yesterday.
The flight on a Boeing 737-800 aircraft operates twice a week, every Wednesday and Sunday. It leaves Shenzhen at 1:30 a.m. and arrives in Darwin at 8:40 a.m. (local time). The return flight leaves Darwin at 5:25 p.m. and arrives in Shenzhen at 9:35 p.m.
The trip will take five hours and 40 minutes and during the first promotional period the fare will be 200 yuan (US$31) for a round trip. The opening of the route to Darwin also makes Darwin the seventh Australian airport with scheduled services from China.
It will save about nine hours for mainland flights to Darwin with a stopover in Singapore.
This is the first intercontinental flight operated by Donghai Airlines, which entered the international air service six months ago. The route is also the fifth route from Shenzhen to Australia. The opening of the route brings the total number of international air routes at Shenzhen International Airport to 42.
"This is the most economical, time-saving and convenient route to Darwin and the Northern Territory in Australia. The flight will bring Chinese travelers a different experience of Australia," said Yang Jianhong, president of Donghai Airlines, at the launch ceremony yesterday.
Lauren Moss, an official with the culture and tourism authority of Northern Territory, Australia, said in a speech that this direct flight from China will make traveling to northern Australia easier. It will promote people-to-people exchanges and tourism between Shenzhen and the Northern Territory, Moss said.
According to Yang, Donghai Airlines is preparing to open flights to Haiphong in Vietnam, Kalibo in the Philippines and Mandalay in Myanmar.
Last December, Donghai Airlines opened two international routes — one to Pattaya, Thailand, the other to Dao Phu Quoc, Vietnam — marking its expansion into the international market.
The Shenzhen airport opened three new international routes this month including one to Cebu, the second-largest city in the Philippines. China Eastern Airlines opened an international route to Vancouver with a stopover in Tianjin.