Members of the Aqua Bellas a cappella band. Courtesy of the band
Email of the writer: zhqcindy@163.com
For the love of singing, a group of expats in Shenzhen have been getting together in Futian for months, and even years, to learn and rehearse a cappella, a style of choir that is sung without instrumental accompaniment.
With between two and nine stable members, and frequent performance opportunities, this international a cappella band expanded quickly over the past three years and is now the most experienced expat a cappella band in Shenzhen.
A cappella music originated in Italy and was especially used in religious music during the Middle Ages. Thanks to the efforts and performances of different a cappella bands, a cappella music is now gaining more recognition and popularity in China, including the southern metropolis of Shenzhen.
Aqua Bellas
In 2016, this international a cappella band was set up in Shenzhen by a Russian named Aleksandra Marshaniia. She was the leader of the two-member a cappella group, originally named Melody. The other member was Jack from Kenya.
For many years in her childhood and adolescence, Marshaniia, who prefers to be called Alex, wished to sing a cappella. But to her disappointment, not many people in her home city of Moscow knew enough about this kind of music to set up a band with her.
"This is the first a cappella group I have organized. I met the right people in Shenzhen because the city has a very international community. Only in China would we be able to make this international band," said Alex.
The band leader recalled that it was not at all easy to find the first few members in the beginning.
Alex started to meet with her first band member to practice once a week, singing some gospel songs like "Amazing Grace." Another Ukrainian singer named Tina joined the band, and then American a cappella enthusiast Nikki Schwartz joined a few months after the band was created. Another few members from Armenia, America and Canada have also joined the band.
Aqua Bellas counts members who can sing many styles of a cappella songs, from alternative and pop songs to slow romantic songs, theme songs and holiday songs.
In March 2016, the band started to expand their repertoire. In September that year, Aqua Bellas released their first music video: an a cappella cover of the song "Say Something."
In October 2016, the band started performing in Shenzhen and other cities, including shows at Shenzhen Concert Hall, a Chinese New Year Festival Gala TV Show for Guangxi TV in 2018, a Christmas event for a large shopping mall, weddings and opening ceremonies.
The band has continued to grow, with Emanuele from Italy joining, followed by Anna Kruk from Russsia and Sonya Tkachuk from Ukraine, who joined in December 2016.
The band just performed five songs for the Shenzhen A Capella Festival 2018 at the Shenzhen Concert Hall last month.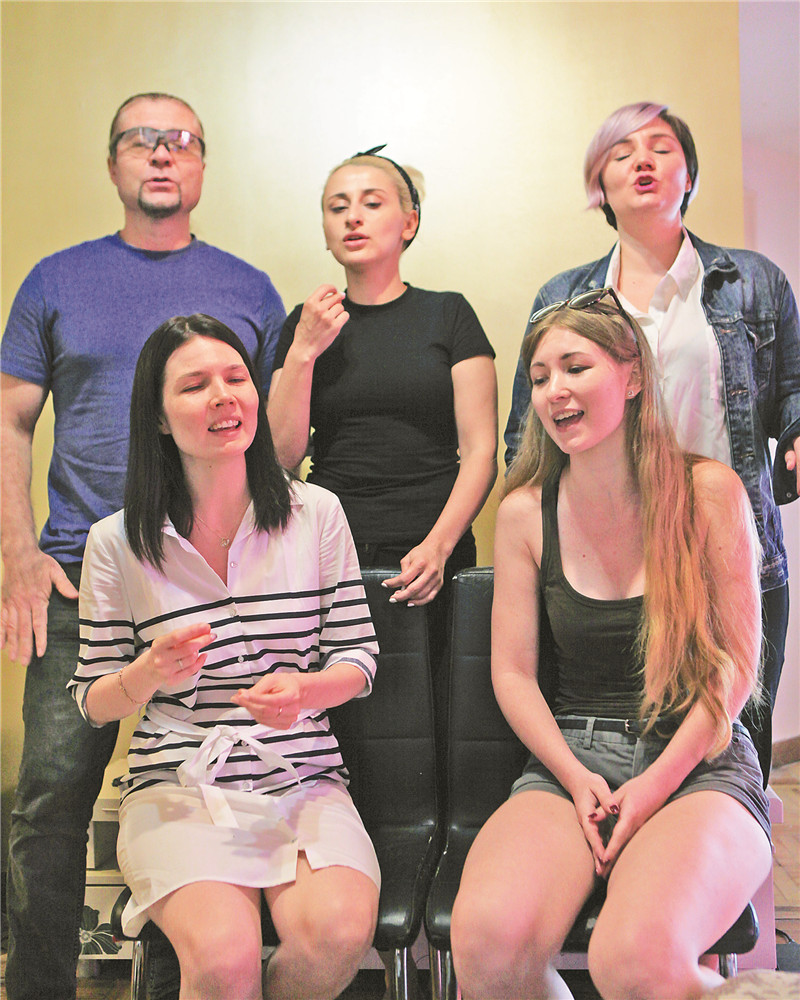 Members rehearse. Sun Yuchen
'Pitch Perfect'
A cappella songs are a mixture of diverse vocal parts at different pitches, such as soprano, alto, tenor and bass, and in most cases include b-boxing. Therefore, harmonizing different vocal sounds in a cappella songs is extremely difficult.
"For me, the happiest moment is when we all remember our parts well and we harmonize well," said Alex.
There is no fixed rule for how many voices an a cappella band should have, but according to Alex and Nikki, it takes at least four people singing at the same time to make an a cappella song sound good.
Since the members of the band are from different walks of life, a fixed time for the meet-up seems impossible, but the members' persistence allows the band to work well.
Anna Kruk is a member of Aqua Bellas. "I was scared to join because even though I am a professional singer, I am not confident to sing with so many people," Anna told the Shenzhen Daily.
However, with the help and encouragement of the other members, this young Russian lady now fits in well with the band.
Nikki was in another expat a cappella group in Shenzhen before it broke up and she joined Aqua Bellas. With more experience in a cappella, Nikki helps most of the other members in the group harmonize.
"Singing a cappella is like joining a sports team. When we get a new song, we try a bunch of different things to see which combination works better," said Nikki.
Making small mistakes is OK during a performance, as it is very easy to get lost in the middle of the songs.
"If somebody goes out of key during a performance, he or she can smile and stop singing and join in later when he or she finds the key," said Alex. "We communicate with eye contact. If we sound great, we look at each other and smile to encourage each other."
Looking ahead
Compared with the United States, Europe and some Latin American countries, the a cappella market in China just began growing in the past few years.
"A cappella is more popular in the United States, especially in colleges. A lot of universities have a cappella bands and organize university competitions. The movie 'Pitch Perfect' got a cappella more publicity and notice," said Nikki.
As the leader of Aqua Bellas, Alex said she is very proud that it is currently the only a cappella team for expats in Shenzhen.
"We started working with the Shenzhen market by showing people that there is a foreign a cappella band, and now people know that if they want a special performance, they can invite an a cappella group," said Alex.
The market in Shenzhen for a cappella is growing. The Shenzhen A Cappella Festival has been organized once a year since 2015 with popular bands from overseas coming to perform, including the B Vocal band from Spain, the Swingle Singers band from France and so forth.
When looking ahead at the future of Aqua Bellas, Alex said they are thinking about taking part in competitions in a few months after new members who joined just weeks ago can harmonize with the band more.
So far, Alex and her members are satisfied and proud of what the group has achieved. "I am very happy that the group is able to take on more challenging music, and we are working hard on it," Alex said.