Luis Felipe Borja Acurio. Courtesy of Borja
Email of the writer: 654789759@qq.com
Studying, working after class, organizing adventure sports trips, doing volunteer work, attending different courses during holidays... the list goes on and on. Since he was a school student, 28-year-old Luis Felipe Borja Acurio has grown used to working on many tasks at once.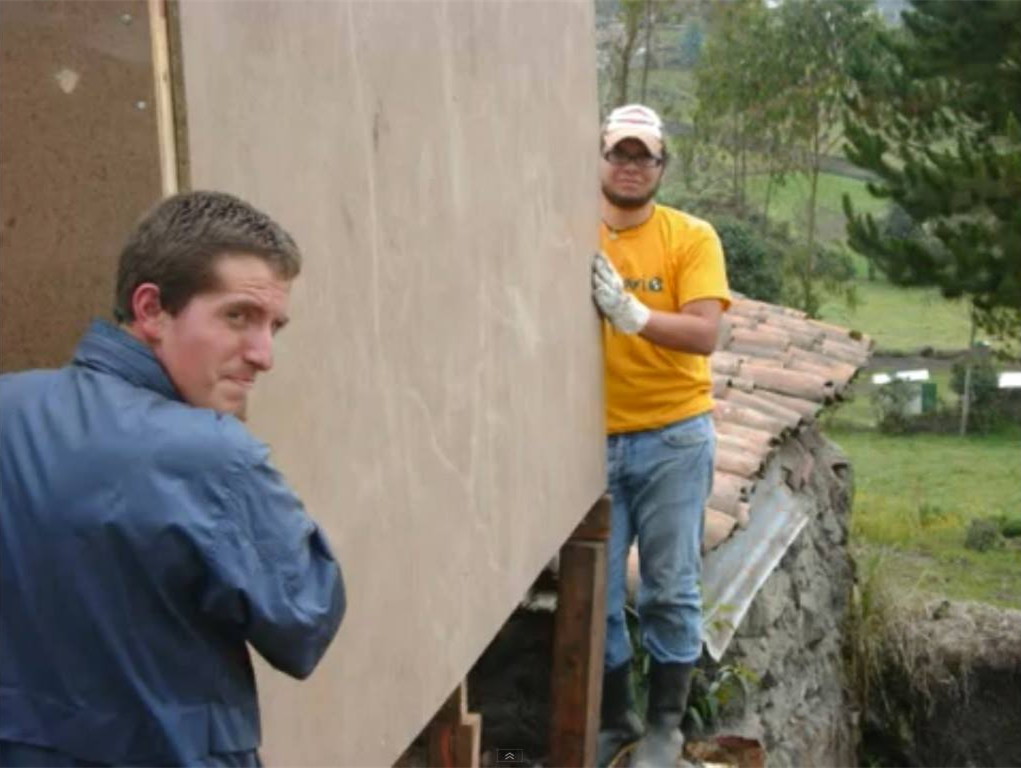 Borja volunteers for "Un Techo para Mi Pais Ecuador" (a roof for my country Ecuador).
Borja, who won a full scholarship from the Chinese Government to pursue a master's degree at Peking University, now works as the manager of the international department at Shenzhen Andun Intellectual Property Services Co. Ltd.
He also works as a communications officer for the Singaporean startup OceanChain Club Foundation Ltd. and serves as a consultant for the Mexican Chamber of Commerce in China.
Influenced by his father, Borja has had a love for adventure from a young age. "My father really likes mountain climbing, and we used to go every weekend to the mountains surrounding Quito, capital city of Ecuador. When I was 12 years old, he took me to the 4,784-meter-high Rucu Pichincha mountain in Ecuador. When I was about to reach the summit, I began crying from exhaustion. I remember telling him that it was the last time I would climb a mountain with him," laughed Borja.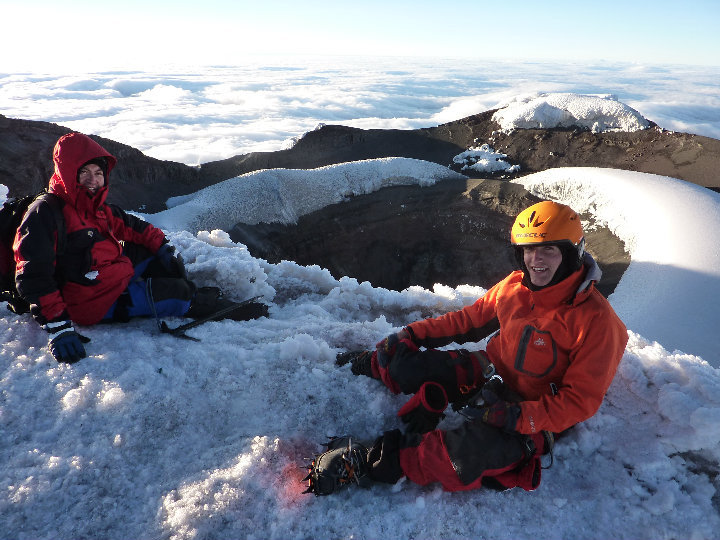 Borja at the summit of Cotopaxi with his father.
However, the little boy was super happy upon reaching the summit and has kept climbing since then. At around 22 years old, Borja wanted to start taking climbing more seriously, so he joined two programs by the Ecuadorian Climbing Federation to become an instructor in mountain climbing.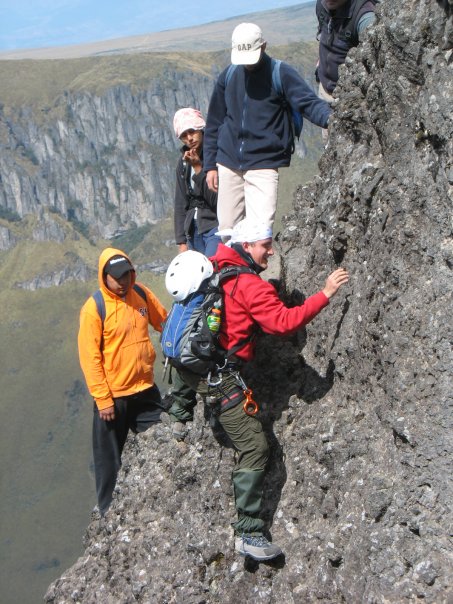 Borja receives training from Ecuadorian Climbing Federation.
While studying in university in Ecuador, Borja cofounded an adventure club with his friend Pablo Muñoz for climbing mountains. They trained the members on basic survival skills. "We took a couple of people to the summit of Mountain Cotopaxi, the highest active volcano in Ecuador. The university gave us the flag of the university to leave it on the top. It was the first time that a student organization from our university reached that summit."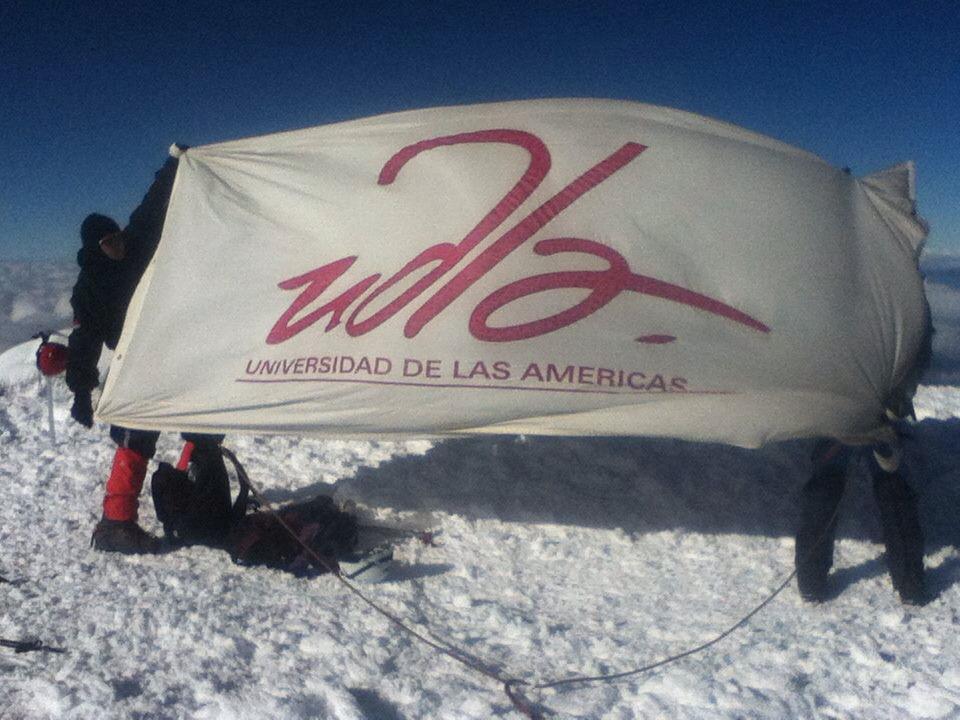 Borja and his friend Pablo Muñoz took a couple of people to the summit of Mountain Cotopaxi.
From a very young age, Borja cultivated the mindset that if he wants something, he has to accomplish it himself, always trying to reach higher summits.
After graduating from a high school in the United States, Borja wanted to experience how it was to have a job and earn pocket money for buying his own stuff, so he applied to different retail stores and got a job as a cart attendant at Target Corp., the second-largest retailer in the United States, where he worked for one year.
"I arranged the shopping carts that you see in the supermarket, cleaned the toilets for both men and women and took care of the garbage," recalled Borja, adding that it was a very interesting experience for him.
After finishing a bachelor's degree in corporate and environmental law in Quito, Borja worked as a legal consultant for Deloitte & Touche for two years in the capital city. "I got into Deloitte before graduation. I stayed there for two years. After that I decided to pursue a master's degree abroad," said Borja.
And he chose China for his graduate study. "I have never chosen the easy way. I think I would get bored if I choose the easy way. Initially I was thinking of Germany for my master's because I have already studied in a German school and knew the language. But I wanted something new," said Borja.
During his time at Peking University, he helped build the Latin American Student Association along with Ecuadorian, Colombian, Chilean and Bolivian friends, aiming at spreading knowledge on Latin America and its culture in China.
Latin American Student Association at Peking University gives a presentation at TEDx Peking.
"It was kind of surprising that at Peking University, one of the tops in China, there were not many activities or talks related to Latin America going on. So we wanted to change that. At the beginning, there were around eight people in the group. After five years, now there are 284 people, all from Latin America and all studying at Peking University," said Borja.
They invited people to speak on Latin America. "We invited people from embassies to give talks about the relationships between Latin American countries and China and worked on projects with different institutions including the Chinese Academy of Social Sciences," Borja explained.
In addition, Borja also helped with the Añejo Football Club, a space at which Spanish-speaking people who love soccer can gather together and have fun.