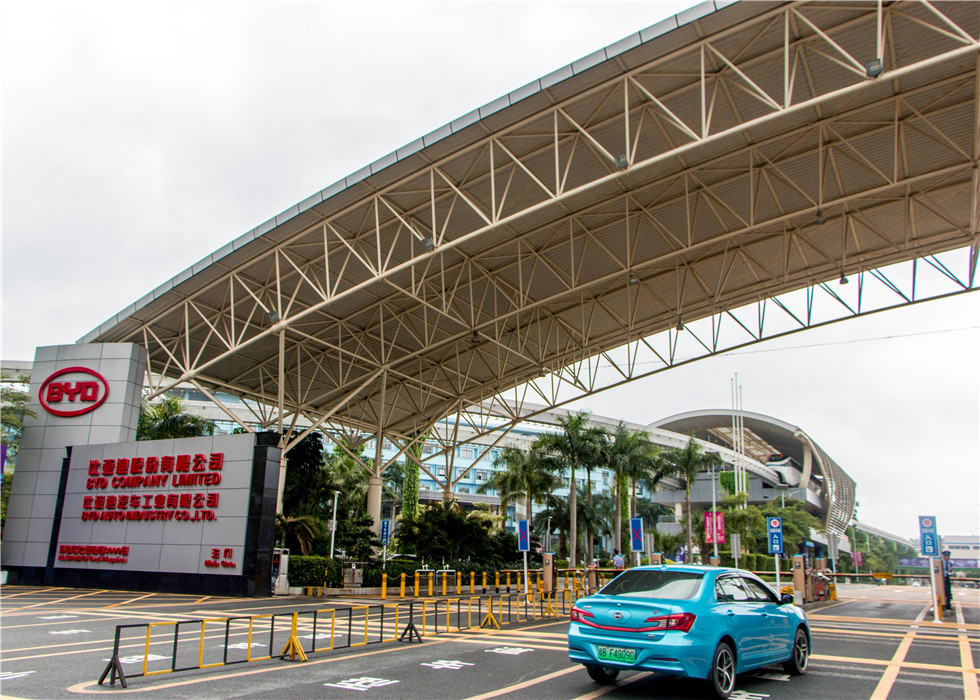 THE Shenzhen-based electric-car maker BYD started producing batteries at its new plant in Xining, Northwest China's Qinghai Province, on Wednesday.
Located inside Nanchuan Industrial Park, the new battery plant covers an area of 1 square kilometer, equivalent to 140 standard football pitches.
At the initial stage, the plant has an annual production capacity of 10 gigawatt hours (GWh) of lithium batteries. With seven production lines in total, the Xining plant will have an annual production capacity of 24 GWh of lithium batteries by 2019. The latest version of BYD's hybrid car Tang uses the standard battery of 20 kilowatt hours, so the 24 GWh of lithium batteries could satisfy 1.2 million Tang cars.
BYD chairman Wang Chuanfu said that the plant features highly advanced production technology and it will help ease the worldwide shortage of high-end battery production capacity.
The plant adopts the latest technologies in battery production, said Wang, adding that the production process is completed using nearly 100 robotics, a manufacturing execution system, an intelligent logistics system and automated guided vehicles.
"The intelligence and automation technologies used in production and logistics have taken the lead in the world and its production efficiency has been taking the lead for at least five years in the industry," Wang said.
Batteries are the core component of new-energy vehicles (NEVs). Industrial statistics show that the global demand for new-energy batteries will exceed 1,500 GWh in 2030. BYD expects to have a total annual production capacity of 60 GWh in 2020. At present, the capacity of the production capability of BYD plants in Shenzhen and Huizhou is 16 GWh.
With rich lithium resources, Qinghai has built a complete new-energy vehicle industrial chain from lithium mining to lithium battery and electric car production.