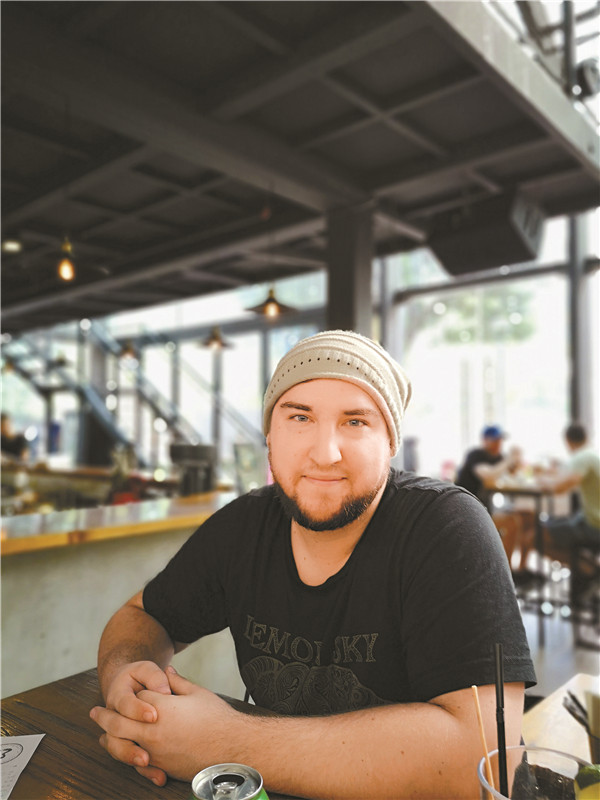 Curt Zimpfer
Email of the writer: 1434163309@qq.com
American Curt Zimpfer's passion for music started when he picked up the first guitar his mom bought him when he was a teenager.
"My first girlfriend broke up with me, which broke my heart," Zimpfer recalled. "My mom bought me the guitar to get my mind off it. And it turned out to be a great solution."
Zimpfer fell in love with the guitar right away and he just couldn't stop playing it. He was so obsessed that he would play the same song over and over again to try to play as best as he could. "My mother, she had to hear it coming from my bedroom at least 50 times a day!" Zimpfer said.
Three years after he started playing the guitar, Zimpfer started studying music and his minor in college was music theory.
He came to Shenzhen "by accident."
"My friend at the time had got an opportunity to teach English in Shenzhen and he couldn't take it, so he called me and said, hey man, you should look into this," Zimpfer said.
Zimpfer is currently playing in a band with four members. Their recent tour has taken them to Zhaoqing, Dongguan and Guangzhou and their last show will be in Shanghai in July.
He said he has always tried to incorporate as many musical genres as possible into what they play to make something new. Rock 'n' roll, reggae, bluegrass, funk, and even the music that people will hear on the Caribbean Island called Calypso ... and it seems their audience loves it.
Zimpfer admits that it's a little easier to gain a following in China than in the United States. "Because there are so many bands in America. If you go to like New York City, every block has a bar with music in it, and every band is playing like the best band ever."
He said his most memorable performance was at a Halloween party where 1,000 people showed up. "I looked up and saw an ocean of dancing people. The more that people danced, the harder we played, and the people danced harder... the cycle continued," he said. "It's always easier when people like it."
Describing himself as a stressed-out person, Zimpfer said music allows him to express confusing emotions that he doesn't really understand himself. "Writing music and performing allows me to express those pent-up emotions in a constructive and healthy way. I can take those negative feelings, turn them into something good and share them with the world," the American said.
Zimpfer has played with many musicians in Shenzhen over the past five years.
Zimpfer's favorite musician is Trey Anastasio with the band Phish. "I've been to 10 concerts of Phish," he said.