Arne Schmitt with his audience in the square in front of the Shenzhen Book City complex in Futian District. Photos by Liu Xudong
Email of the writer: adinglily@hotmail.com
In the square in front of the Shenzhen Book City complex in Futian District, Arne Schmitt, a German street artist and pianist, played the Chinese song "The Moon Represents My Heart" on a portable upright piano.
The exotic version of the familiar Chinese song attracted a crowd of listeners, many of whom were surprised not only by the beautiful adaptation, but also by the novel scene of a foreigner playing a piano on the street.
"One thing that I love about street art is the freedom inside it," said Schmitt. "The street is a place where I can learn from my audiences and be connected with them through music."
Unique piano travels across the world
Schmitt is a German street pianist who has been traveling around the world with his pianos. He began performing in Shenzhen in June after he received a busker certificate from the Lianhua Subdistrict Office in Futian District. He said the government-issued certificate has given him a sense of security, and encouraged him to lengthen his stay in Shenzhen.
With the words "Piano Across the World" written across his piano, Schmitt's performance has become a unique scene in the square. Among a score of other street artists and craftsmen -- including painters, singers and guitarists -- he is the only pianist and probably the only foreigner.
His pianos are unique in that, according to Schmitt, they are designed to be portable and self-assembled and are crafted based on his own inspiration. With the help of many friends, his pianos are pieced together using special parts that Schmitt has kept a secret.
The pianos can be dismantled and folded into a box, and their length is approximately equal to the width of a taxi, so he can take them wherever he's performing. Before each performance, he spends about 20 minutes setting up the piano. No one can duplicate his artistic process, since his pianos are literally one of a kind.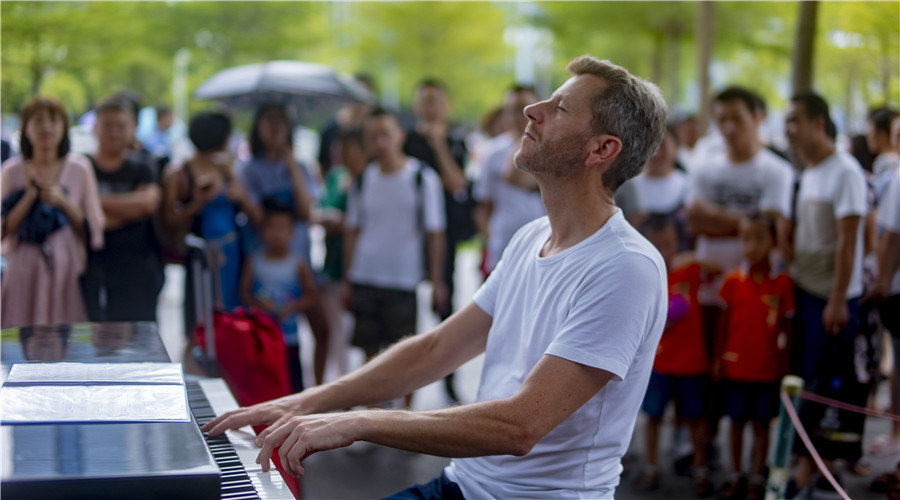 Shenzhen, fertile soil for street artists
In Schmitt's eyes, Shenzhen provides ideal conditions for street artists. In 2015, the association of street artists in Futian District began managing street performers at the Civic Center square, aiming to officially recognize them as a part of urban life in Shenzhen.
A ceremony awarding buskers with certificates was held this year with 78 performers receiving certificates following a rigorous selection process.
All of the street artists signed a self-discipline pact promising the orderly use of their right to play music publicly, by specifically stating that they will work within their own specified areas, control performance volumes, and preserve public order and public health.
This year, Schmitt was one of the 78 artists awarded the certificate, which allows him to perform in a designated area in the square.
He applied in May with a video of one of his performances. He then auditioned in June and was subsequently granted the certificate.
With the support of government policy, Schmitt is able to earn a living and lead a satisfactory life in Shenzhen. He said that he would stay in Shenzhen until the expiration of his visa in September and come back in November to continue his journey in the city.
21 years of travel and street performance
Schmitt has been a street artist for over 21 years. Before coming to Shenzhen this June, Schmitt said he had performed in more than 300 cities worldwide, including Berlin, Krakow, Hong Kong and Shanghai.
In 1984, when he was 11, he first played the accordion with his brother and a friend on the street for fun. To his surprise, his neighbors, having enjoyed his performances, paid him for it. This positive experience as a street artist encouraged him.
Later, while traveling to bigger cities in Germany, he came up with the idea of bringing a piano, his favorite instrument, to express himself.
Thirteen years after his first street performance on the street, he began his career as a piano busker in 1997. In the morning, his brother and friends would help him move the piano to the city center. At night, he would leave it in a parking lot, church or camping van.
Street performance also allows him to witness countless precious moments. "Some people have proposed to their girlfriends while I was playing, and I have seen kids dancing to my music in Europe. People cry and smile and I think they are all good experiences for me," he recalled.
Interaction with the audience
Schmitt plays a variety of slow and romantic songs that leave an emotional impression on his audience. His favorite songs are by Michael Jackson, Elton John and Phil Collins.
"When you are playing, the way you interact with your audiences is important," said Schmitt. "Music is a language that transcends cultural boundaries. When I see my audiences, I try to look into their eyes, feel their emotions and instill it into my music. I am able to communicate with my audiences and bring energy to them through the smooth songs I perform."
After finishing a song, he introduces himself to his audience and elaborates on his travel experiences. Within a few minutes, several albums can be sold.
Sometimes, hard times come. He said he has experienced pain in his arm recently and sometimes feels tired when he plays repetitive songs. Nonetheless, his musical journey has allowed him to meet new people and make friends, and that's what makes it worthwhile.
As a foreigner, Schmitt's performance has become an integrated part of the culture at Shenzhen Book City, which has become a place for people to foster intercultural communication.
Emotion with China
In 2015, Schmitt visited Hong Kong with a small piano. After attracting lots of listeners on the street, he considered staying in China, a place where he expects to meet different people, confront new challenges and learn from an entirely different culture while performing on the street.
Nevertheless, traveling to Shenzhen is not easy, especially with a huge upright piano and without an understanding of Chinese. However, throughout his journey, he has received so much help that he can't help but consistently praise the friendliness of the Chinese people.
"I love China. I love Shenzhen," Schmitt said in Chinese. During his journey, lots of people have helped him carry his piano. When he crossed the Shenzhen-Hong Kong border, the policemen helped him. People also helped him carry it onto public transport. One night, when he could not find a taxi, other street performers drove him home and shared their experiences with him without expecting anything in return. Schmitt said, "Chinese are so kind and different from German street artists, who are always thinking about competing with one another."
Schmitt loves the environment in which he performs in Shenzhen. Having performed for a few weeks in the square beside Book City, he confides that he believes Shenzhen embraces every newcomer, as people are striving to make it a more inclusive and friendly city. He has made friends with policemen in the district. His audiences are respectful and enthusiastic to communicate with him, and some have added him on WeChat and like to discuss music with him.
Staff working at J-house, a nearby coffee shop, started to allow him to leave his piano there overnight after watching his performance, so he does not have to carry it all the way back to his hotel. "They are so innocent and good. They did all those things spontaneously only from a kind heart," said Schmitt.