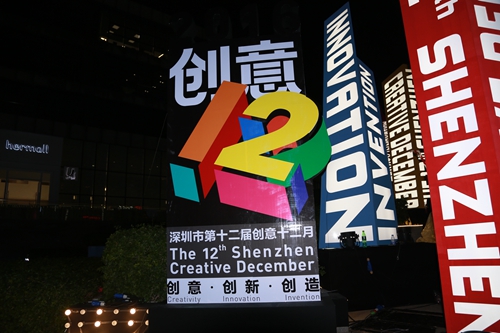 Until the end of September, creative culture organizations can declare their creative projects for the chance to win awards at the 14th Shenzhen Creative December, which will be held before the end of the year, according to sznews.com.
To echo the 40th anniversary of China's reform and opening up, this year's Creative December campaign is themed around "Creative + Design + Technology" and "Creative + the 40th anniversary of reform and opening up."
As one of the major events on the city's Cultural Menu, Creative December is a monthlong campaign with various kinds of activities promoting creativity and design. It has become a unique cultural brand for Shenzhen with an ever-growing influence.
The campaign has also generated a number of renowned exhibitions and design festivals over the past decade, along with promoting original brands and products.
For instance, in 2015 the Alpha Robot produced by UBTECH gained national fame by taking the stage at the Gala of the Chinese New Year on China Central Television. The robot had first been displayed at the Creative December exhibition before gaining public attention.
Also, nine representatives from creative industries read the "Declaration of Creative Industries" in 2016. More than a million Shenzhen residents participated in the activity, sharing their original creative ideas online.
A total of 195 creative activities were organized for last year's Creative December. The campaign has largely boosted the city's creative industries.
This year's Creative December will showcase the city's achievements in creative industries since the reform and opening up took place 40 years ago. Meanwhile, the activity will show Shenzhen's confidence in technological, economic and cultural innovation.
The 14th Shenzhen Creative December will award and support creative projects. Creative culture organizations can declare their projects at http://v1.sznews.com/cy12/.