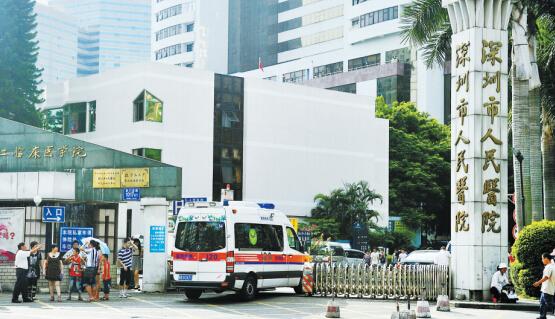 Shenzhen People's Hospital, under the city's Sanming Project that encourages outside medical resources to establish a presence in the city, has successfully introduced an obstetrics team led by Professor Chris Redman from the Nuffield Department of Obstetrics & Gynecology at University of Oxford.
The two sides will carry out comprehensive cooperation in three areas — namely early diagnosis, treatment and pathogenesis of hypertensive disorders in pregnancy, diagnosis and treatment of intractable postpartum hemorrhages and blood transfusions, and research on an artificial intelligence fetal electrocardiogram (ECG) monitoring system — according to a signing ceremony held on Aug. 30.
In a speech delivered at the ceremony, Redman said his team looks forward to the collaboration with the Shenzhen hospital, which aims to increase access to quality health care for millions of Chinese women.
Redman, a fellow of the Royal College of Obstetrician and Gynecologists, is a pioneer in the field of obstetrics and a renowned scientist who has been exploring new treatments and preventive measures for pre-eclampsia.
Additionally, the system for antepartum records he and Professor Geoffrey Dawes developed decades ago is widely used in the obstetrical departments of European and American hospitals. He is currently working on a comparable system for use during labor, which is expected to enter clinical trials by 2020.
Pre-eclampsia is a kind of hypertensive disorder during pregnancy. Its clinical manifestations include hypertension, proteinuria, and edema. On serious occasions, it may result in seizures, coma and even death for both the mother and the baby, according to Zhao Yuehong, chief obstetrician at Shenzhen People's Hospital.
Zhao explained that pre-eclampsia affects five to 12 percent of pregnancies worldwide, and that early onset of the illness in pregnant women is increasing in Shenzhen, especially in women of an advanced maternal age.
Zhao said the cause of pre-eclampsia is still unknown and the illness is difficult to diagnose early. However, Redman has solved the conundrum. He discovered that pre-eclampsia is associated with two factors in the maternal placental origin and that early diagnosis and treatment can be achieved by measuring the ratio of the two factors.