Raffaele Capuano (L) and Robert Duxbury. Cao Zhen
Email of the writer: caozhen0806@126.com
Longxi Village in Longgang District was no different from any other outskirt Shenzhen village: quiet, dusty and thinly populated, with a few small restaurants and Internet cafes. That was until one week ago, when this peaceful village 40 kilometers north of downtown Shenzhen was transformed into a street-art gallery, with around 60 graffiti lovers and artists creating murals on its decades-old grey walls.
"We wanted to do something in Longgang, so we launched the 'Back to the Wall' graffiti event last year. This activity, held Oct. 14 and 15, was the fourth," said Australian Robert Duxbury who co-organized the event with Italian Raffaele Capuano.
"In China, there are many graffiti artists, but you don't see them, so we are gathering people with this event to build a graffiti community to share good vibes, either on the human side or artistic side," said Capuano. "And we were given permission by the village office and house owners."
Living in Shenzhen for almost five years, Capuano is an Italian-cuisine cook who provides buffet services for private dinners and parties. He became a fan of graffiti last year after joining events held by some graffiti fans who are his friends. He believes that creativity is important in cooking, as well as graffiti.
"When you begin to learn graffiti, first of all, don't be scared. Just do it and look at other people because everyone has different techniques for you to learn from," said Capuano.

Duxbury, also known as Yowza, is a self-studied painter who has been running his Dirty Hands Studio in the village for a year. He regularly holds exhibitions with other artists in his studio, and at the graffiti event, he created a few murals of flowers and fish in a mix of Western graffiti and Chinese gongbi styles. Gongbi is a careful realist technique in Chinese painting that requires meticulous brush control to delimit the details very precisely.

Duxbury said he taught himself Chinese watercolor and gongbi techniques, and practices painting on rice paper before using spray on the walls.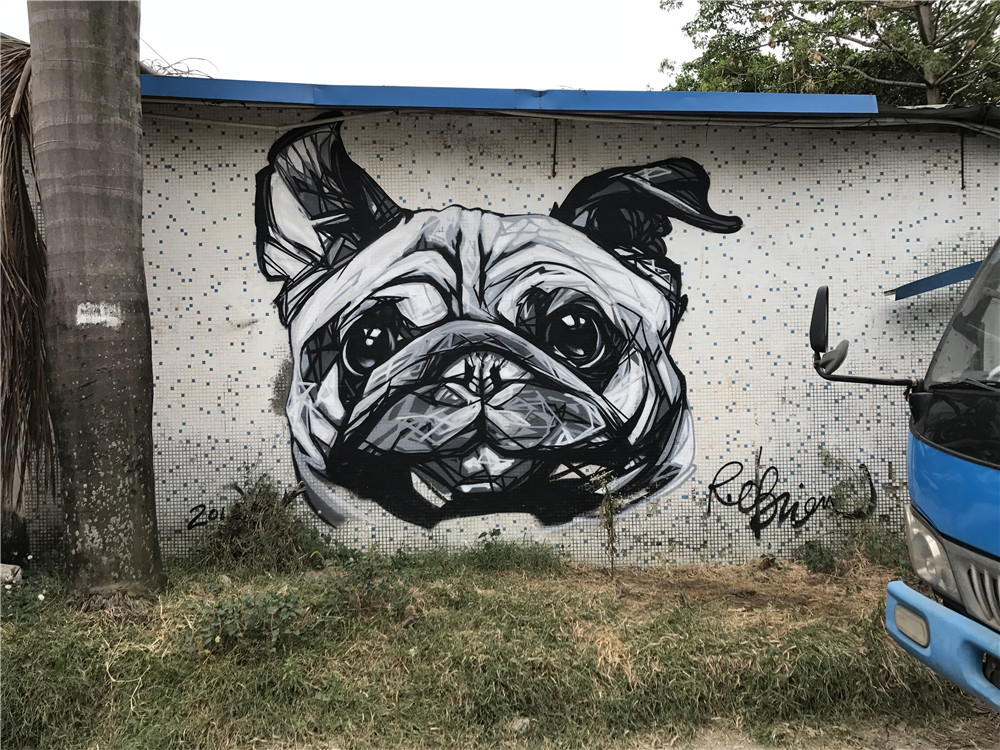 "The gongbi style is very difficult because you must concentrate carefully to avoid making mistakes, while with graffiti, you can fix it at anytime. However, using spray is also not easy for beginners. In art, there are definitely rules for technique, but no rules for style, so have an open mind and enjoy what you are doing," said Duxbury.

The two-day event attracted graffiti fans from Shenzhen, Huizhou, Guangzhou, Zhuhai, Hong Kong and Xiamen, bringing the old walls, gates, houses and warehouses to life.