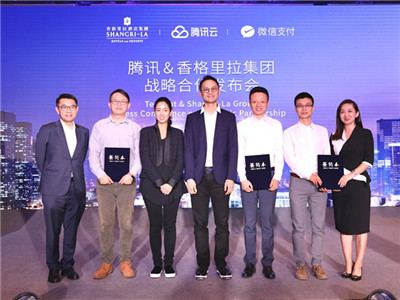 Shenzhen-based tech giant Tencent announced with Shangri-La Group on Thursday they will cooperate on constructing a smart hotel program to power the transformation of hotel operations and services for the group.
A strategic agreement was signed between the two to upgrade the Shangri-La's technologic services and bring more possibilities to both parties' extended businesses.
According to the group, it will take advantage of Tencent's advanced cloud system, artificial intelligence technology, social network and payment system to provide personalized and convenient services for its guests. Tencent will be able to leverage Shangri-La hotels as a test bed to continuously enhance and promote its smart hotel technologies.
Tencent and Shangri-La also plan to bring the strategic partnership to cover a much wider scope and scale in the future. Shangri-La will utilize its worldwide hotel network and business resources to support Tencent in promoting its cutting-edge technology to the world. The two companies will also explore the application of digital solutions and smart technologies beyond hotels to include Shangri-La's real estate business in shopping malls, service apartments, and office buildings, as well as in over 500 hotel restaurants and other catering business.
Kuok Hui Kwong, chairman of Shangri-La Asia Ltd., said, "We share the same vision with Tencent that technology is people-oriented. People and service are at the core of our business. The value of technology is not to replace the warmth of human contact and personal interaction. We will strive to work with Tencent and integrate hardware with 'heartware,' and to continue to deliver innovative products and excellent customer service."