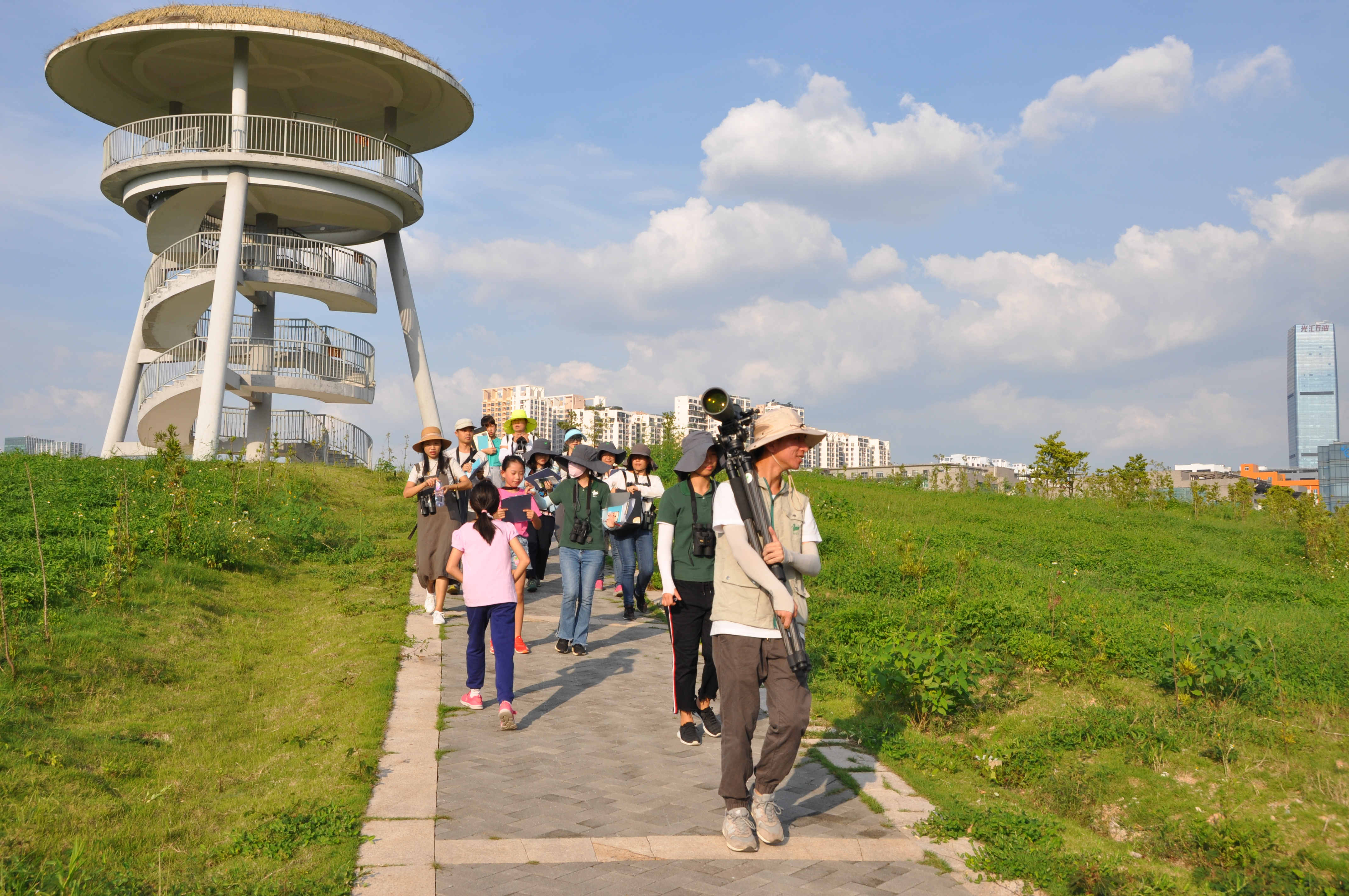 A guided tour at Futian Mangrove Ecological Park. Michelle Wang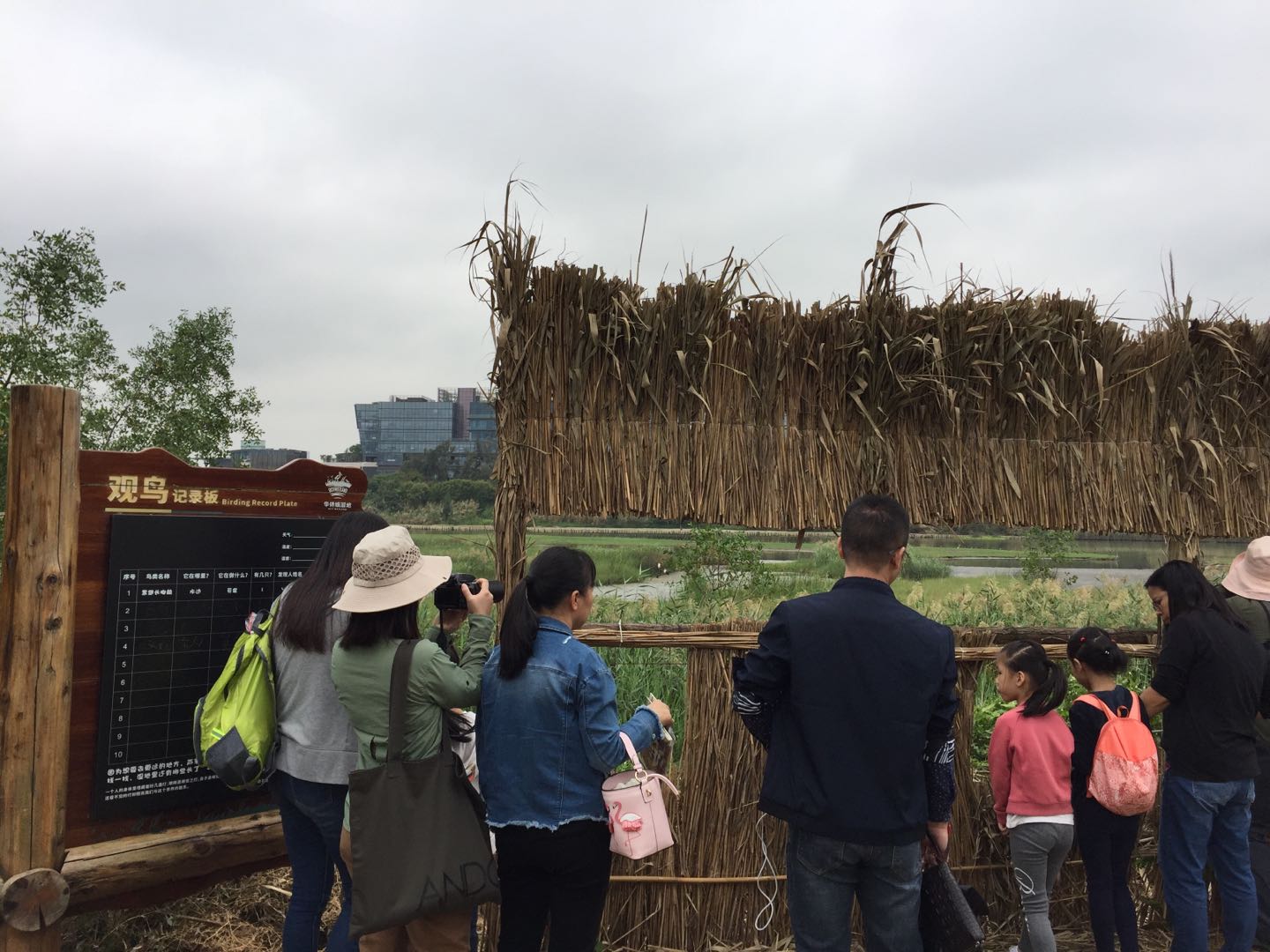 Birding Class is offered at OCT Wetland. Michelle Wang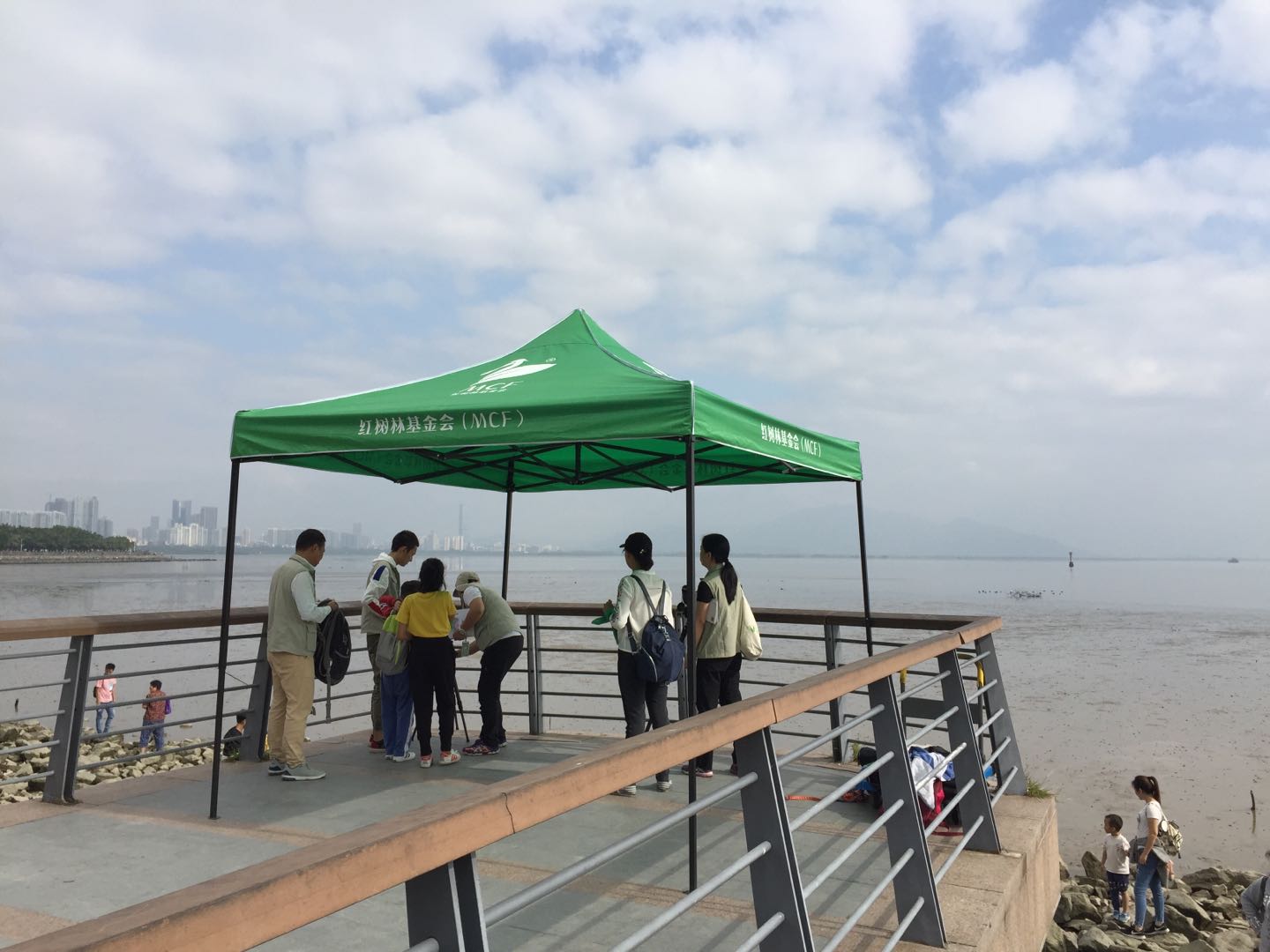 Shenzhen Mangrove Wetlands Conservation Foundation (MCF) offers free on-site birding at Shenzhen Bay Park every weekend from October to March. Michelle Wang
Birders observe with binoculars and a telescope at Futian Mangrove Ecological Park. Michelle Wang
Email of the writer: wy_szdaily@126.com
Our feathered friends are back. Over the past two weeks, nearly 100 great cormorants were spotted flying over OCT Wetland in Shenzhen while great numbers of other bird species were also detected at Futian Mangrove Ecological Park and Shenzhen Bay. The beautiful pictures of these avian creatures quickly went viral on WeChat Moments, reminding people that bird season is upon us once again with the natural rotation of the seasons.
For Shenzhen residents, the period from November to April is the window of opportunity for observing a great variety of birds, as Shenzhen is a stopover for tens of thousands of migratory birds on the route from East Asia to Australia. And with more people starting to take a fancy in outdoor activities, birdwatching has quickly gained popularity as a leisure pastime.
History of birdwatching
The earliest interest in observing birds for their aesthetic value can be traced to the late 18th-century Britain. Initially a hobby undertaken in developed countries such as the United States and European countries, birdwatching spread to other parts of the world in the second half of the 20th century.
In China, birdwatching began to emerge as a leisure activity around 1996. However, China's bird-identifying history can be traced back to ancient times, as recorded by ancient poems. In China's first anthology of poetry, "The Book of Songs," and in the poems by such Tang Dynasty (618-907) poets as Du Fu and Li Bai, many birds are mentioned, including great cormorants, little egrets and great egrets.
"Birding is a terrific outdoor leisure sport," said Zhang Jie, a Shenzhen-based birding expert and founder of the Shenzhen Dandelion Nature Education Center, which is dedicated to getting people in touch with nature and to learn from it. "It offers you a lifetime of free tickets to the nature theater to appreciate the birds."
Bird species in SZ
There are around 11,000 bird species in the world, according to Zhang.
Currently, China has recorded more than 1,400 species, of which nearly 400 species can be found in Shenzhen, Zhang said. At OCT Wetland, Futian Mangrove Ecological Park and Shenzhen Bay, visitors can spot such water birds as Eurasian wigeons, northern shovelers, northern pintails, great cormorants, little egrets, great egrets, Chinese pond herons, gray herons, little ringed plovers, pied avocets, black-winged stilts and black-faced spoonbills. They usually come and forage for food after tides recede, so birders need to keep the sea level in mind.
As for land birds, masked laughing- thrushes, oriental magpie robins, white wagtails, great tits, long-tailed shrikes, red-billed blue magpies, red-whiskered bulbuls, light-vented bulbuls and Japanese white-eyes can be easily found in the city's public parks, housing estates, and roadside trees and bushes. The best time to watch land birds is early morning and late afternoon.
Free guided tours
Birding can certainly be fun and interesting alone or with a friend, but with a knowledgeable guide, it becomes much better. In fact, free guided birding tours are available at several nature schools in the city. Among them are OCT Wetland and Futian Mangrove Ecological Park.
At OCT Wetland, a birding program called Birding Class is offered at least once a month from October to April. Invited birding experts or the school's volunteer teachers guide the tour, which covers a distance of around one kilometer and lasts 1.5 hours.
At Futian Mangrove Ecological Park, a 1.5-hour birding tour is organized at least twice a month from November to April. The tours, also guided by veteran birding experts or the park's experienced volunteers, can help rookie birders quickly grasp birding know-how. Group reservations for the service are also offered to nearby community residents, schools and kindergartens. Little egrets and Chinese pond herons can be found foraging for food every day in the northern area of the park.
Birding gear
Binoculars are a basic tool for birders. You need 8x42 binoculars or other types as you prefer, which can help you get a good birding experience. Binoculars are described by their power. The first number gives you the degree to which they magnify a distant object, for instance 8x. The second number is the diameter of the distant (objective) lens in millimeters — the greater the number, the more light comes in.
Make sure there is one central knob for focusing and that you can focus on objects within 15 feet. Buy the best you can afford because it will make your experience of birdwatching much more enjoyable.
A spotting telescope might be purchased as well, for observing waterfowl and shorebirds at great distances. 20x to 30x is the most useful range. A sturdy tripod is a must for supporting your scope also.