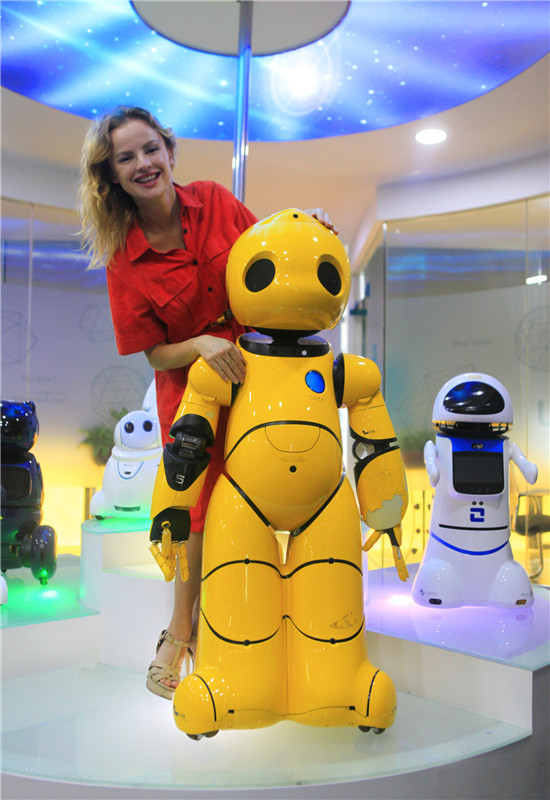 Vassilissa Chelobanova poses with a robot at the display stand of Beijing Canbot Technology Co. Ltd. Sun Yuchen
Having lived and worked in Shenzhen for more than six years, Vassilissa Chelobanova is mesmerized by the city and its vitality.
Born in Russia and raised in France, Vassilissa is the marketing manager of Beijing Canbot Technology Co. Ltd., a robot company with an R&D office based in Nanshan District, Shenzhen. She lives in Futian District and commutes between the two districts every day.
Vassilissa majored in business and marketing at two universities. Before she graduated from business school, she was offered a nine-month internship in Shenzhen. She liked the city at first sight, attracted by the skyscrapers and the beautiful view in Futian CBD.
When she finished her studies in France, she was again offered opportunities to work in Shenzhen. Without much hesitation, she came back to the city and decided to stay here.
Shenzhen foresees future
To Vassilissa, Shenzhen is a fertile land of opportunity and a place where innovations are developing.
"I've been to many other cities in China, but Shenzhen is very particular to me. First of all, it's a new city and it is developing so fast. This is what I think is the most attractive point," said Vassilissa.
Shenzhen has the biggest electronics market in the world and is the Silicon Valley of China, according to Vassilissa. "In France, some companies try to come up with new ideas in terms of electronics. But since I've lived in Shenzhen, I find that what the Shenzhen companies are doing, and what they've already done, is much more advanced, probably than anywhere else in the world."
The fact that Shenzhen is home to many high-tech enterprises also impresses Vassilissa. A lot of leading technology firms like Tencent are headquartered or have their R&D offices in Shenzhen. "Because of that, there are many buildings that look very modern and futuristic. It's like they come from the future," said Vassilissa.
Additionally, Vassilissa appreciates that Shenzhen is a green city. "I really like this concept that the government has said Shenzhen is being developed into a green city. There are a lot of parks in the city where you can do many outdoor activities."
Marketer promoting SZ-made robots
For the robot company, the scope of Vassilissa's duties is more than a marketing manager. She is also responsible for helping develop the English versions of the company's robots.
As a service robotics creator and manufacturer, Canbot has complete production lines that cover humanoid robots for commercial use, partner-type intelligent home-service robots, education and entertainment robots, and small cute robots, Vassilissa told the Shenzhen Daily.
Many of our robots have been put into commercial use in places like police stations, hospitals and shopping malls in Shenzhen, said Vassilissa. "It's also exciting to see that UU, a robot from our company, showed up at the opening ceremony of the 13th National Games last year and lit the main torch."
Vassilissa disclosed that the company is developing an English-speaking service robot. A prototype of the robot has already been created and it can speak English and do many tasks.
"Besides marketing, my job is to make this robot better in every aspect and to customize the robot so that it is able to respond in English and meet the expectations of foreign customers," Vassilissa said.
Compared to the English-speaking robot that is still under development, the Chinese-speaking robot is very advanced. It can be customized for different fields, such as the banking industry. Moreover, the company is currently working with the Chinese Government and the robot is being utilized at a lot of schools.
Vassilissa believes that service robots have broad market prospects in China. In her opinion, the Chinese Government's support of artificial intelligence is unprecedented. "The government is investing in artificial intelligence for the people and for the future," said Vassilissa.
She said there is a small version of the robot UU called Xiao Zhi. Xiao Zhi is used as a teacher and companion for students at schools. But more importantly, it can also be taken apart. "Kids can actually take out every part of the robot and see how it works, allowing Chinese kids to learn about artificial intelligence as well as robotics. I can tell that China is preparing well for the future, especially the robotics industry."
Vassilissa revealed that her biggest concern at work is how to introduce the robot to the European and American markets. In her opinion, some European and American people are not very keen on robots.
"Some of them are even afraid of robots and don't want them to be a part of their society. So my biggest challenge is to make robots accepted by people, especially in Europe and America," said Vassilissa.
Work-life balance
It's not easy living and working in a fast-paced city, but Vassilissa is trying to enjoy the best of both worlds. Even though her work always revolves around a hectic schedule, she is sure to make time for activities that lead to growth and renewal.
"I'm very happy to be in this industry because it's very interesting and innovation-driven. Also, the robotics industry is growing so fast," said Vassilissa. She feels she is not the only one who feels the momentum of the industry, as she still remembers how impressed the audience was when she was giving a speech and introducing UU to them at the Hong Kong Electronics Fair in mid-October.
In her leisure time, Vassilissa likes working out. "Going to the gym is my biggest activity. I go jogging and lift weights." Besides exercising, Vassilissa also likes reading, painting and playing video games.
"I like to play PlayStation and I order some games online. I have a huge screen, a projector and a stereo at home so that I can have an immersive feeling when I'm playing a game," she said.