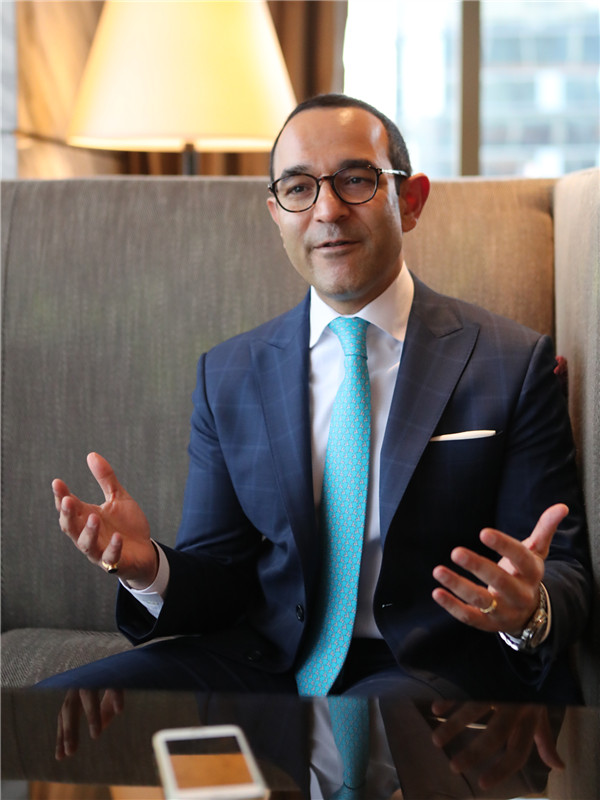 Sunil Narang gives an interview to the Shenzhen Daily on Monday. Photos by Sun Yuchen
When asked, "What is your favorite place in Futian District," Sunil Narang, general manager of Four Seasons Hotel Shenzhen in central Futian, responded with a laugh, "Of course, the Four Seasons."
It was a clever answer from the quick-witted and sophisticated hotelier with more than 20 years of experience in the hospitality industry. However, it was also the truth for the general manager whose life in Futian basically revolves around the hotel.
Thanks to the fact that the hotel is located right across from Shenzhen Convention and Exhibition Center in the downtown area, Narang can enjoy the best view of the CBD light show every evening from the hotel terrace. "Lately the city has done an amazing job with the light show, which is probably one of the most famous light shows in the world. It's amazing that in 15 minutes you can bring the whole of Futian together in unison, showcasing what the future of the city has to offer," he said.
The best is yet to come
In Narang's eyes, the future for Futian District, and the city as a whole, is even brighter and more beautiful. Central Futian is home to many five-star hotels, a fact which Narang attributes to the organization of the district. "The government has built such a nicely developed area, with so many hotels occupied, I believe it couldn't have happened without a good economy, infrastructure and business environment," he said. "Also, the area is so green, with many parks, which reminds me of Singapore where I used to work. So, I am very confident in the city's future, and the best is yet to come for sure."
Born and raised in Amritsar, India, Narang began his 23-year Four Seasons career in Boston. An instant success as a Front Desk receptionist, he moved through different departments within the Rooms Division. Flexible and always on the lookout for new adventures, his blossoming career then took him to Four Seasons in Maldives, Toronto, Scottsdale and Maui. He became the hotel manager of the Las Vegas property in 2010 and transferred to Four Seasons Hotel Singapore in the same capacity in 2014. After two years, he was relocated to Shenzhen as general manager of the property.
Fluent in English, Hindi, Punjabi and with a fair knowledge of German and French, he is now pursuing the Chinese language as well. Narang has excelled with his passion, outgoing personality, great sense of humor and adaptability to a variety of cultures.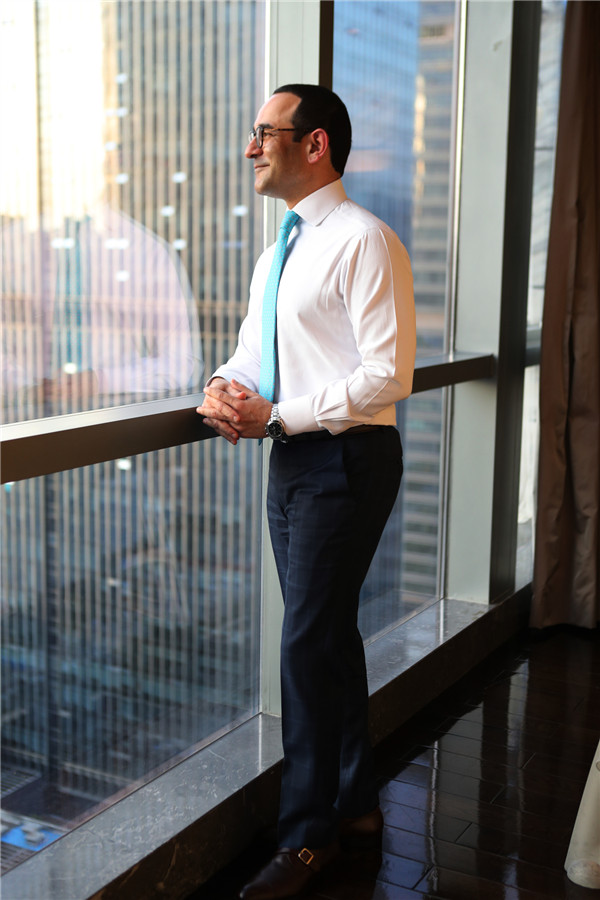 Narang at the Executive Club Lounge of Four Seasons Hotel Shenzhen.
Service is important
Despite the competition around the Four Seasons in Futian, Narang is very confident in the quality of their service and in the capabilities and professionalism of his team.
"We want to make sure that our employees are providing the best personalized service to every single guest to make them feel that someone has been waiting for them to come home, which makes a difference to both our domestic and international guests," he said.
According to Narang, over the course of last year, the hotel also added a variety of activities to enrich the stay at the hotel. Whether a city slicker, nature lover or simply a curious explorer, the hotel's "Holiday Breaks" room packages make Shenzhen a destination where anyone can enjoy an immersive experience, as well as much needed rest and recreation. For example, kids programs, yoga, painting and tai chi classes are available on weekends. One thing that the general manager is proud of is that the Four Seasons has both indoor and outdoor swimming pools, allowing guests to swim rain or shine.
Innovation is the key
Narang believes innovation is the key to success for luxury hotels. "Besides consistently providing personalized services, we should always create something new for our guests' next stay," Narang said.
Being in the technology and innovation capital of China, Four Seasons is also making efforts to stay relevant. Narang told the Shenzhen Daily that Four Seasons has added a chat function to its official app, "Four Seasons(四季酒店)." According to Narang, the application functions like WeChat, replies to questions and meets guests' needs 24/7 in over 100 languages. The app can also help guests book tickets to tourist attractions and make reservations at restaurants and spas. Instead of a robot, there is an actual person on the other end of the chat. "We want to make sure that we're providing the best value to our guests at all times. It's the high-tech experience with a personal touch that is very important," Narang said.
Employee empowerment
From Narang's point of view, a guest's experience starts with the employees' experience. Narang said he is not simply a general manager; He also plays the role of a mentor and a father figure to his employees who need to be empowered. "We need energetic and excited employees who have a positive attitude," he said, adding that one of his challenges is to inspire and empower his teams to take care of guests and create special personalized connections with them. "If the housekeeper notices that you've had a lot of coffee, they should realize that you like coffee and then put extra capsules in your room because the moment they say 'let me check with my manager,' that's where we'll fall short of ensuring your experience is the best," Narang explained.
Regarding the recent hygiene issues and the leak of personal information exposed in some five-star hotels around the country, Narang says these problems are "scary" but reassured the Shenzhen Daily that their hotel hasn't had any of those issues since they follow strict procedures. "We should never take our guests for granted, as they trust us with their information, and all our hotels in China have hygiene managers to make sure we are offering our guests a clean environment," said Narang.
Work and life balance
As a general manager of a five-star hotel, a typical day for Narang goes like this: get up at 5:30 in the morning, hit the gym, arrive at the office at 7:30 and start the day greeting hotel guests at breakfast before walking the entire property to make sure everything is in good order; then he meets with employees to ensure they are energetic and motivated for work before going about the rest of his day.
As busy as he is, Narang said he always makes time for family, and recently he put a Christmas tree up with his daughter at his home. "Balancing your work and personal life is just like filling up a bucket. When you feel your personal life is getting low, you should make more time for it."
Narang is a big fan of parks and also a "foodie" despite being a rooms division expert. He said in his spare time he likes to explore local specialty restaurants around the city, go hiking or go to the beach to spend quality time with his family.
Narang revealed that in 2019 the hotel will open one more food and beverage outlet and he is very excited about celebrating the coming Chinese New Year with guests from all over the country. "With the high-speed train, Shenzhen is becoming well connected with the rest of the country. I believe the best is yet to come for our hotel, Futian and Shenzhen. Shenzhen is a new metropolis between Macao, Hong Kong and Guangzhou. Everyone wants to be here. We feel very lucky," Narang said.